Every so often people ask me if I ever bake gluten free products, and I'm always hesitant to say yes since my kitchen has tons of gluten in it on a regular basis, and I would feel absolutely awful if somehow things got cross contaminated despite my best efforts. Erring on the side of better-safe-than-sorry, I usually explain this to inquiring minds by saying that I try to stay away from calling anything gluten free, and instead go with made-with-gluten-free-ingredients.
Why am I going on this tangent right now? Well, this recipe is made with entirely gluten free ingredients, but if you make it in your kitchen that is all gluten-ified, you should still warn your friends with celiac before they stuff these cookies in their faces. Even with the most diligent scrubbing and sanitizing you could still cross contaminate, and if someone has a legit gluten allergy the results can be bad. So just be wise, and advise friends.
I'd like to think of this blog post as a sweet mullet: all business in the front, and party in the back. So now that we're done with that little disclaimer business, let's move on to the delicious party that is these tasty little cookies.
These are pretty easy to make, have some of the sneaky health benefits of my Nova Scotia Wild Blueberry Chia Seed Jam, aren't super gritty and tasteless like other gluten-free (or made with gluten free ingredient) cookies I've tested, and are cute as can be.
I've been a fan of Bob's Red Mill All-Purpose Gluten Free Flour ever since I worked at Pete's and got introduced to it by Alyce Feindel when she set up with samples to promote her new cook book "Eating and Living Gluten Free" at the Gluten Free Eatery. She recommended the flour and after I tried a few several let's not dwell on how many some of her samples, I was sufficiently convinced to pick up a bag and try it out for myself.
I'd also heard lots of good things about coconut flour and wanted to try it out as well, so I picked up a bag and started scouring the internet for ideas. I found this recipe for Coconut Lime Shortbread on the Bob's Red Mill website and with a few minor adjustments, I bring you:
Gluten-Free Coconut Shortbread Cookies with Nova Scotia Wild Blueberry Chia Seed Jam Filling
Wow, that's a mouth full.
For the cookies:
1 ½ C Bob's Red Mill Gluten-Free All Purpose Baking Flour
½ C Let's Do Organic Coconut Flour
¼ tsp. Salt
1 C Scotsburn Butter
1 C Lantic Powdered Sugar
1 tsp Clubhouse Coconut Extract – their website doesn't list it as gluten free, but if you do some digging you can confirm it online, or to be safe contact them yourself here
For the filling:
How convenient! I already did a post on how to make this super-tasty-super-easy jam right here!
I suggest making the jam the day before, so it's all nice and chilled and ready to go. So presuming you take my advice, which you clearly should since I'm always right, let's dive right into making those cookies.
To get started, put all your ingredients into adorable little bowls.
Or, adora-bowls if you will.
Ok, that's not necessary, but it is handy to measure everything out first so you can make sure you actually have enough of everything on hand. If you've ever baked with me you'll know that I never have everything I'm supposed to have with me. It's kind of my thing.
Next, put your two flours into one not-as-adorable-bowl
and sift them together. Then add your salt in there too, mix and put it aside.
Next, cream your butter, icing sugar, and coconut extract until it's lovely and smooth.
Now you can add your bowl-of-dry-things and let it mix until just blended. Don't over handle the dough though. For serious.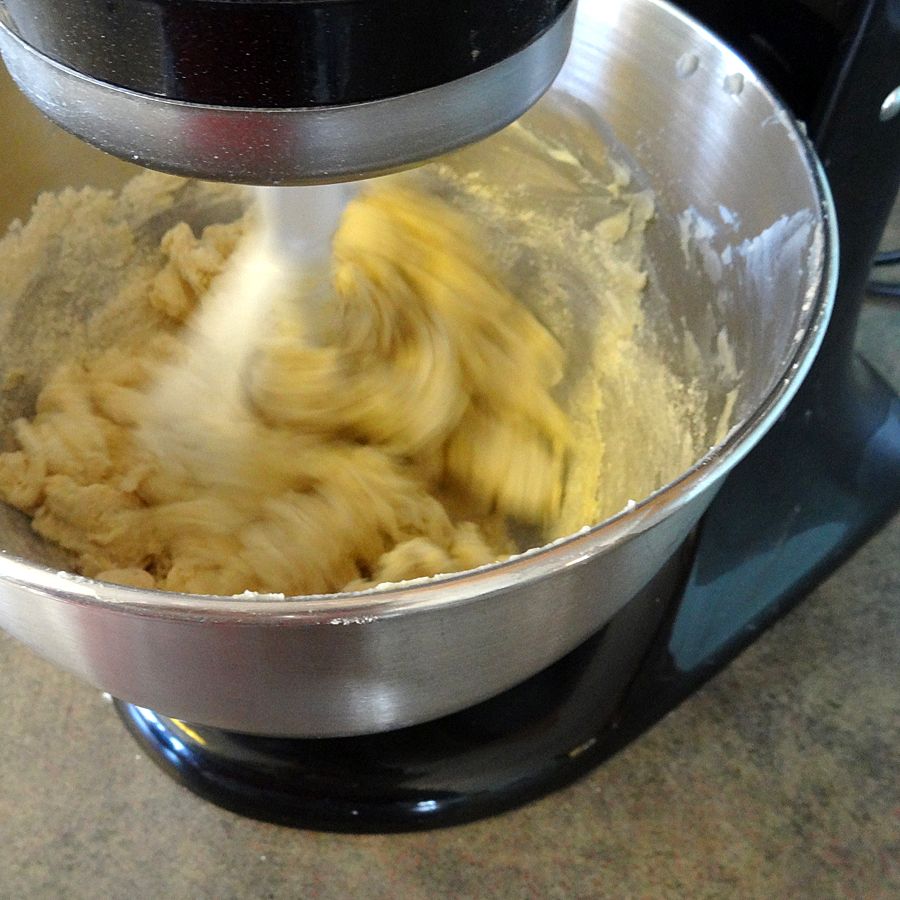 Make your dough into a ball, put it in a bowl, wrap it up in some plastic wrap and leave it in the fridge to firm up for at least an hour.
Take advantage of this time to make yourself a cup of coffee and google mullets since you're probably still thinking about when I mentioned them earlier.
The perfect diagram, for the perfect hairstyle.
Now that you've lost an hour on the interwebs, preheat your oven to 350 degrees, divide your dough ball in half, sprinkle some of the all purpose gluten free flour on the counter and roll that dough out.
Start by cutting out the bottom of the sandwich cookies
followed by the tops
which will also leave you with a bunch of bonus wicked-cute-tiny-heart-cookies as well. SPOILER ALERT: they're cute and delicious.
Once you have an even number of both, pop them onto a cookie sheet lined with parchment paper and bake for about 10-15 minutes depending on your oven. I never realized how much an oven can vary until recently when I had to start baking in my parents' kitchen. I'm pretty sure that their oven has a mind of its own… even though it's an inanimate object so technically it doesn't have a mind, but I digress.
Once your cookies are lightly golden, take them out of the oven and lay them out on some paper towel to cool.
Now take each bottom cookie and spread a little bit of that sweet blueberry chia seed jam on it.
For added cuteness, gently dust the top halves with icing sugar
and then sandwich those cookies together.
Repeat until all your cookies have been sandwiched, and then bask in their adorableness.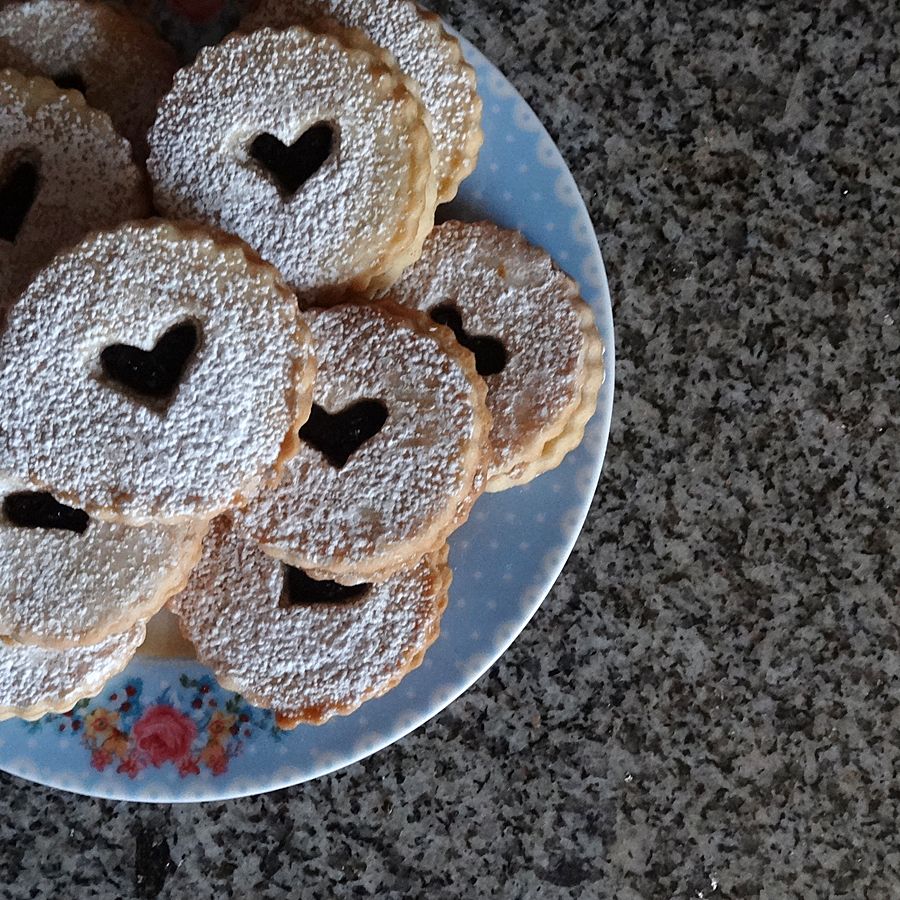 … and then eat them. All of them.