Last weekend I had the great pleasure of attending the very first Celtic Oktoberfest in Port Hawkesbury.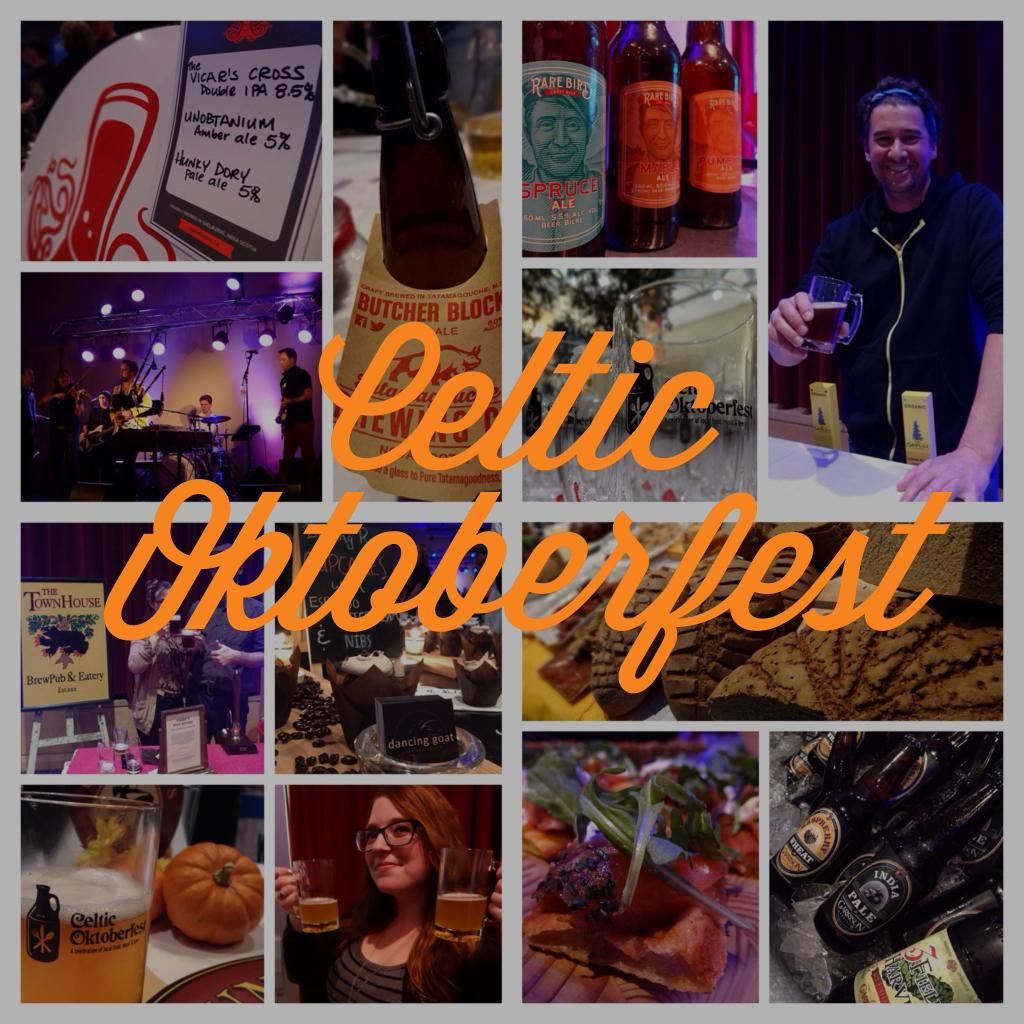 Put on by the Strait Area Chamber of Commerce as part of their Small Business Week celebrations, the evening was a celebration of local food, beer and music hosted by local radio celebrities Scottie O and Greg from 101.5 The Hawk.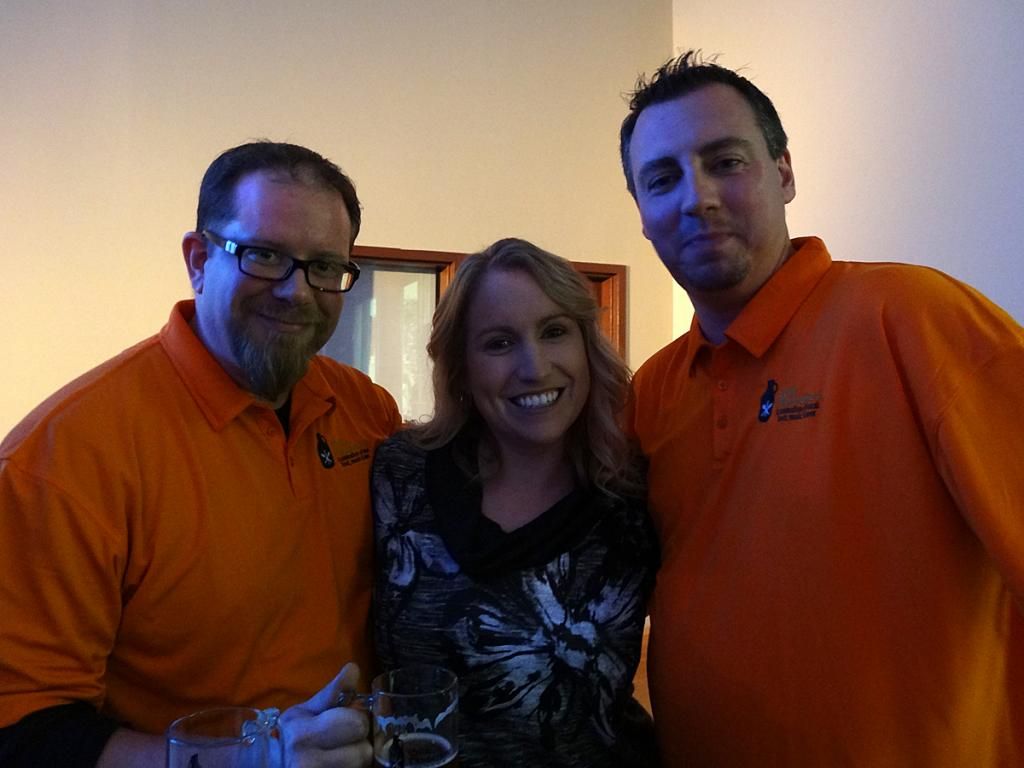 A rose between two thorns. Sorry guys, I said it. But really, Suzanne's a babe, so deal with it.
There were 9 local craft breweries from across the province on site…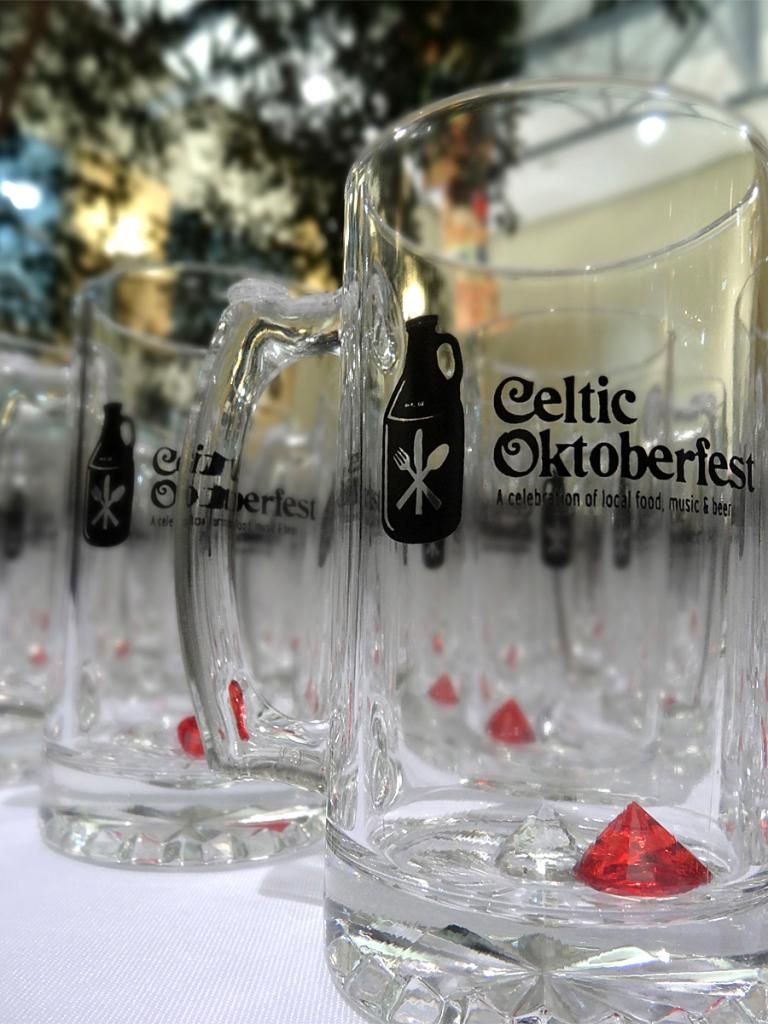 If you're going to have free beer, you've gotta have some nice glassware, amiright?
…plus local food from 11 restaurants/bakeries/culinary students, and live music from Mac Morin & Wendy MacIsaac, and Party Boots.
And yes, they did play together at one point, and yes it was awesome.
I am a big fan of this type of event. It's a great opportunity to showcase local talent and producers, to try something new, and to meet some new people as you stuff your face and raise a glass.
I was extra excited about Celtic Oktoberfest because it was happening in Port Hawkesbury. As a near-by Antigonisher, it's always a treat to see fun and exciting things happening in our area. Our region has so much to offer, and I'm always glad to see it on display.
My personal goal for the evening was to make sure I tried all of the breweries, since there were a couple there I'd never had before. I am happy to say I achieved my goal, but in the process did not end up remembering to try all the foods. Hmm I wonder how this happened? I guess that just means I'll have to make a trip back up to Cape Breton for a food tour and check out the spots I missed. Who's with me?
Big Spruce Brewing
First stop for me had to be Big Spruce Brewing.
I had heard on the Twitter that they'd be sampling their new Smoking Jack It Smoked Pumpkin Ale at Celtic Oktoberfest, and had also heard the terrifying news that is was in very limited supply so I did not hesitate to make it my first beer of the night. I knew if I didn't try it here, I may not have the chance again. #priorities
Let me tell you, this was one of the best darn pumpkin ales I have ever had. I am sad that I can't get it again, but will console myself with some of their other awesome offerings. Their selection of certified organic unfiltered, unpasteurized beers are always a solid choice. May I suggest the Cereal Killer Oatmeal Stout? Well I just did. Go get some.
FYI I recently made a trip up to Big Spruce Brewing in Nyanza to grab some growlers, and I will be posting about it in the near future as well! I highly recommend taking the trip up, but word to the wise: their beer is so popular they often sell out on the weekend. So maybe try to get there early to avoid disappointment.

Cabot Links
Next up was some irresistible smoked salmon from Cabot Links.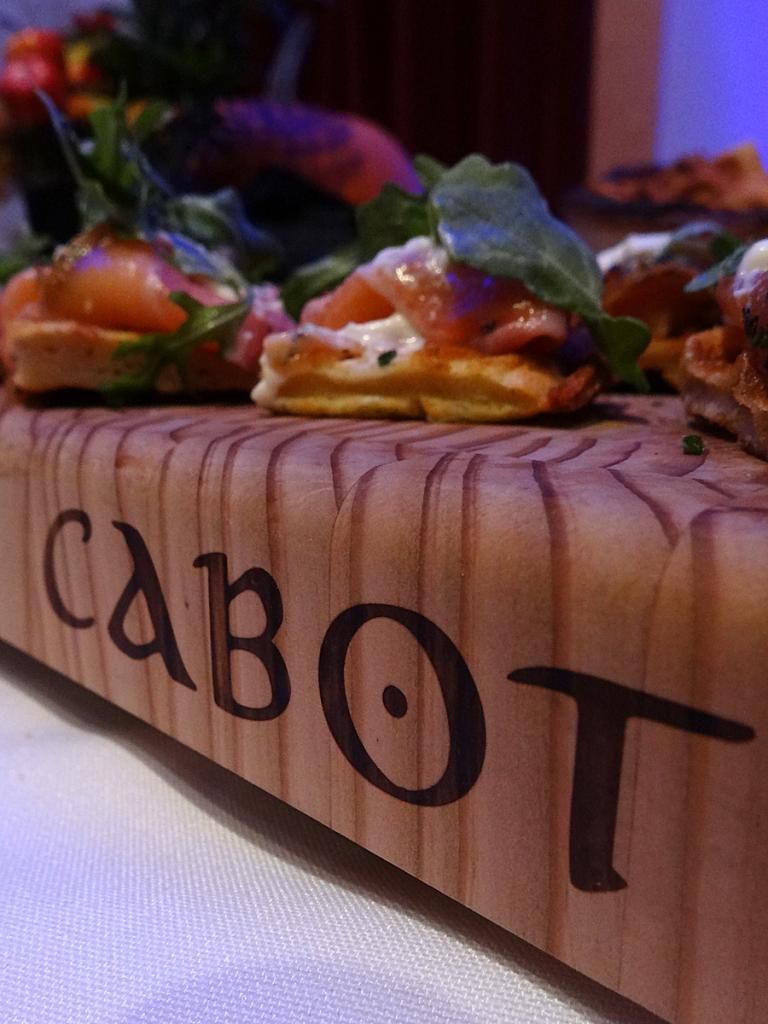 I tried to get a good shot of the beautiful salmon fillets they were serving up but failed miserably. But that's ok, you can just look at this instead.

Dang.
This cold smoked salmon is cured in-house and features Glen Breton and local maple syrup, and yes it is as delicious as it sounds.
I must admit, I've never been to Cabot Links before, but after having a nice chat with one of the chefs I think I may have found the perfect excuse to take a trip to Inverness. After looking at all the pictures on their website and drooling over their three restaurants' menus – that's right, THREE – my only concern is that if I go I might never want to leave again. Damn Cape Breton, why you gotta be so awesome?
Free Range Bio Farm
My next stop for deliciousness was a food producer I've never heard of before, but was super impressed with.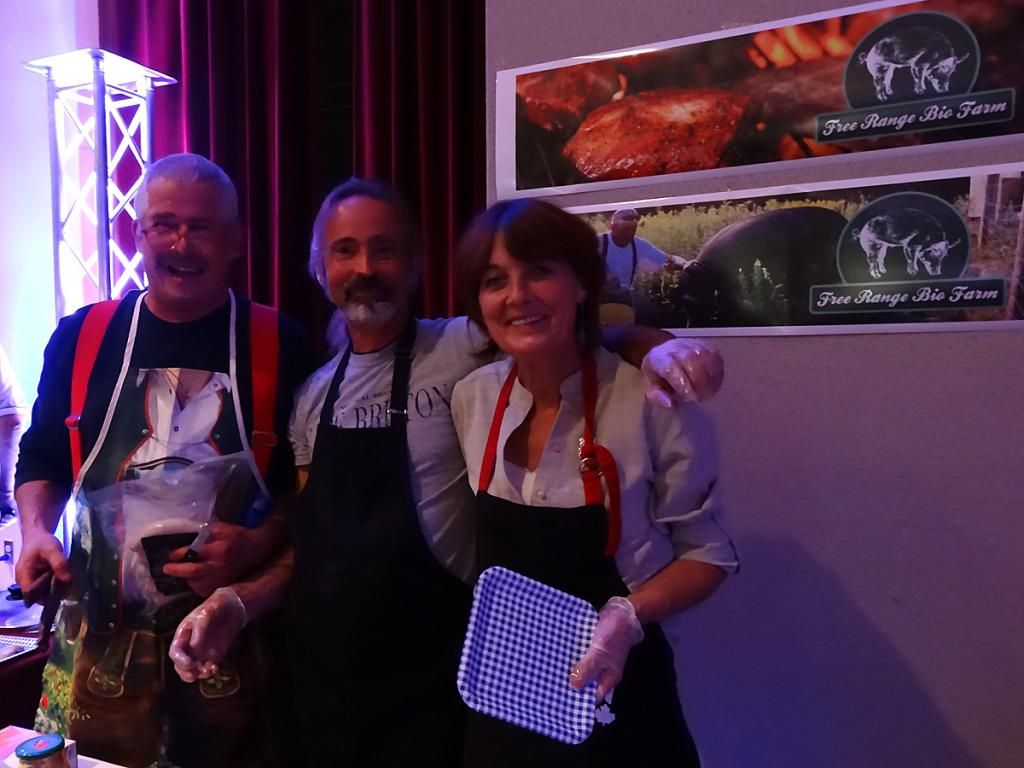 Free Range Bio Farm sells ethically treated, environmentally friendly, hormone and chemical free meats and meat products including Berkshire and Duroc Pork and grassfed Angus Beef.
As noted on their website, the owners immigrated to Cape Breton from Hamburg, Germany in 2005 and brought their old family farming traditions and recipes with them. I got to enjoy some Gluten Free Leberkäse (a bun stuffed with Bavarian porkloaf and Bavarian sweet mustard), some Gluten Free Oktoberfest Weisswurst (aka "the real one" served with sweet Bavarian mustard), Gluten Free Bratwurst with onions (made with eggs, pepper, salt, herbs and tomatoes but no fillers).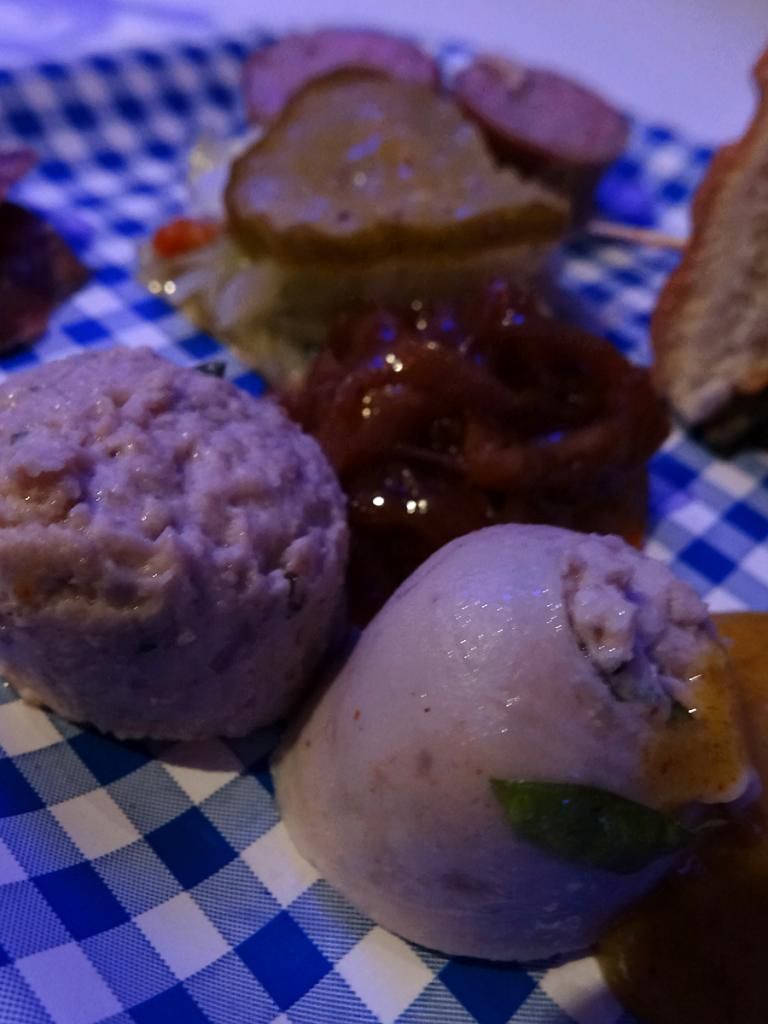 So. Good.
Tatamagouche Brewing Company
Time for another first!
I was really excited to get to try out Tatamagouche Brewing Company for several reasons:
They are the newest brewery in the province.
My dad grew up in Wallace, and I used to visit Tatamagouche on the regular as a child but haven't been back in YEARS and taking a road trip down there to check things out sounds like a great excuse to revisit my childhood.
This slogan: "Let's raise a glass to pure Tatamagoodness". Seriously. How can you not love that?
Can we all take a moment and acknowledge this historic moment: Maureen actually listed more than two things in a list, and did not switch between numbers and letters while doing so. It's a miracle!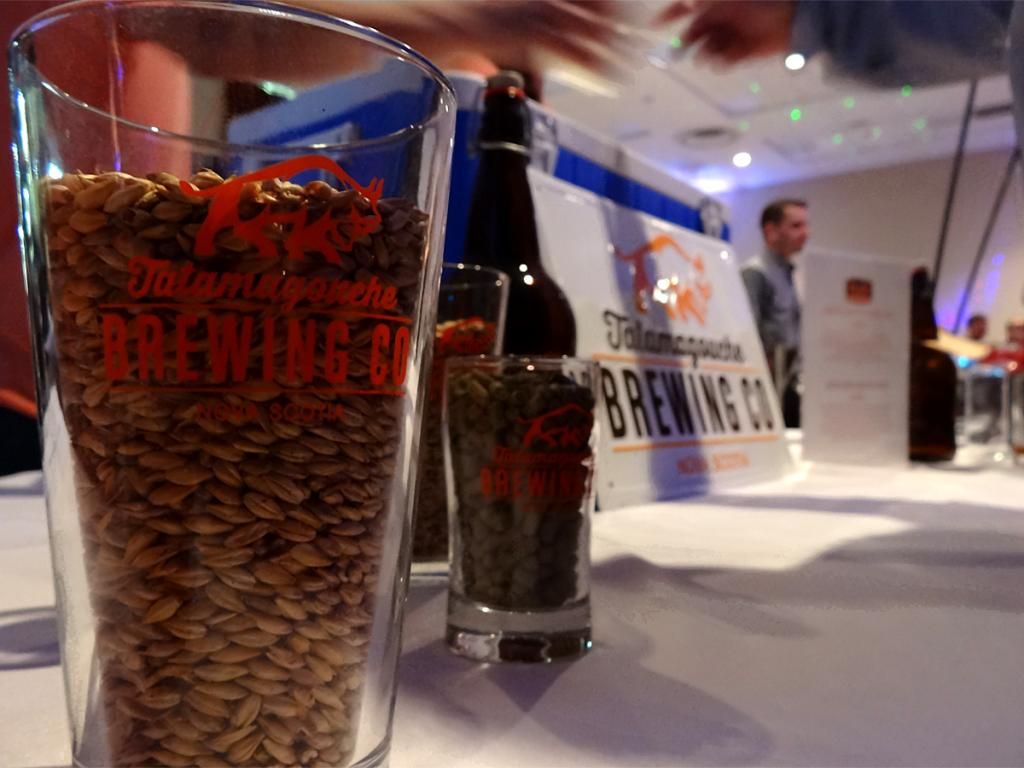 Tatamagouche Brewing Company had two beers on display for Celtic Oktoberfest: Hippie Dippie Pale Ale (don't worry, they assured us no hippies were harmed in the making of this beer) and Butcher Block Red (aptly named for their location which is in an old butcher shop on Main Street).
I managed to try both over the course of the evening, and although both were great I think I preferred the Butcher Block Red.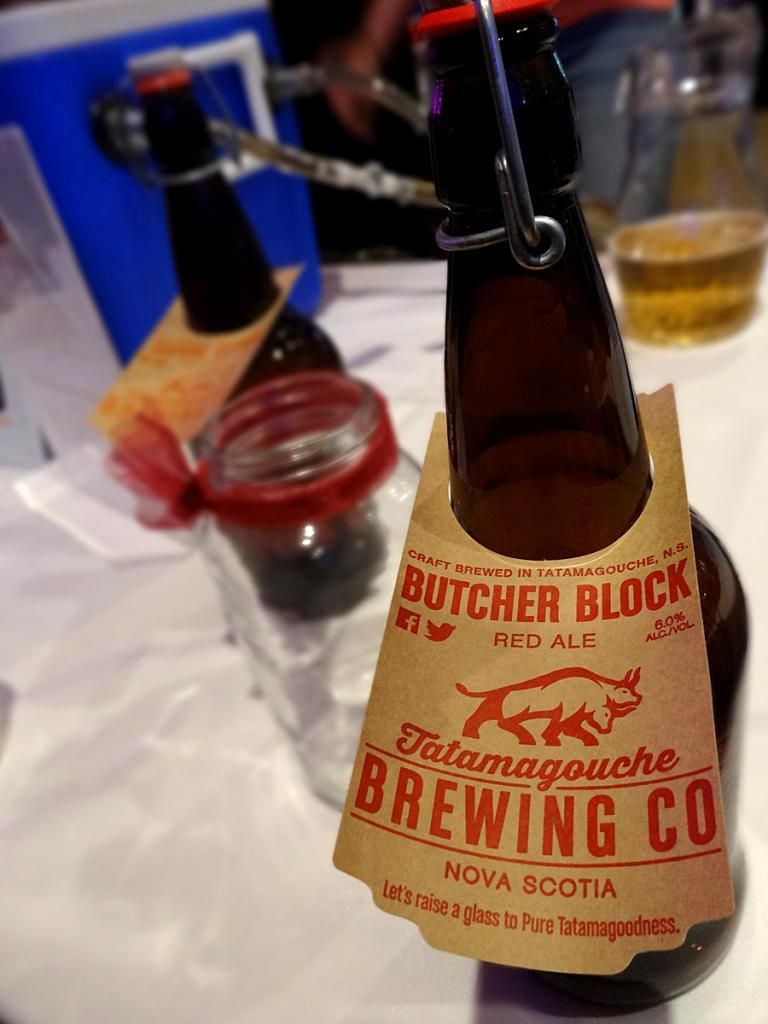 But just to be sure, I think I will need to make that trip down and try them again… plus I heard there would be a new beer coming out in the semi-near-future, so I should probably try that too. Deal? Deal.
Miller's Tap and Grill
On previous trips to and through Port Hawkesbury I've stopped for food at Miller's Tap and Grill and have always been happy with that decision.
I was also happy with their selection of samples, including: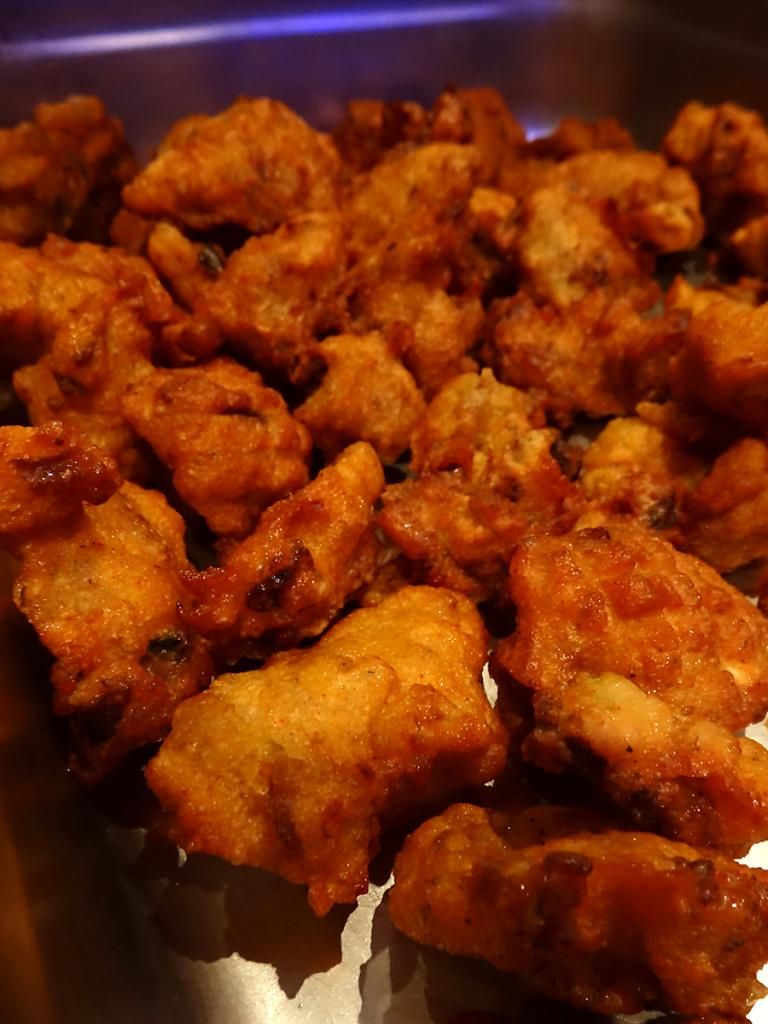 Fritter Battered German Sausage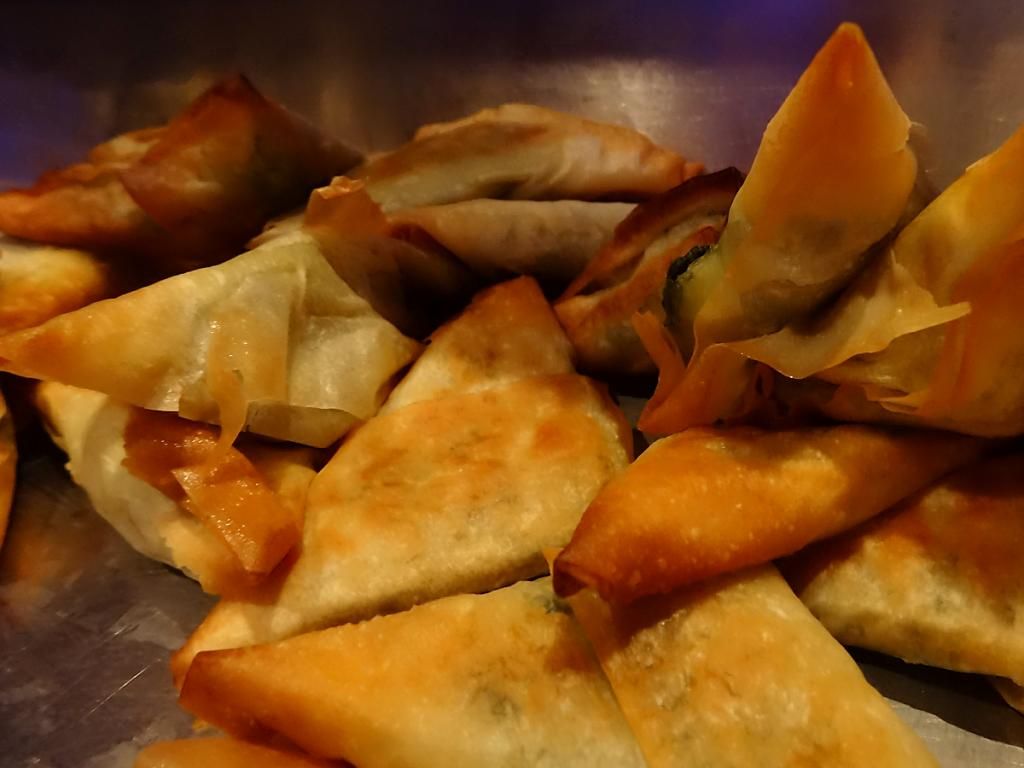 Spinach and Feta Spanakopita
and…
…my personal fave: Beer Braised Sausage. I am not comfortable admitting how many of these I ate.
FTR Miller's Tap and Grill is located in The Maritime Inn… which was super conveniently located right down the street from the Port Hawkesbury Civic Centre, so I opted to stay there and have a nice easy walk home after the night's festivities. Solid choice.
DANCE BREAK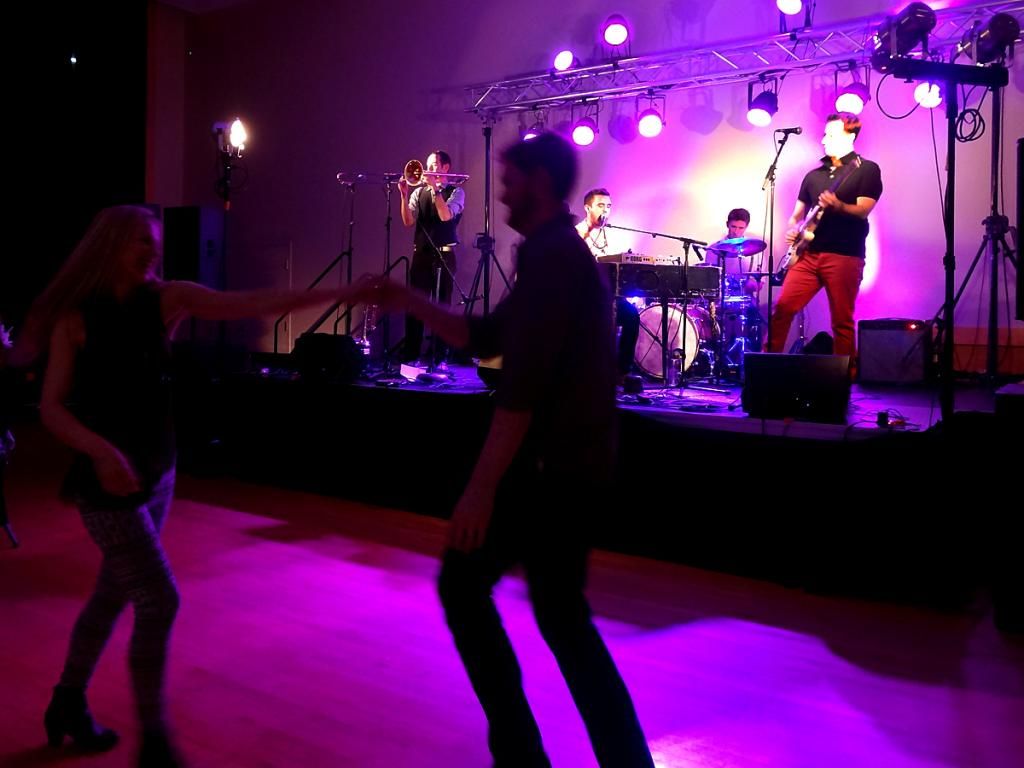 I must say having live music all night was definitely a bonus. Except for the one time I left the room all night and Party Boots played my favourite song which I would have never expected to hear live ever and I missed it. Yes, I am still sad about this. Guess I'll have to go to your next show to make up for it…
In the meantime, let's all listen to the original.
The best.
Uncle Leo's Brewery
Interesting fact: when I first started getting into beer, Uncle Leo's Smoked Porter was one of the first that I tried and really enjoyed.
I decided to mix things up and try something different, so I opted for some of their Vohs Weizenbier.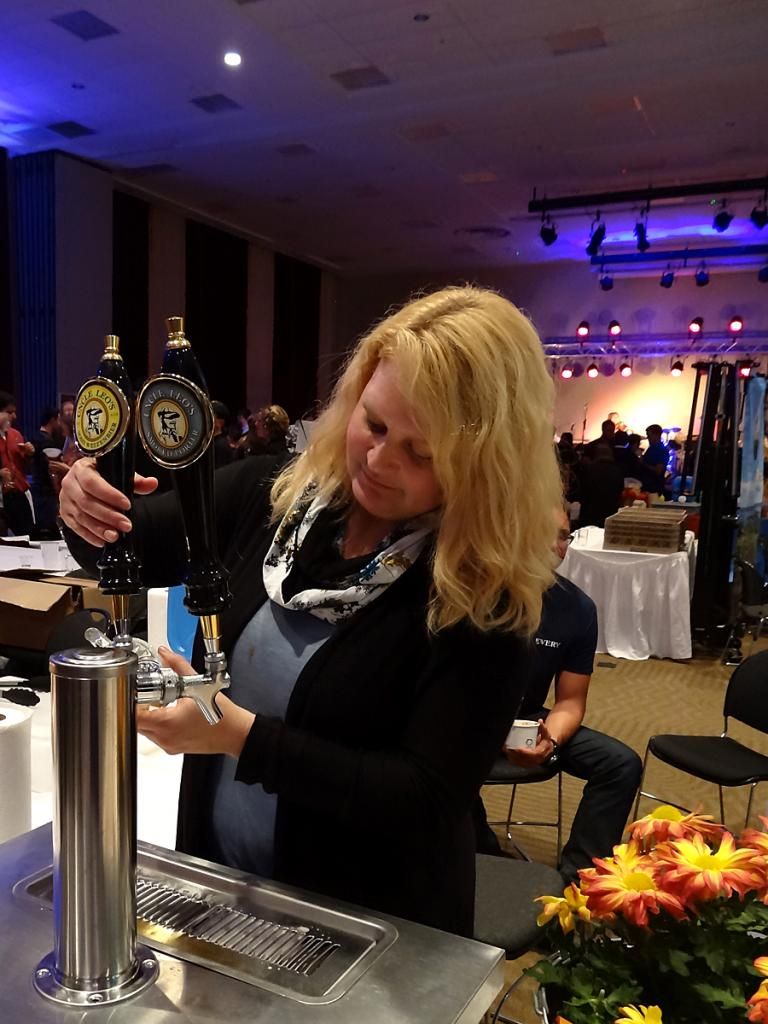 I also had a great chat while this beer was being poured about the beer I was about to enjoy, and about the Pumpkin Launch trebuchet competition hosted by Big Spruce earlier that day.
For those who are wondering, there was some pretty fierce competition on the pumpkin launch, and it may have resulted in some "varying opinions" on who won. So, I'll open up the floor at this point if anybody would like to give me their side on who won…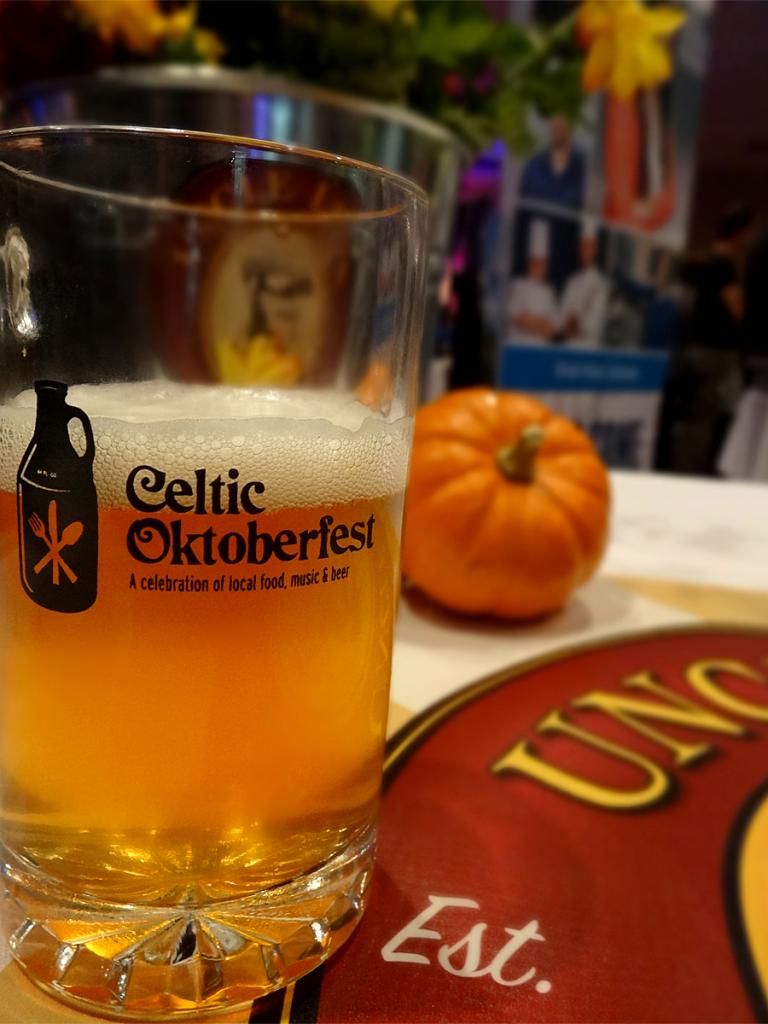 As for the Vohs Weizenbier, this German wheat beer just brought home the Gold in the German Specialty Beer category from the First Annual Atlantic Canada Beer Awards, and is good for more than just drinking – apparently it's great for roasting turkeys! You had best believe I will be trying this out in the future.
North Brewing Company
Next up was something I had been reading about online and was very intrigued by: North Brewing Company's Saison de L'Acadie.
In case you aren't familiar with this magical creation, it's a Saison Wine Hybrid made with Avondale Sky's L'Acadie Blanc, local honey, and a combination of Pilsner and Wheat Malt. It was on my must-try list and I must say it was pretty great.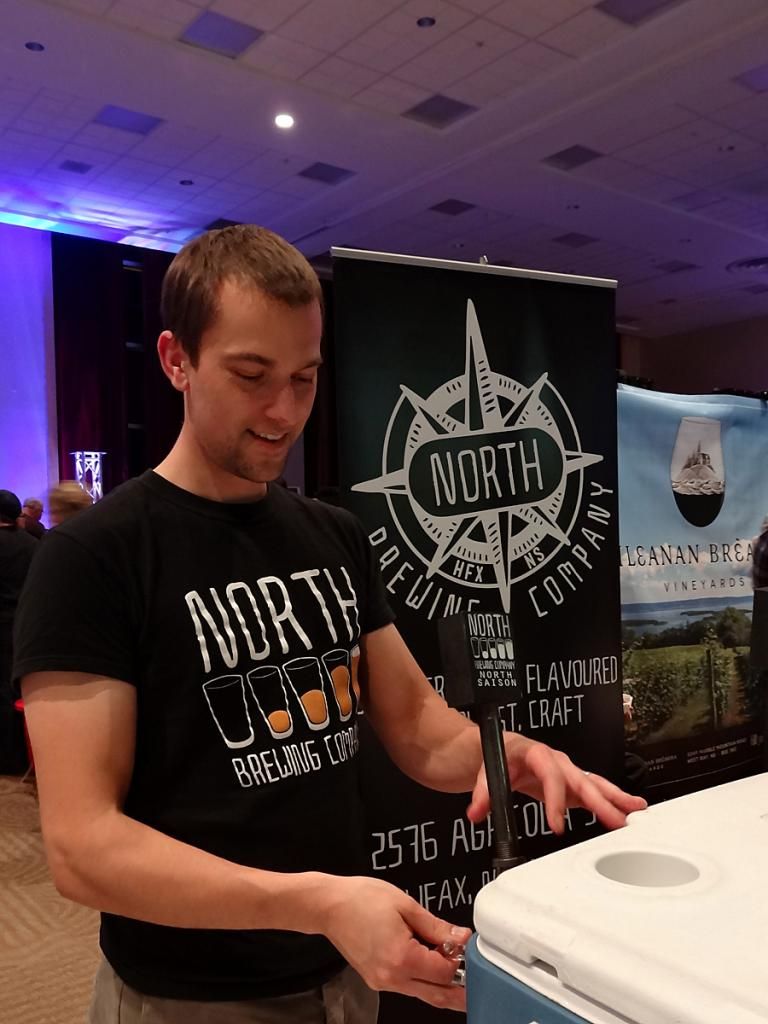 I think people really enjoyed me taking a bunch of pictures of them. Thanks for being a good sport, and for serving me delicious beer. You guys are the best.

Cheers!
I'd never had a beer-wine hybrid before and wasn't really sure what to expect. I really enjoyed it and highly recommend you go out and try some too.
Apparently I liked it so much I decided to double fist some.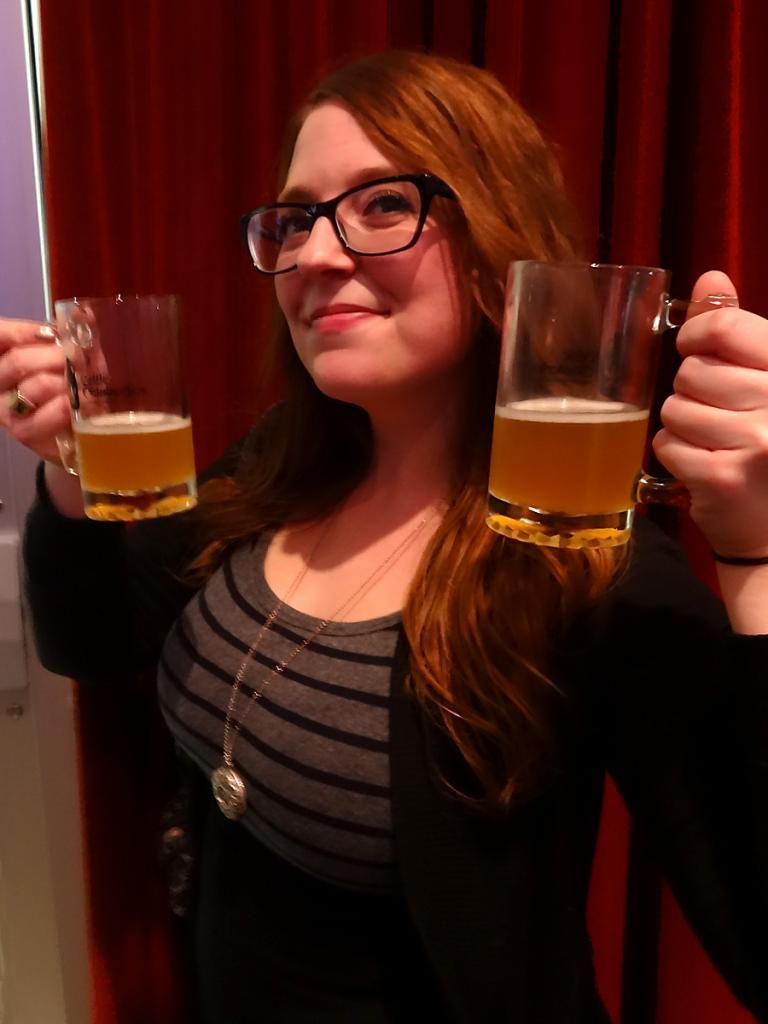 Apparently I have a thing for double fisting food and drinks. I would like to think of it as my way of being efficient, and consuming as much deliciousness at once as possible. Yeah… let's go with that.
Also, I apparently say apparently a lot.
Garrison Brewing Company
Although I'm pretty familiar with Garrison's offerings, I must admit I hadn't tried the Tall Ship Amber until the other night.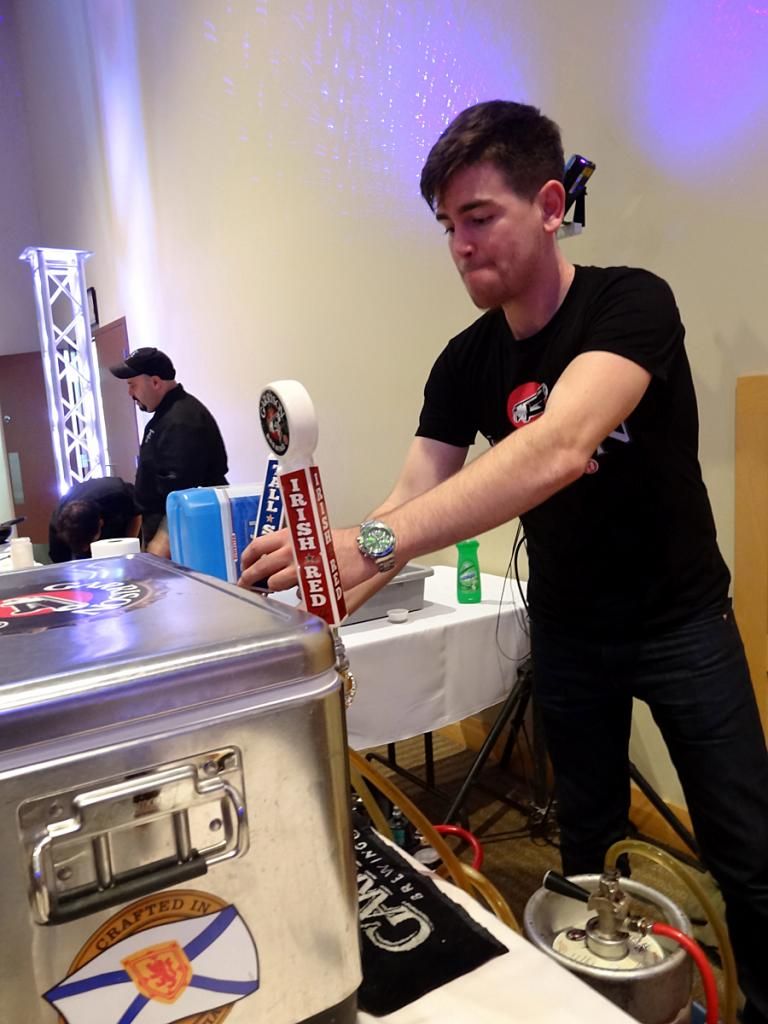 Pouring beer is serious business…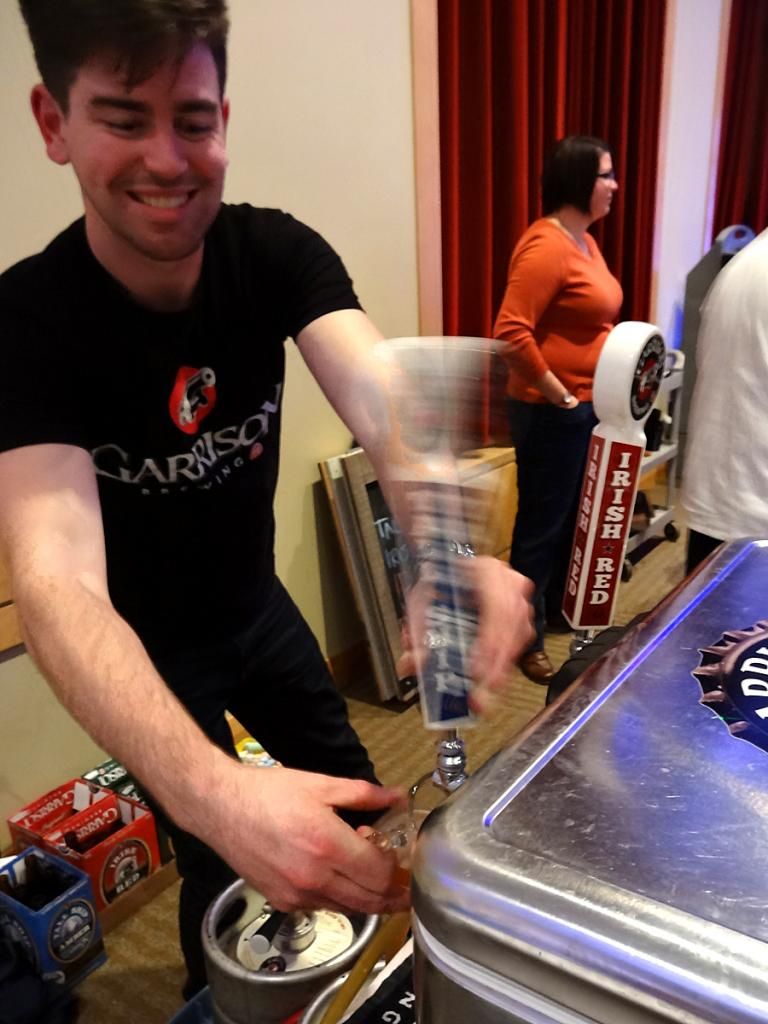 … but also fun!
To be fair, I've tried most of their other year-round beers, and several specialty and seasonal offerings so I won't be too hard on myself for waiting this long to try the Tall Ship.
And maybe to make up for not having it sooner, I should just have more of it now… to make up for lost time? Seems like the only solution to me.
Dancing Goat Café
As a general rule, I try to live my life without regrets. However, my biggest regret from last weekend was not looping back to grab one (or several) of these cupcakes from Dancing Goat Café and Bakery after I took their picture.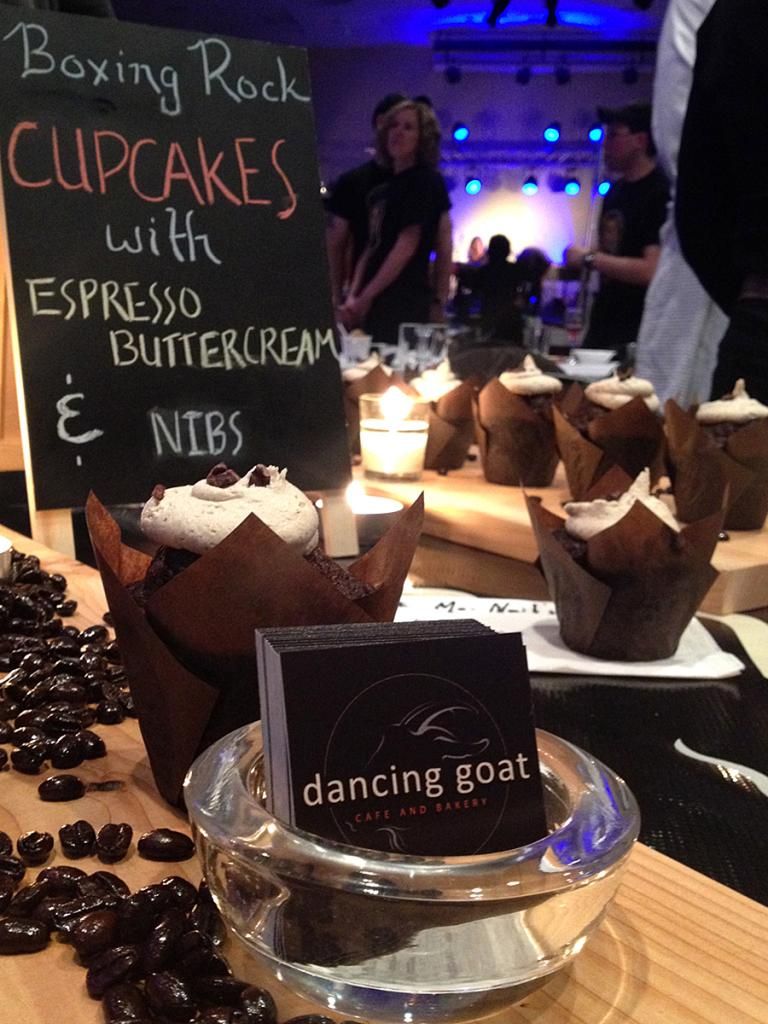 If you know me, you know how much I love cupcakes. The realization that I did not remember to grab one of these still haunts me at night.
I blame all the beer samples. I never thought something could come between me and cupcakes, but apparently beer can. Damn you beer, damn your deliciousness!
I guess I'll just have to add Dancing Goat Café to my ever growing list of reasons-I-need-to-go-back-to-Cape-Breton-in-the-near-future. Geez… twist my rubber arm.
Boxing Rock Brewing Company
Although I did not obtain the delicious Boxing Rock Brewing Company cupcakes from Dancing Goat, I did obtain some Unobtainium!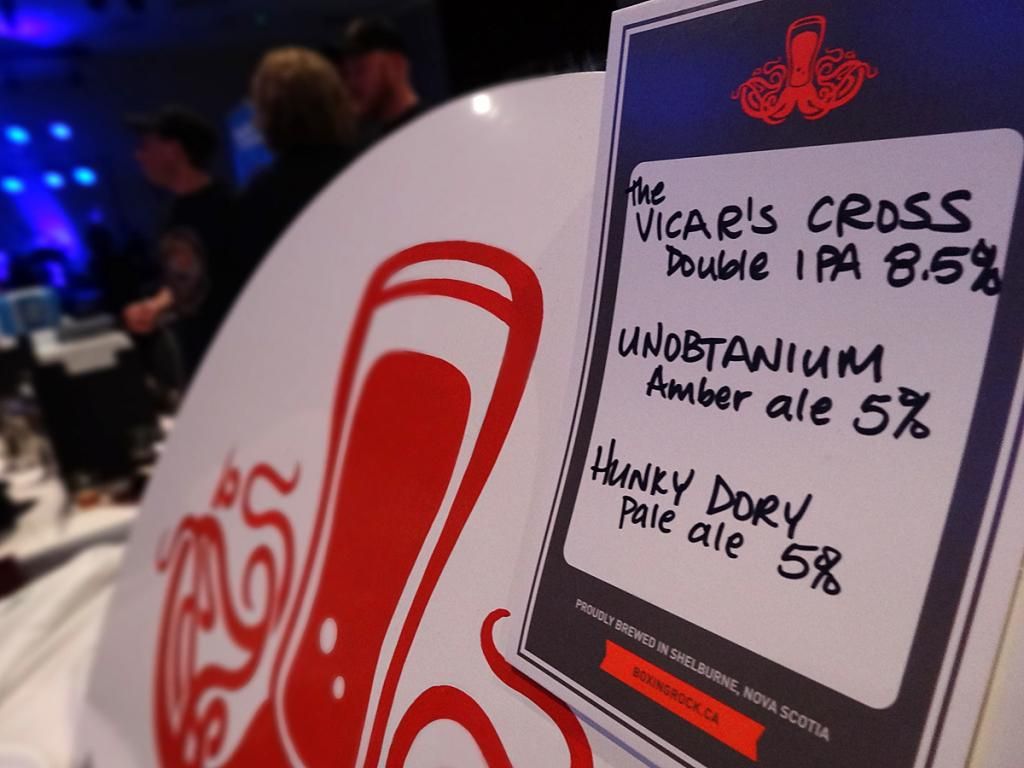 I had read about this mysterious beer on Boxing Rock's blog a week ago and knew I needed to get my hands on it. I highly recommend you read their post here.
Love it. You know what else I love? Getting to meet the people from the breweries. I mean seriously, look at these smiling faces… how could you not want to buy their tasty beers?

Awww, brewery buddies.

I must say that I'm pretty sad there will never be more Unobtainium, but am glad that I got to try some. Fingers are crossed I can obtain some more before it sells out, and I suggest you do the same. Once it runs out, I will just have to console myself with a Vicar's Cross I guess…
FYI Boxing Rock also had some pretty sweet merch available at Celtic Oktoberfest, but sadly no shirts in my size.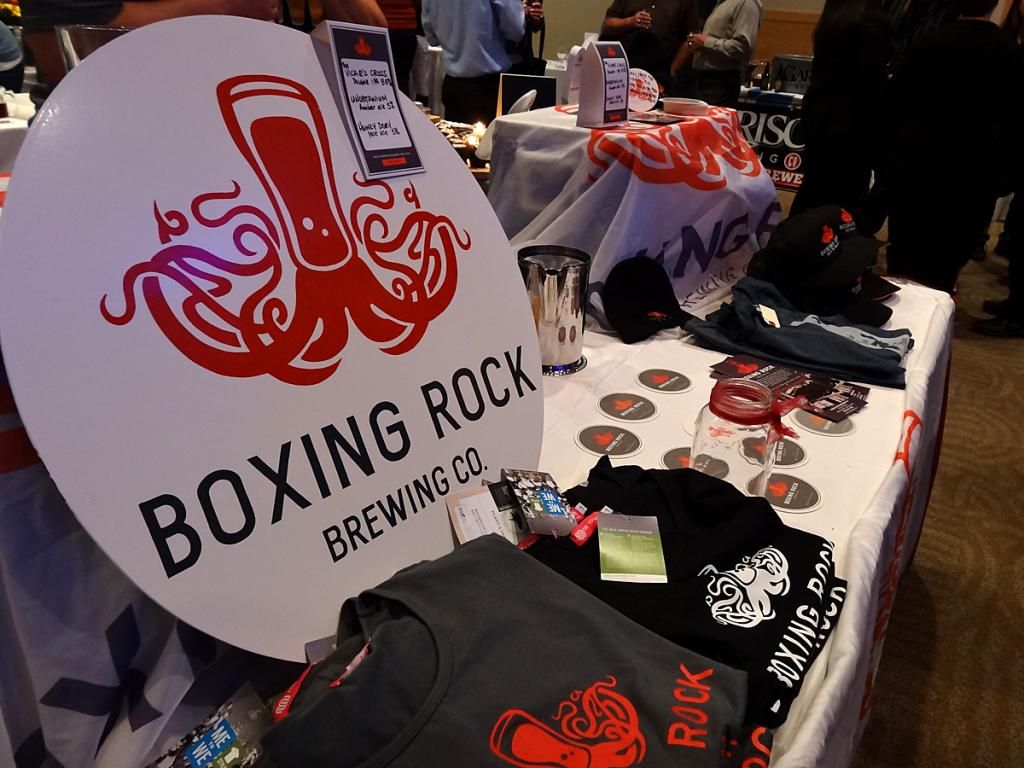 Luckily there are some things available on their website, but sadly no "Drink Beer From Here" shirts… how does a girl get her hands on one of those beauts? Lil help?
Hell Bay Brewing Company
Another first time beer from Celtic Oktoberfest was Hell Bay Brewing Company. I'd heard good things, so was looking forward to trying it out for myself.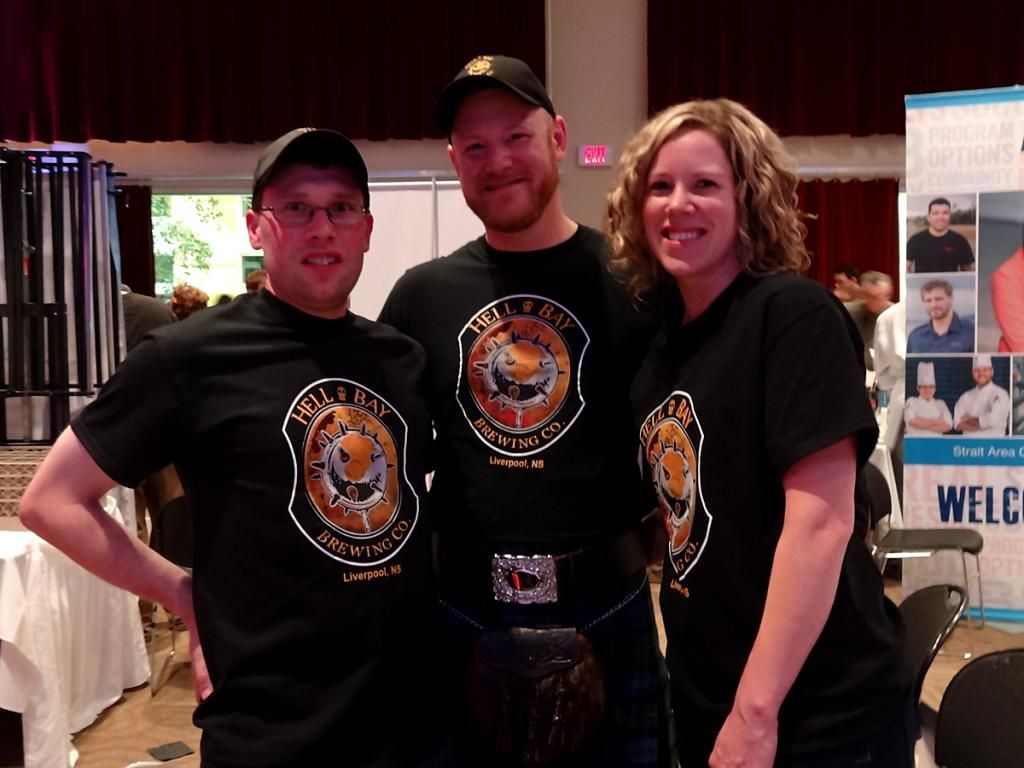 Nothing but smiles from the Hell Bay Team… and beer. Lots of smiles and beer.
I figured I should try both so started off with an English Ale and then tried a little R.I.P.(A.) too. Will I be trying them again soon? Oh hells yes.
Ok, not my best pun. I'll work on it.
Rare Bird Pub
Here is another great reason for everybody to take a drive down to my neck of the woods. If you've never visited Guysborough then you are missing out. The scenery is beautiful, the people are lovely, and the beer is great too! Rare Bird Craft Beer has some brews available across the province in the NSLC, but if you want to check out the full line up I suggest you come for a visit.
I had the pleasure of trying out their Spruce Ale (which I would liken to drinking a really delicious yet subtle Christmas tree) and their Pumpkin Ale (which recently won Gold in the first Annual Atlantic Canada Beer Awards for the Fruit & Field Beers category).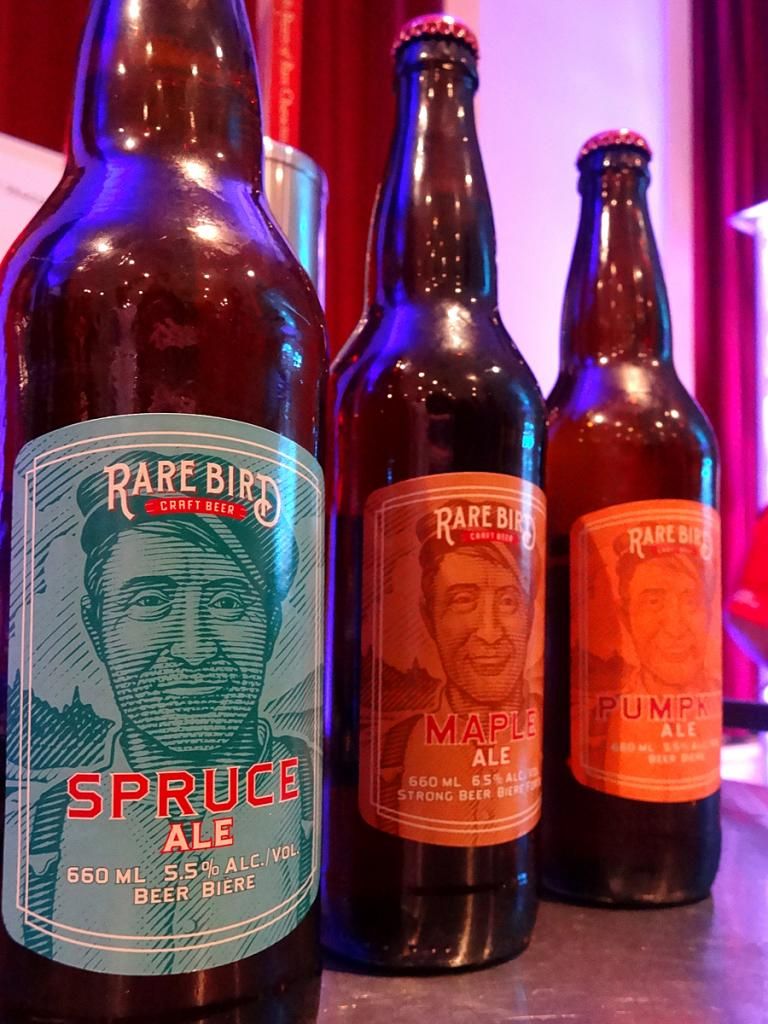 I will definitely be taking a drive down for a growler fill up in the near future, and to grab some Full Steam Coffee, and a couple of treats from Skipping Stone Café too. In the meantime I might hit them up at the Antigonish Farmers' Market the next time they're set up, but I really do enjoy the drive down so I should probably do both sooner than later. For serious guys, it's a beautiful area.
Martin's Fine Bakery
My final food stop was a visit with the fine folks from Martin's Fine Bakery.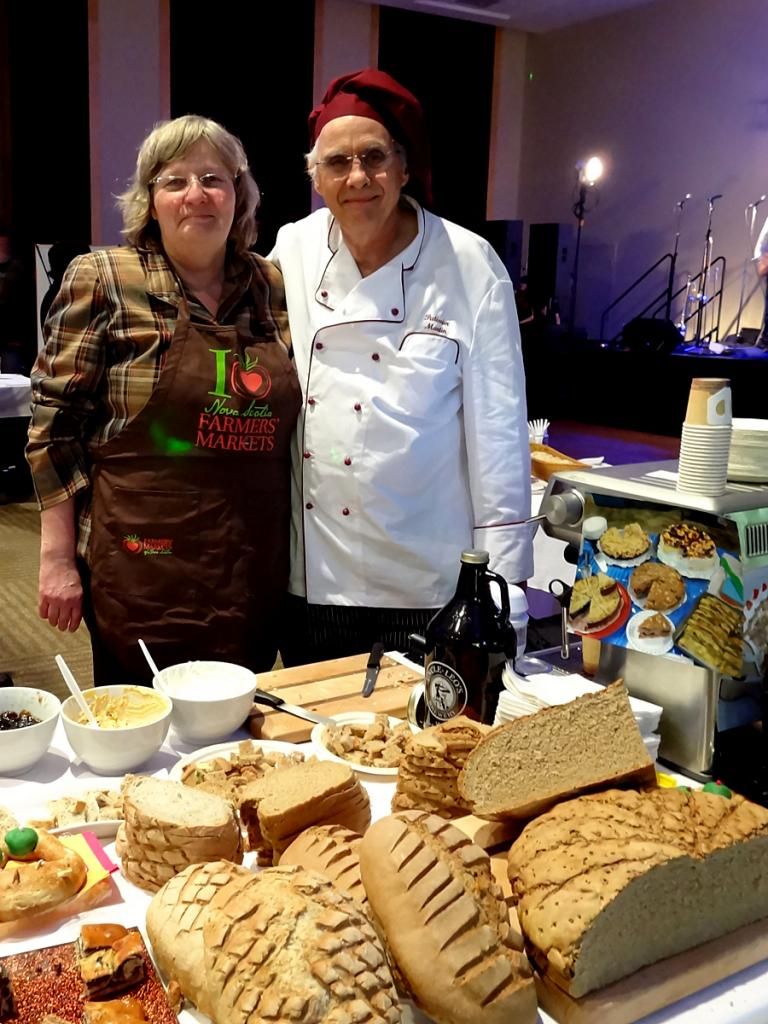 Their table had been beckoning me all night with their assortment of beautiful baked goods and I could resist no longer.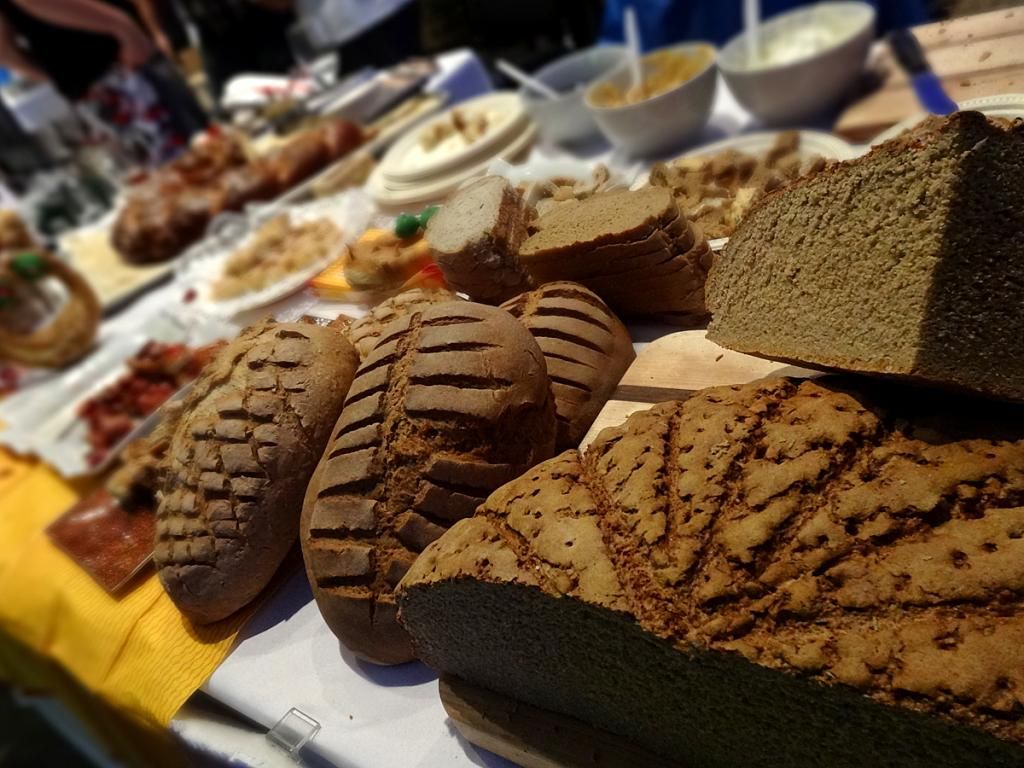 Girl loves some bread…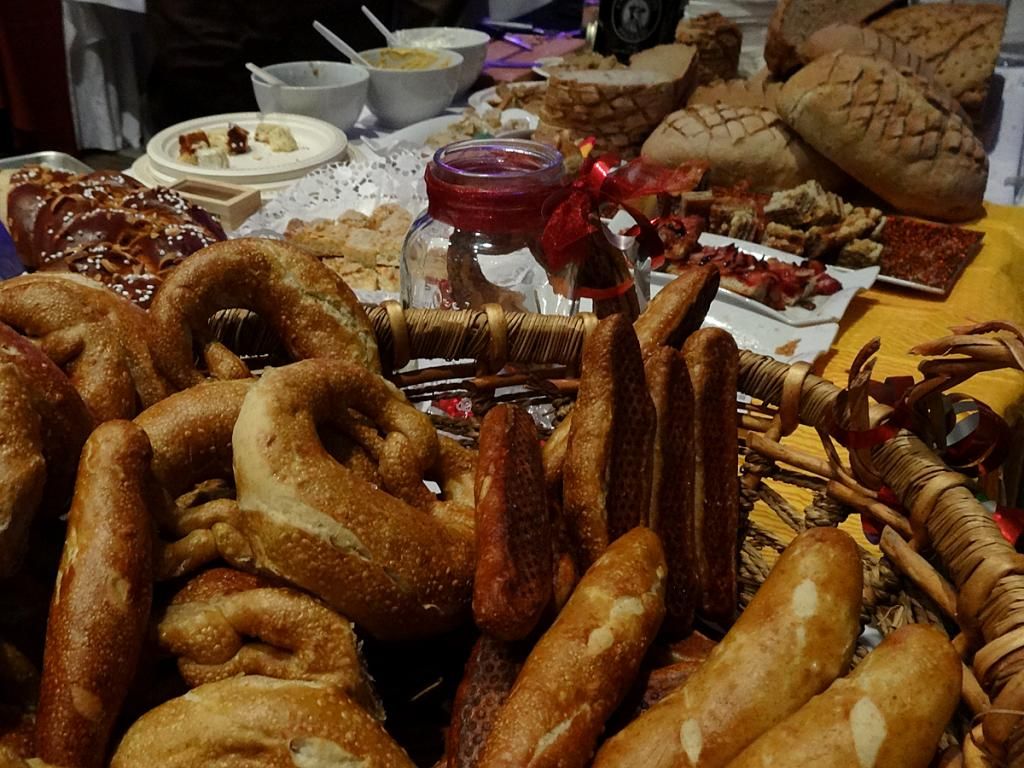 … and pretzels. Oh gosh I love a good homemade pretzel something fierce.
I said it before, and I'll say it again: my favourite part of this type of event is getting to meet the people behind the products.
I really enjoyed my chat (and snacks) and talking about the awesome Nova Scotia Farmers' Market scene. As someone who was (and will be again!) a vendor at a Farmers' Market, I was really impressed to hear that Martin's Fine Bakery sells at three markets: Port Hawkesbury, Mabou and Baddeck. I found it hard to keep up with one, so good on ya.
If you're in the area, I definitely suggest you check them out. You won't be disappointed. Unless you don't like delicious baked goods, in which case please never speak to me again.
The Townhouse Brewpub and Eatery
Last but certainly not least, I made a stop for one of my personal favourite local brews: The Townhouse Brewpub and Eatery's Terry's Best Bitter.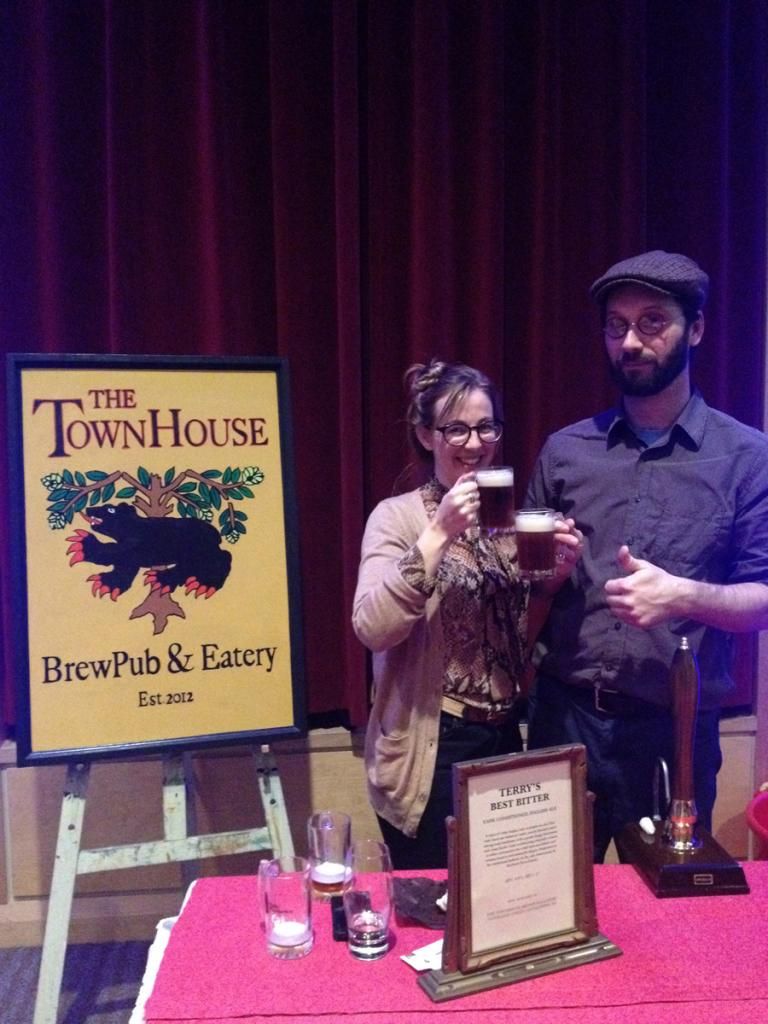 Just like the Uncle Leo's Smoke Porter, this was one of the first beers that I actually really enjoyed when I started drinking beer, so it has a special place in my beer-drinking heart.
I'm a pretty big Townhouse fan, and if you're in Antigonish it goes without saying that you have to stop in. Not only do they brew their own beer upstairs, but they also have 8 local breweries on tap plus a rotating guest tap, and their menu changes seasonally and features fresh local ingredients. They're also super nice people so that's an added bonus.
ONE LAST DANCE BREAK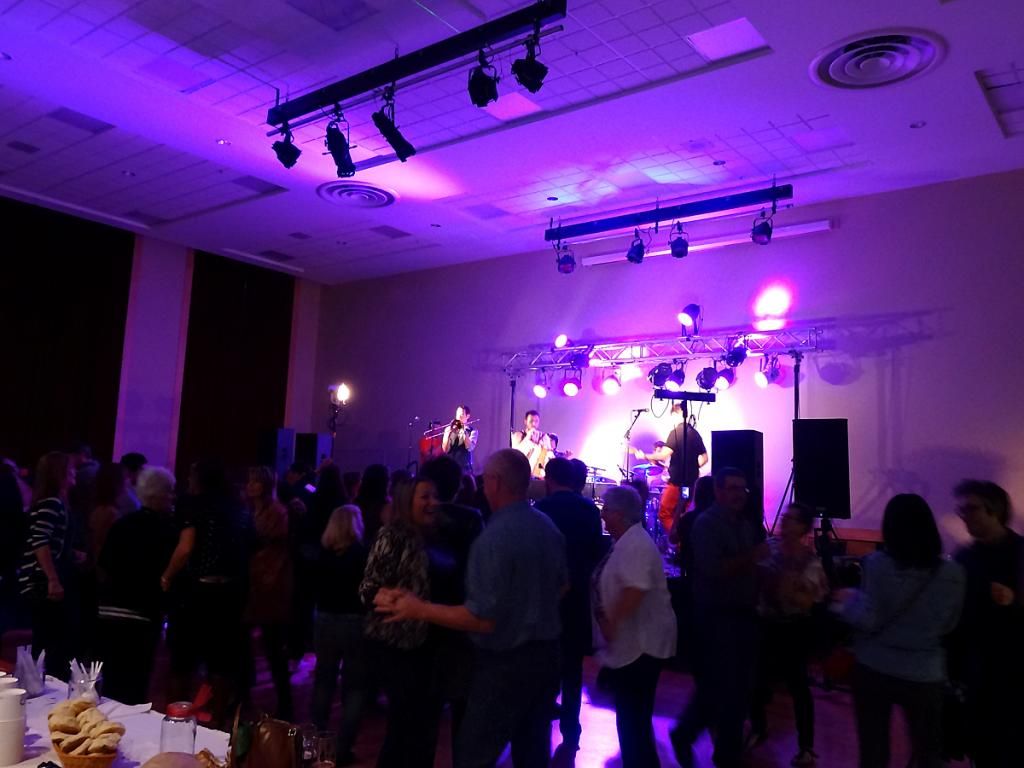 As you can see, by the end of the night the dance floor really started to fill up.
---
So that's it folks. It was quite the night, and although I didn't make it to every table there, I did get to try lots of new things and meet lots of local producers.
If you didn't make it this year, never you fear: next year's Celtic Oktoberfest is already being planned for October 24, 2015.
So why don't we all just take a second and go mark that date off on our calendars right now.
I'd also like to take a second and thank the Strait Area Chamber of Commerce for planning Celtic Oktoberfest and giving me the opportunity to come check it out. It was tons of fun, and I will be there with bells on next year. Well, maybe not actual bells, but you know what I mean.