It's not every day that a professional pastry chef gives me an adorable package of homemade miniature bomboloni.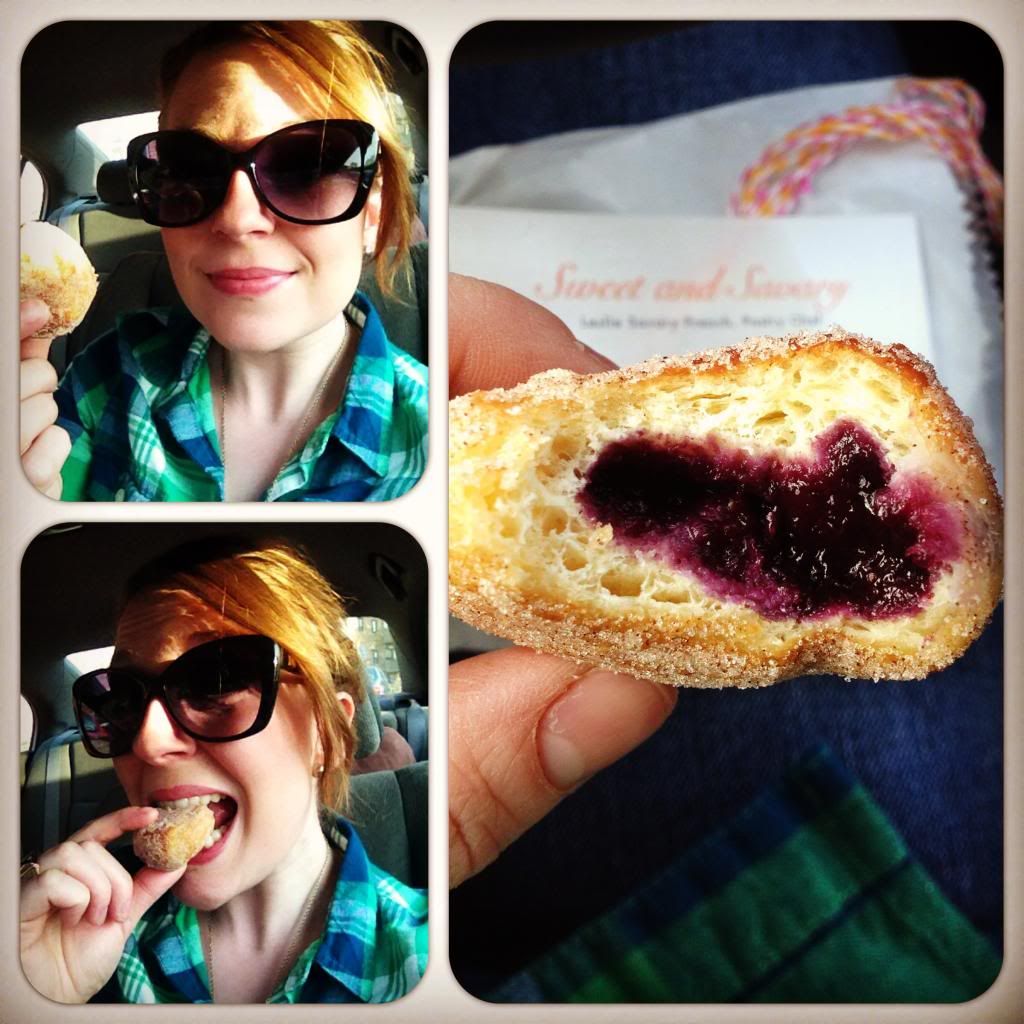 And it's not every day that I get to share the recipe for those delicious little treats on my blog.
But today is that day, and once you try these out you're probably going to want to make today a statutory holiday to celebrate how delicious they are.
Seriously, let's start a petition. I would definitely be ok with a paid day off to stuff my face with boms all day. In fact, you don't even have to pay me. I'll just do it.
But let's back this bus up. A few weeks ago I was contacted about helping to spread the word about an amazing scholarship opportunity for Canadians interested in enrolling at the International Culinary Center in New York.
The scholarship was launched to celebrate their 100th Canadian enrollment, and offers a $2,500 scholarship for students in the Art of International Bread Baking, Cake Techniques & Design or Intensive Sommelier Training, and a $5,000 scholarship to those interested in studying Professional Culinary Arts or Professional Pastry Arts. Want the specifics on the scholarship? Check it out here.
Since this sounds like an incredible opportunity, I agreed to help spread the word to all the passionate-Canadian-bakers-who-frequent-the-ole-blog and was super lucky to get put in touch with a recent ICC grad from NS named Leslie French aka Sweet and Savary… and no, that's not a typo. Her maiden name's Savary. Get it? Like Savoury. Clever girl.
As it turns out, I actually got to enjoy a glass of wine with Leslie and Dorothy Cann Hamilton (CEO and Founder of The International Culinary Centre) at The Bicycle Thief a few weeks ago too! We had a quick chat about the programs, the new scholarships, and of course how awesome Nova Scotia is. The rest of Canada is pretty great too, don't get me wrong. But this blog is called Baked in Nova Scotia, so I think I can let my bias show.
It was really touching to see the head of a huge culinary institute so genuinely invested in the success of a recent grad – seriously, here are a few of the lovely things Dorothy had to say:
"Leslie is the epitome of what we want in a graduate"
"Leslie is the ultimate student, she excelled in her courses, and she has a wonderful entrepreneurial spirit"
"I'm so excited for her!"
"She is definitely on the list to watch"
… don't know about you, but my freaking heart was melting. This probably shouldn't have been so surprising since they both described ICC as a family on several occasions. But still. Heart warming.
While we were enjoying our wine I also asked Dorothy and Leslie a few questions. My two most important questions: why did Leslie choose to take the courses at ICC, and why did ICC create a scholarship specifically for Canadians? Other than the obvious reason that we're awesome.
Although she's originally from Nova Scotia, Leslie was living in Philly when she first thought about attending ICC. She was baking mostly as a hobby when it "hit her like a ton of bricks" – or perhaps… a very large pound cake? Eh? Eh? No? Come on! – that this was her passion and what she wanted to do for her career. After attending an Open House at ICC – and specifically after meeting Dorothy – Leslie knew she wanted to enroll. You know what's more convincing than me writing this all out though? She has a video about it:
http://www.youtube.com/watch?v=HpcA_3MK_OY
There, that was easier.
Now onto my second question: why a scholarship for Canadians? I guess I should warn you again that we talked almost entirely about Nova Scotia since I'm completely biased, but I already warned you so you really shouldn't be surprised at this point. Really now.
What it really comes down to is quite simple, to quote Dorothy: "They're wonderful students, and they become wonderful chefs." D'awww.
In reference to Nova Scotians though – see, I told you… – the food scene is really taking off, and they want to encourage students to be a part of that, to come and study so they can come back and help Nova Scotia on its inevitable path to food scene domination aka becoming a world class food destination. Think of it this way: products in NS + talent in NS = everybody-should-come-eat-here. Add some world class training, and well, you do the math. Word math? That's a thing, right?
Dorothy also told me that she has deep family ties to Cape Breton. Not only does she visit several times a year, she coordinates delicious Nova Scotia lobster orders for restaurants throughout New York, and arranged a special training program for 10 chefs from Cape Breton to come down to ICC with the support of Tourism Cape Breton.
Maybe the most impactful things that came out of our discussion was that ICC doesn't just encourage female students, it empowers them. Over 50% of their graduates are women and when you go to ICC "you're born into a family." I really should have kept track of how many times they referred to it as a family. It was a lot.
So at this point, if you're not super interested in looking into the programs at ICC and applying for that super-sweet-new-Canadian-scholarship, then I don't know what I could possibly do to convince. Oh wait, yes I do. Check out this recipe that Leslie developed to share on my blog just for you!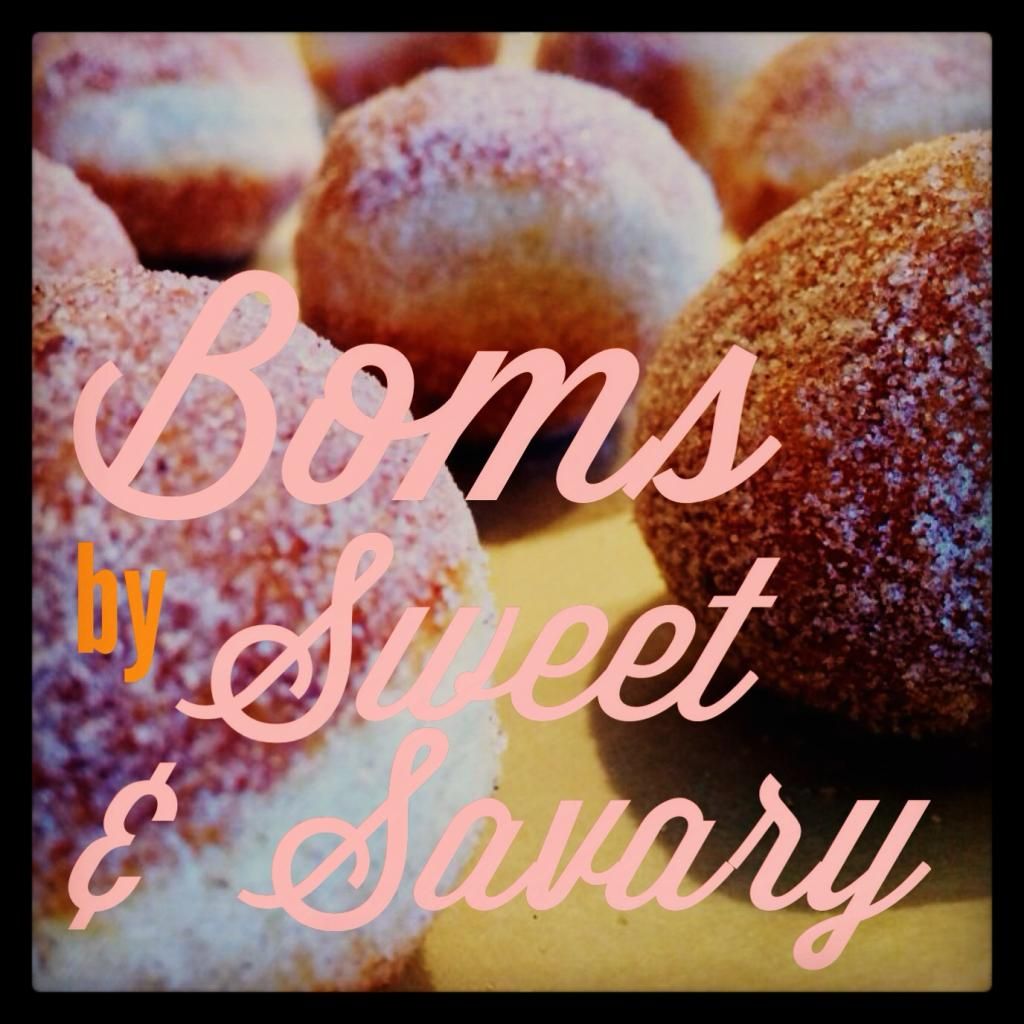 Seriously, how can you not want to make deliciousness like these for your job?
---
Blueberry-Maple filled Boms by Sweet and Savary
Brioche Dough for Bomboloni
Recipe Adapted from Jacques Torres, Dessert Circus At Home, 1999
SHOW: Passion for Dessert with Jacques Torres EPISODE: Doughnuts
For the brioche
4 tsp Instant Yeast
Scant 1/4 C cold water
3 1/2 cups bread flour
4 large eggs
1/3 C granulated sugar
1 1/2 tsp salt
3/4 C plus 2 Tbsp unsalted butter, cubed
Vegetable or canola oil, for frying
For the Blueberry Maple Compote:
10 Oz Fresh or Frozen Nova Scotia Blueberries
1/2 C Nova Scotia Maple Syrup
6 Tbsp Water
2 Tbsp Fresh Lemon Juice
Zest from 1/2 a Lemon
3 Tbsp Cornstarch
1 Cinnamon Stick
Place the flour, eggs, sugar, salt, Instant yeast and water in the bowl of a stand mixer fitted with the paddle attachment and beat on medium speed for about 2 minutes, until the dough is well combined and holds together.
Add the cubed butter and mix for another 5 to 7 minutes, until the dough no longer sticks to the side of the mixing bowl. It will be sticky, but scrape down the side of the bowl with a rubber spatula as needed and it will eventually come together.
Remove the paddle and pat the dough into a ball at the bottom of the bowl. Cover the mixing bowl with plastic wrap and let the dough rest at room temperature for about 20 minutes. The dough will rise slightly.
Remove the dough from the mixing bowl and punch it down to remove the air. Spread it onto a lightly floured baking sheet with your fingers and flatten the dough until it is about 3/4-inch thick. Cover well with plastic wrap and let it rest in the refrigerator for a minimum of 2 hours or overnight. It will slightly proof.
Remove the dough from the refrigerator and place on a lightly floured work surface. Flatten it slightly with your hands. Cut the dough into circles with a 1 1/2-inch diameter cutter, keeping the cuts as close together as possible. Pat any leftover dough into a rectangle and cut more circles out of it.
Alternately, you can weigh out 15g portions of the dough (you will have about 70) or, for larger Boms, 30g portions, and roll them into tight balls using the palm of your hand on the counter.
At this stage, the Bombolini can be frozen for up to 1 week if well wrapped in plastic wrap. Allow the Boms to defrost in the refrigerator before proofing.
Place the Boms on a parchment covered baking sheet lightly sprayed with vegetable cooking spray.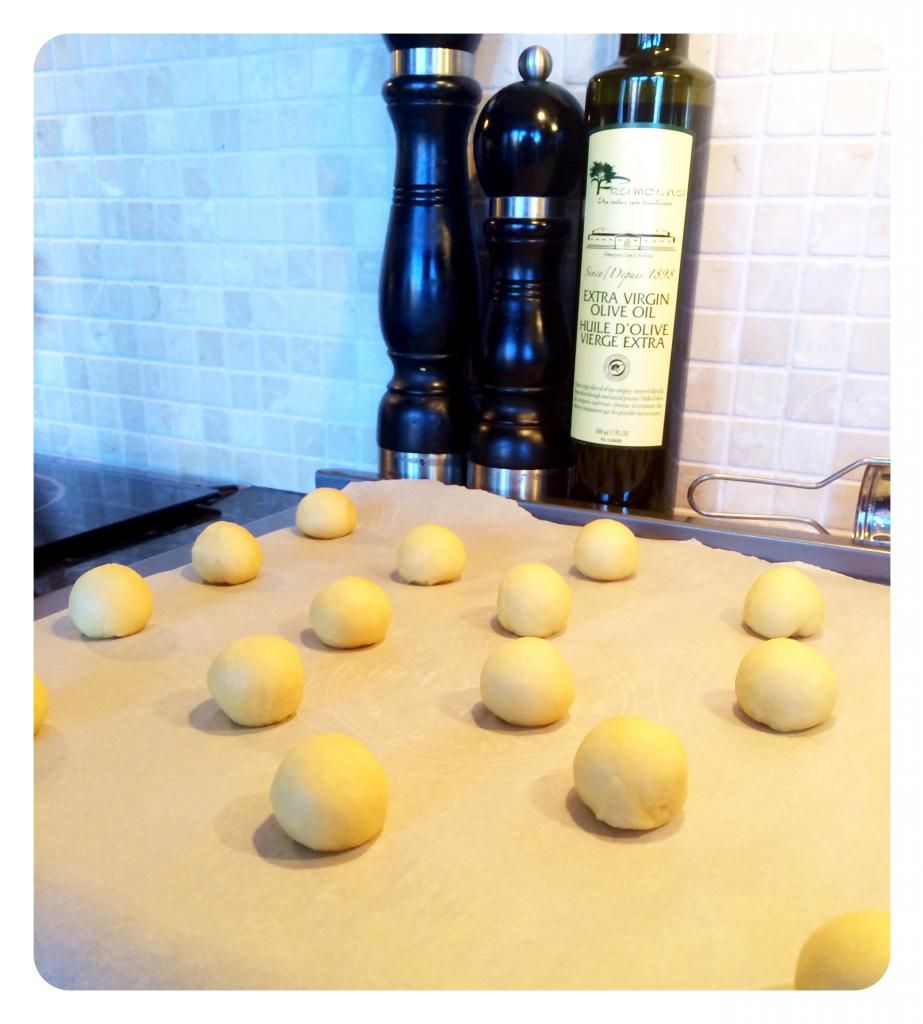 Space them 2 inches apart. Loosely cover the baking sheet with plastic wrap. Allow the Boms to proof at room temperature for about 2 hours, until they have doubled in size and appear light and full of air.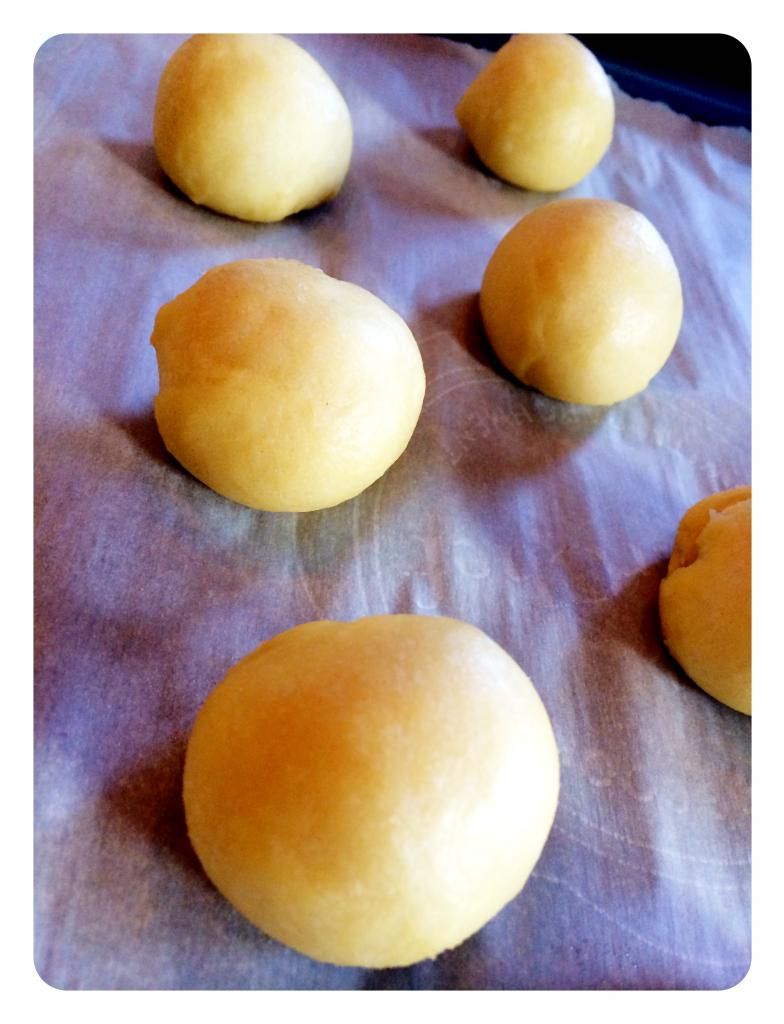 It may take longer – making sure they are doubled in size is more important than the time it takes.
Heat the oil in an electric fryer or in a 4-quart heavy-bottomed saucepan over medium-high heat to 320 degrees F. If using a saucepan, check the temperature with a candy thermometer.
Fry 5 to 7 Bomboloni at one time, any more than that and the oil temperature will dip down too much and they will not fry evenly.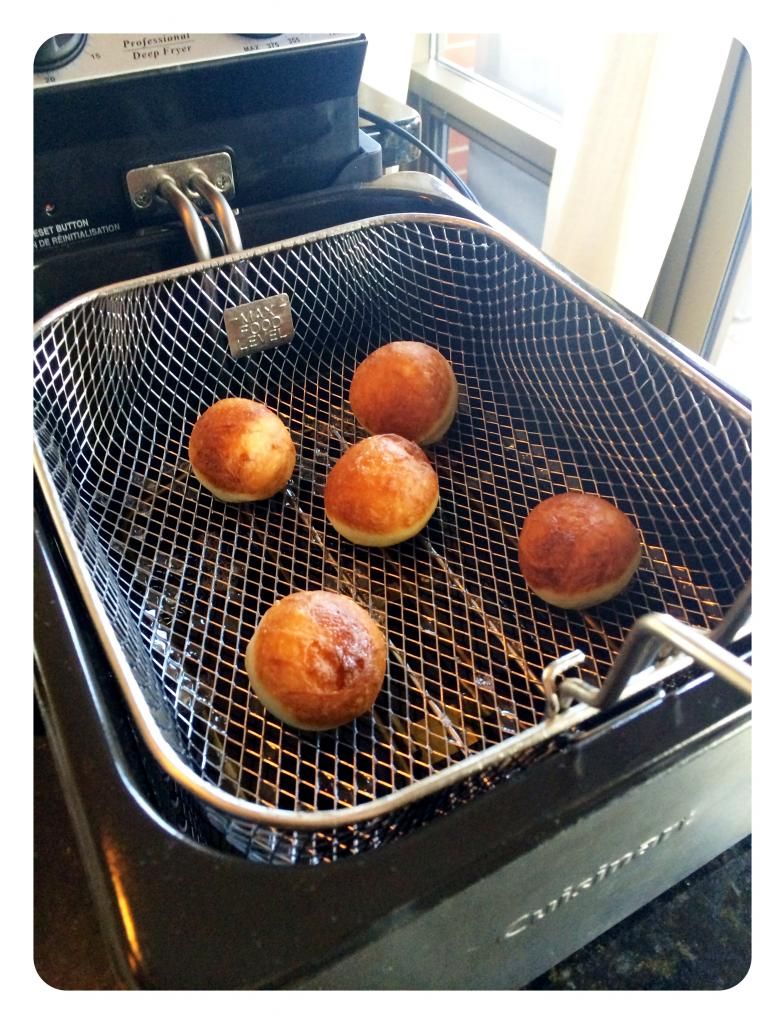 Fry for about a minute and a half per side, until they are golden brown. As they fry, they will increase in size.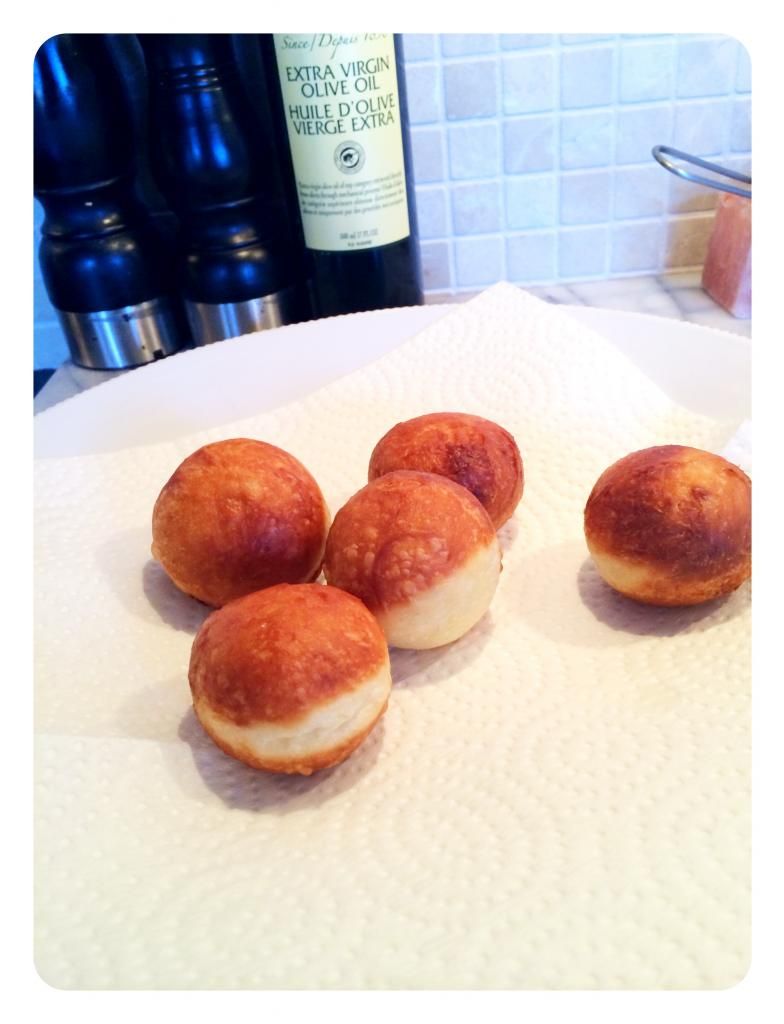 Remove the Boms with a large slotted spoon and set on a paper towel to drain the excess oil.
While the Boms are still warm, roll them in your desired coating.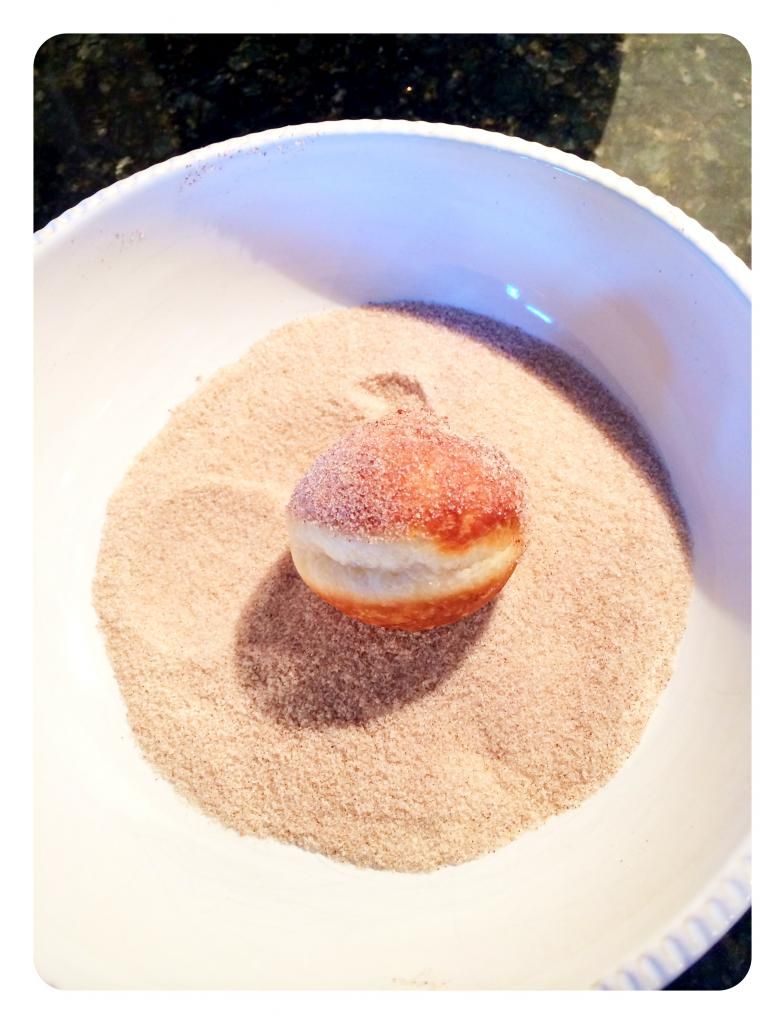 I like powdered sugar, granulated sugar, or cinnamon sugar!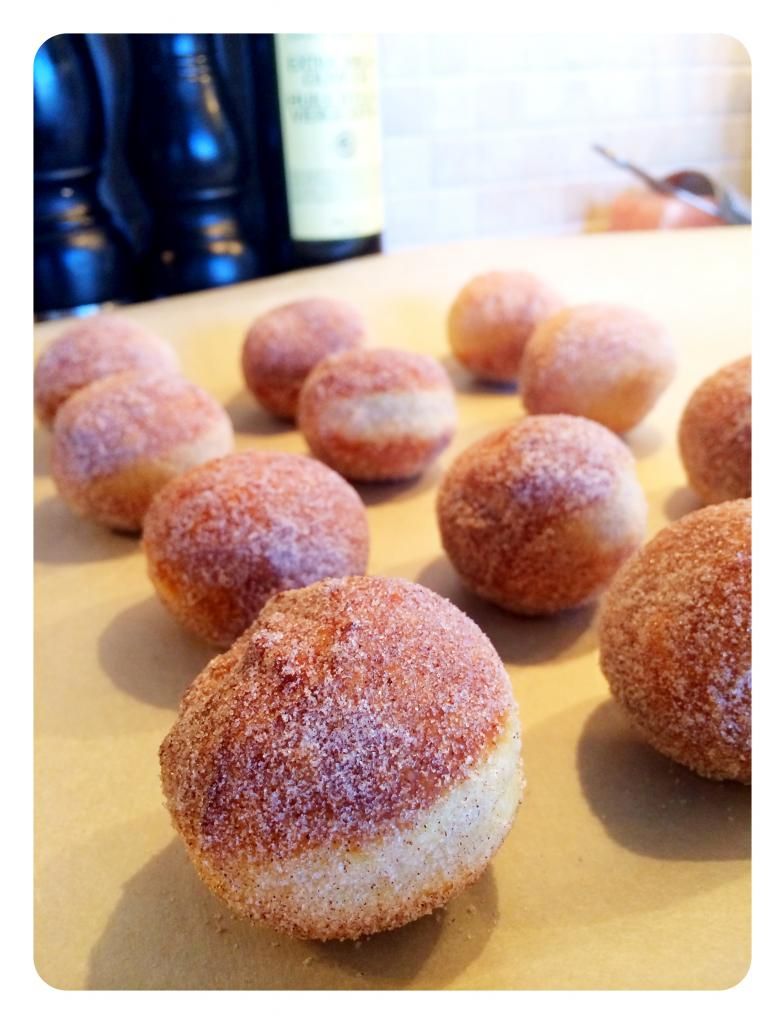 Fill a pastry bag with the blueberry maple compote – directions right below – fitted with a small star tip, and insert it into the side of the Bomboloni and squeeze until it feels heavy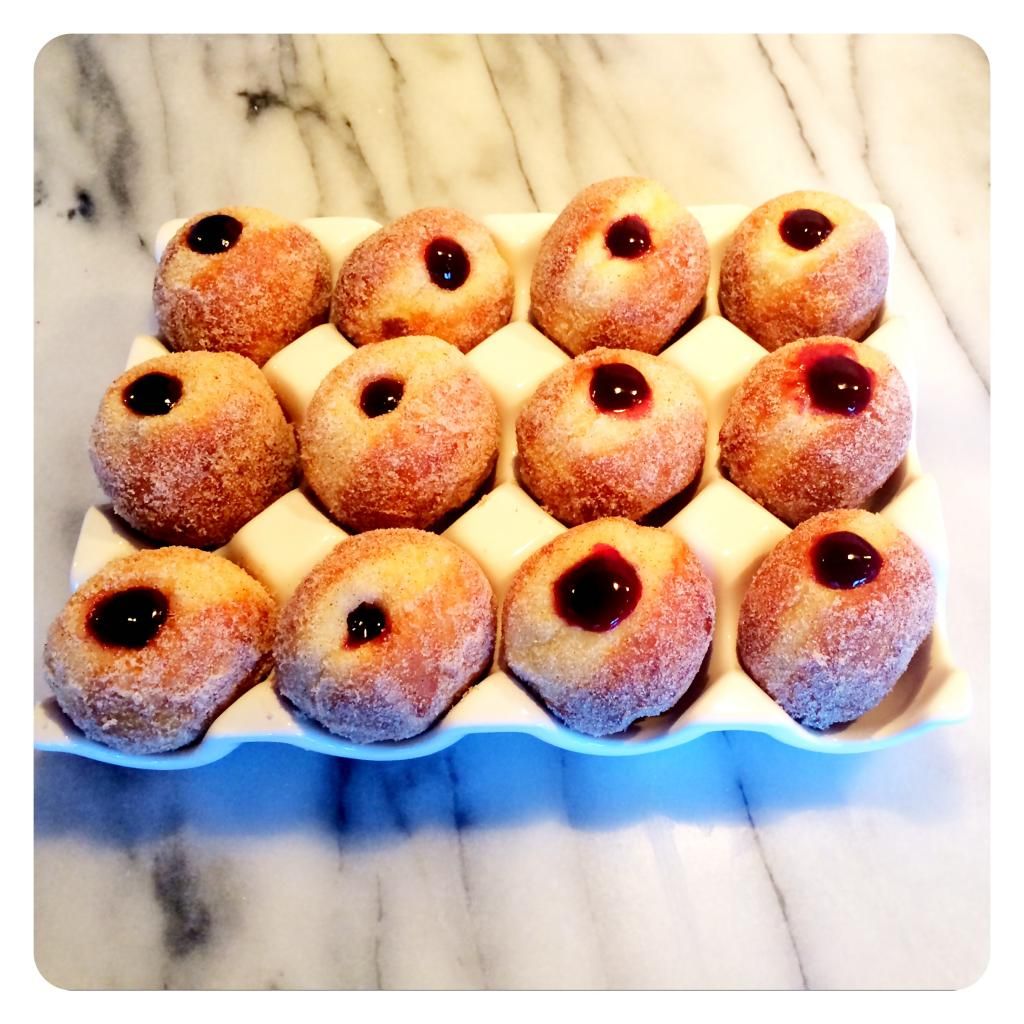 stop squeezing before you pull the bag out or you will have a nice jammy mess and have to eat your mistakes… not the worst thing.
Serve immediately.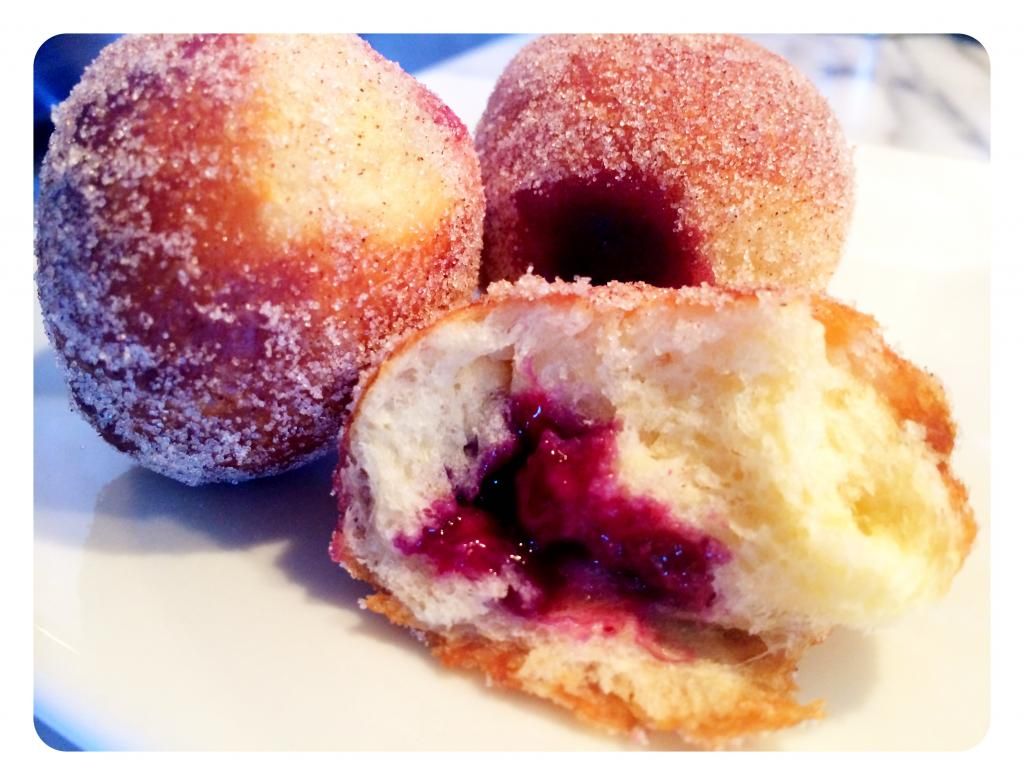 These are best right out of the fryer, and are good for the day they are made and the next day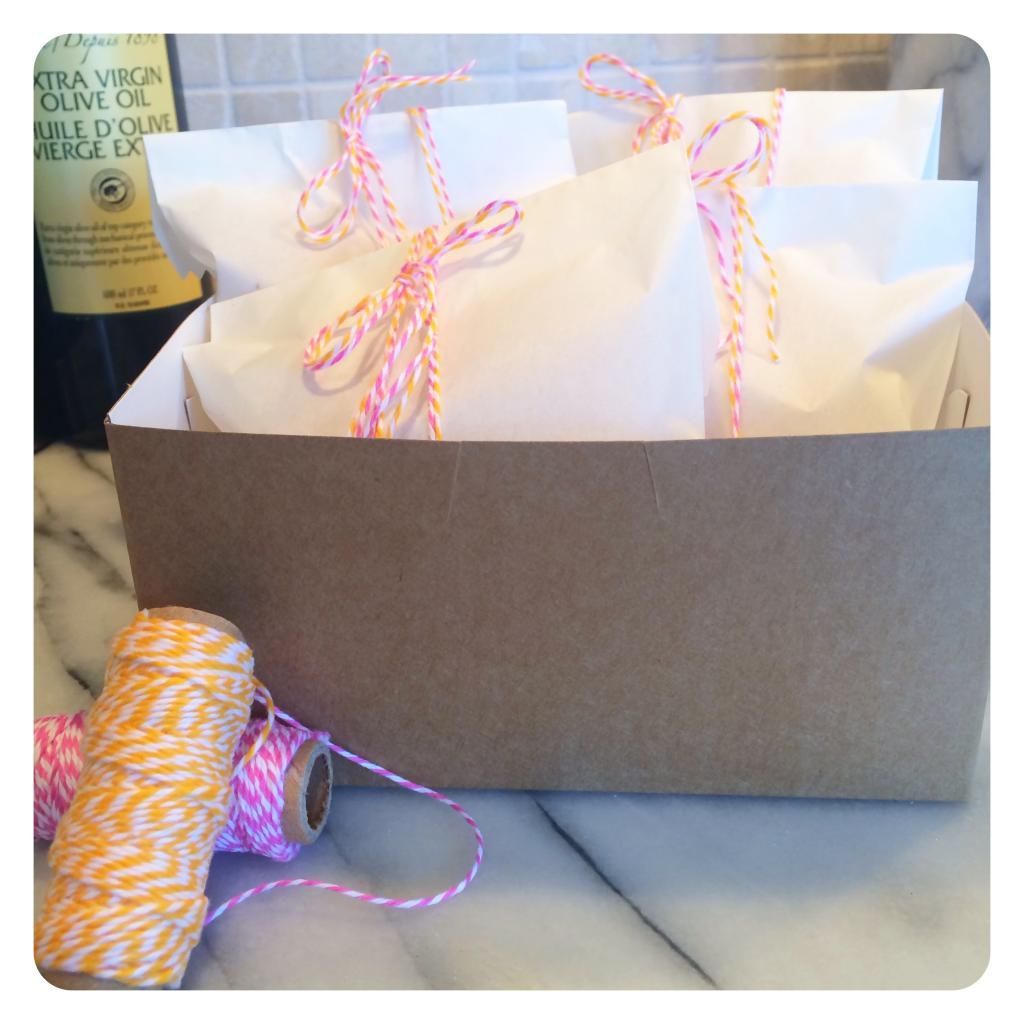 …but there's usually none leftover for the next day anyway 🙂
Directions: Blueberry Maple Compote
Place all ingredients in a saucepan and simmer 5 minutes. Allow to cool sightly and strain through a sieve. I strained it because when you fill the Boms it's hard if there's blueberries in the piping bag – it will get stuck in the tip and you'll squeeze too hard and the bag might pop open…I think. Just guessing 😉
You want to make sure this is cool and fully thickened before using it.
This can also be used as a delicious topping for pancakes, or swirled into cake batter with chocolate chips. I tried it, amazing! For those purposes, no straining required.
---
And there you have it folks. If you're anything like me the thought of making donuts is absolutely terrifying but not anymore. I actually recently acquired a deep fryer from my parents and have been testing it out recently, and goodness gracious home made donuts are divine. And you had best believe I'll be trying these out soon!
Oh, and one last thing before I go… When Dorothy, Leslie and I were chatting, Dorothy said something that really stood out to me, that "Anybody from NS has a food home in NY."
… so, anybody else want to get adopted with me?
---
Want to stay in touch with Leslie?
Tumblr: sweetandsavary.tumblr.com
Twitter: @sweetandsavary
Instagram: @sweetandsavary
Facebook: /sweetandsavary
Want more information on The International Culinary Center?
Website: internationalculinarycenter.com
Facebook: /InternationalCulinaryCenter
Twitter: @iccedu
Instagram: @iccedu
LinkedIn: /company/the-international-culinary-center
Pinterest: /iccedu
YouTube: youtube.com/user/intlculcenter
Yelp: yelp.com/biz/the-international-culinary-center-new-york
Google +: +Internationalculinarycenter