I had a really big day on Saturday.
And I spent most of it in Downtown Halifax.
It was kind of a Big Day Downtown, if you will.
Between an I LOVE LOCAL HFX fueled afternoon, and a Big Day Downtown-twitter-winnings evening, I got to experience a plethora of different local shops, restaurants, artists, artisans, foods and drinks PLUS spend time with some of my favourite people. So basically the best day ever. Let me tell you all about it.
This year's City Harvest, put on by I LOVE LOCAL HFX, had 100 different events/specials/ways to experience local businesses and organizations.
Having worked through City Harvest and Open City before on behalf of a participating store I was pretty excited to actually be able to go out and experience it. I was even more excited that I got to spend the day with my gal pal Kerri.
Since there were so many awesome things to see and do, we figured we'd make a short list of must-do's so that we could actually give each stop some time and appreciate it. Here's how we spent our day:
Duly Noted Stationary feat. Halifax Cookie Cravings
After probably-the-greatest-parallel-parking-job-ever, we stopped in to Duly Noted for our first stop.
As you may notice as this recap progresses, I sort of have a thing for paper goods. Stationary, cards, letterpress, prints, writing utensils, etc. – love it. All of it.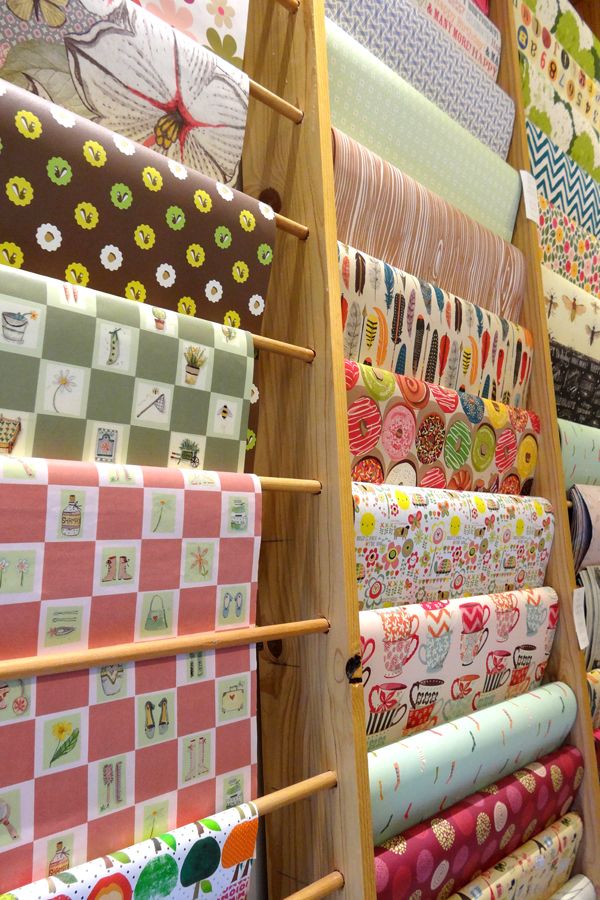 I'll be back for you, donut wrapping paper. I'll be back.
But don't be fooled, Duly Noted carries lots of other goodies other than the paper-related-variety. The main thing Kerri was on the look out for was a new scarf, preferably not black like most of her clothes, and comfortable for fall, and guess what friends, we found it on our first stop.
Oh hai girl! Sweet scarf!
I couldn't resist picking up a little note book and a Ron Swanson approved pen since I am forever looking for things to write on in my purse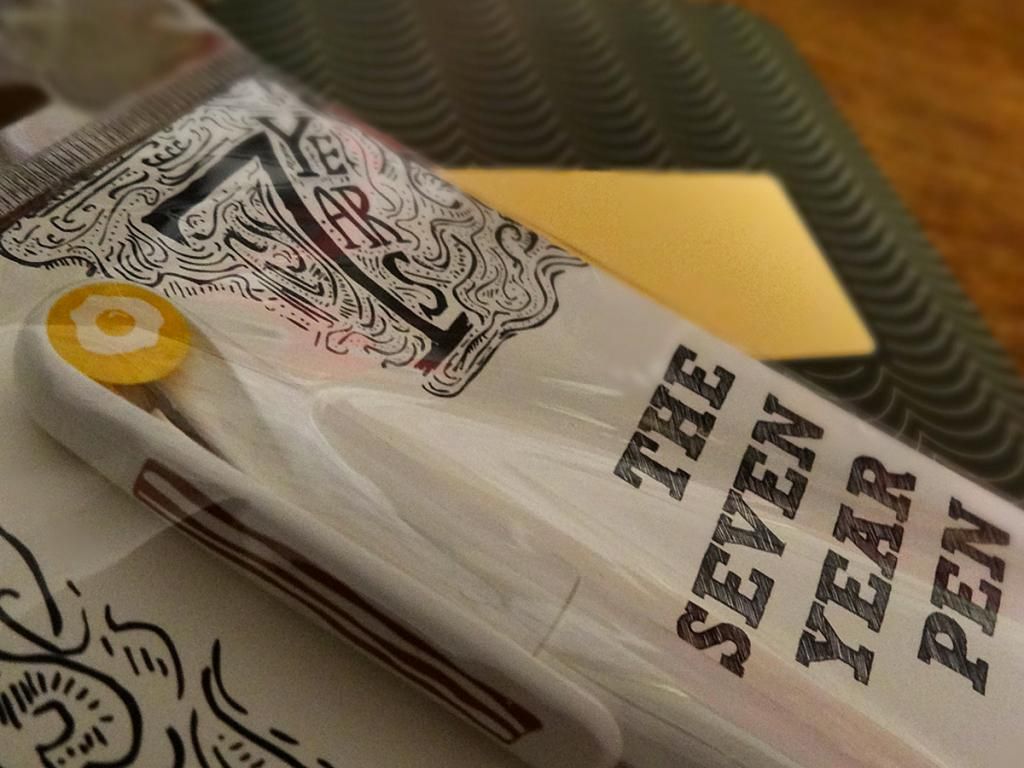 Give me all the bacon and eggs you have.
We also got some wicked delicious pumpkin cookies with early grey filling from Halifax Cookie Cravings
and a free print with our purchase

so basically this was a win-win-win for us.
I would like to go on record saying that I regret not picking up some of these sweet temporary tattoos, because they're pretty much the best ever.
Next time. Next time.
Since it was lunch time, we made our way down to Argyle St. to stuff our faces.
With so many delicious food options for the day it was really hard to decide where to eat. In the end, cheese won. But really, when doesn't cheese win?
First stop for lunch was Scanway for a grilled cheese made with in-house sourdough bread, topped with tomato jam, and Oulton's double-smoked bacon, and oozing with That Dutchman's medium gouda.
In Kerri's words, it was "life changing."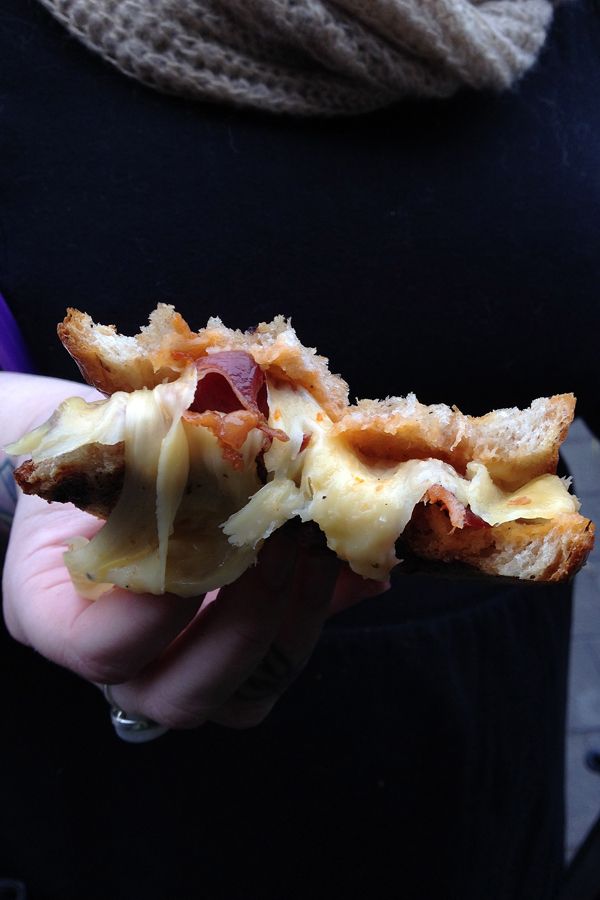 Seriously. This photo does not do it justice.
Since clearly this was not enough cheese, we also needed a side of mac'n'cheese to go with it, so we took two steps over to The Stubborn Goat and grabbed more food.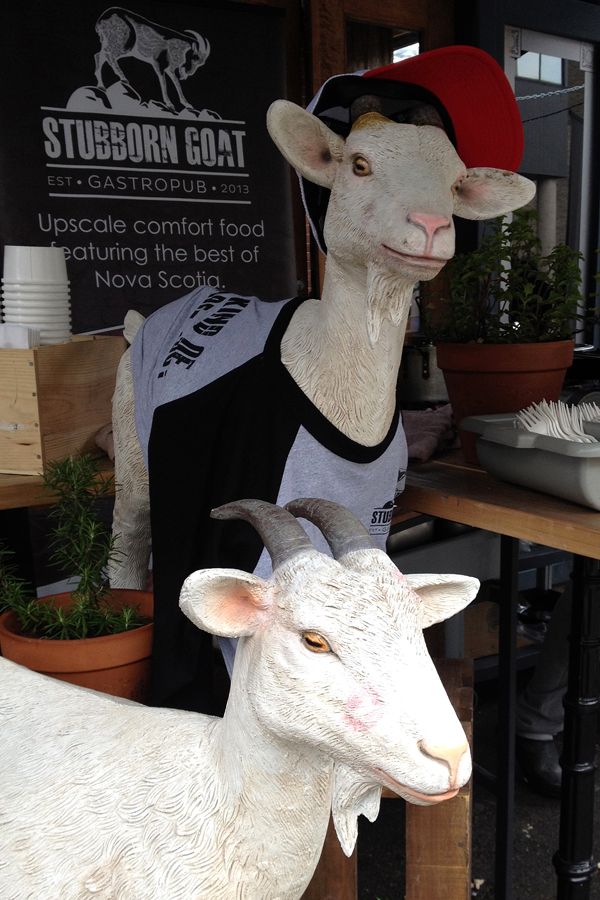 Oh hai goats.
So basically, for lunch we double fisted cheese.
Contain your jealousy, please.
Next up: caffeine
I love me a good latte something wicked, so our next stop had to be for $2 pumpkin spice lattes.
… And might as well grab a sausage too, since you know, we just ate lunch and all. But really, there's always room for… a that's what she said joke.

Delish.
After a nice little coffee break, we made our way back downtown re-energized and ready to check out some of our favourite shops.
Biscuit feat. Bad Mouth Soap
I am pretty sure it is impossible to go in to Biscuit and not leave with something awesome.

Especially with a deal like that. Damn.
Whether you're looking for a new outfit, or some sweet home décor items they have all of the best things.

If anybody wants to buy me that dress, I will love you forever. Just saying.
On this particular occasion, Kerri and I found ourselves all about the Bad Mouth Soap.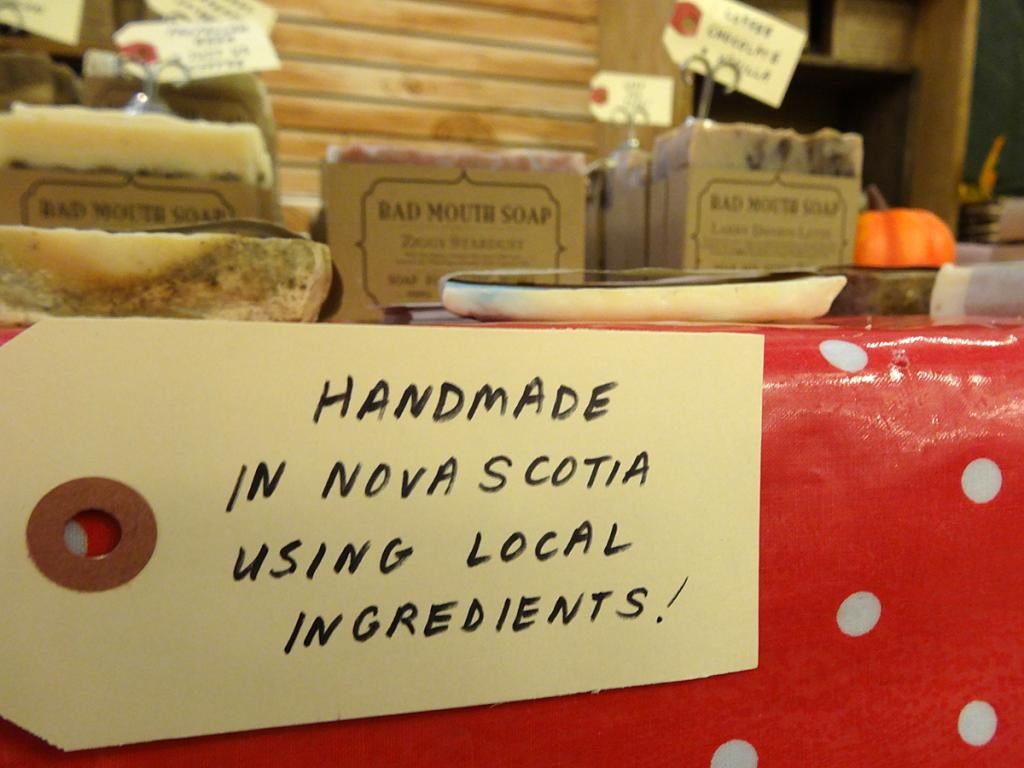 Ok, if you have talked to me at all since this weekend you have heard me go on and on about the soap I found. You have also heard me giggle like a crazy person listing off the names and scents of said soaps. So, this is the part where I go on and on about soap again. Deal with it.
As you've probably noticed on this blog, I love discovering and supporting local products. I get a little excited when I find a new cool thing.
When I find something that is really good quality AND I genuinely find freaking hilarious AND I get to talk to the person who made the awesome thing, I get really excited.
Seriously, it's like all of my favourite tv show and movie references have been made into soap: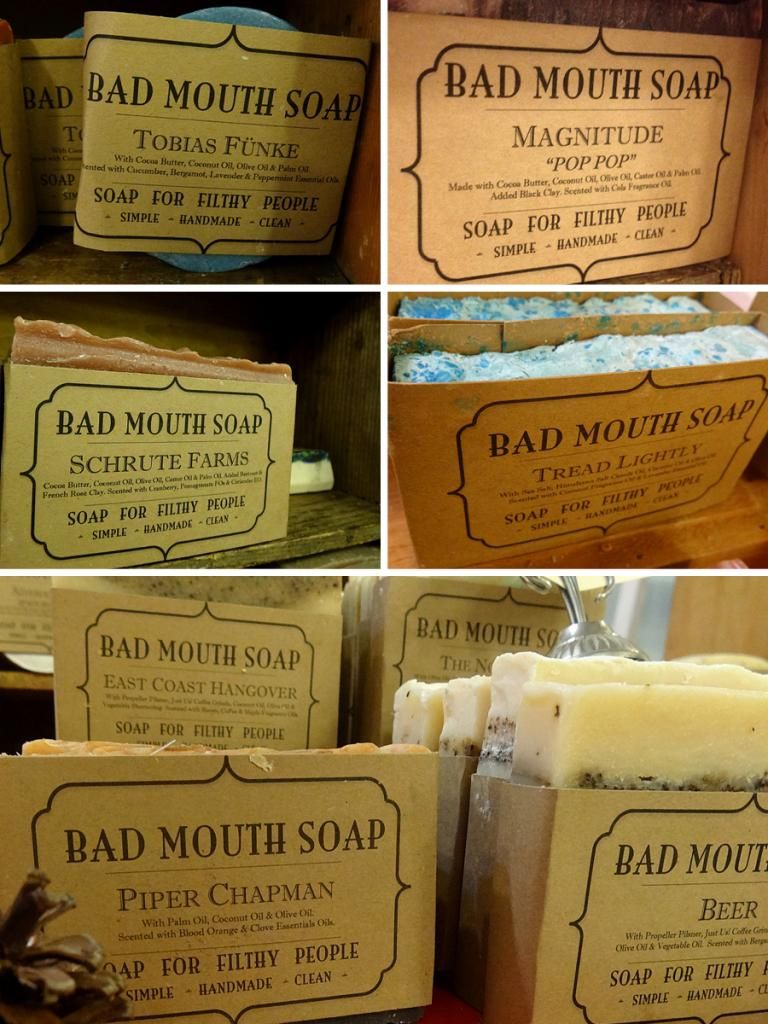 It was a tough choice, but I went with the Valyrian Steel – Oath Keeper, since
A) Valerian Root – Valyrian Steel – genius
B) Smells Awesome
C) Now this can be my shower theme song: [youtube=http://www.youtube.com/watch?v=s7L2PVdrb_8]
Victory! Now let's just leave that playing and move on to our next stop.
Inkwell Modern Handmade Boutique & Letterpress Studio
Friends, I'm going to level with you: if you ever need to get me a gift – for any reason whatsoever – you could walk blindfolded into this store, pick up anything and I would love it.
But maybe don't wear a blindfold. I would feel really bad if you broke something in there stumbling around trying to prove my point. Just go in with your eyes open, ok?

Seriously. I. Want. All. Of. It.
Every time I walk through those doors I find something that I just adore, whether it's the perfect birthday card for a friend or a print for my wall, or a birthday present for my sister that I can't post a picture of because her birthday isn't until November and she might be reading this.
So instead, here are some pictures of things I didn't get my sister for her birthday.

Best. Cards. Ever. Babies are totally dictators.

I have been living in a constant state of regret for not buying that Dream a Little Dream of Me print, she's a beaut! But don't worry…
To be continued…
Argyle Fine Art feat. Chris Hemsworth
Our next stop was definitely a highlight of the day for us. I'd been in to Argyle Fine Art a few times before, mostly when I worked upstairs, but today was a very special visit… today they had Heritage Minute Prints.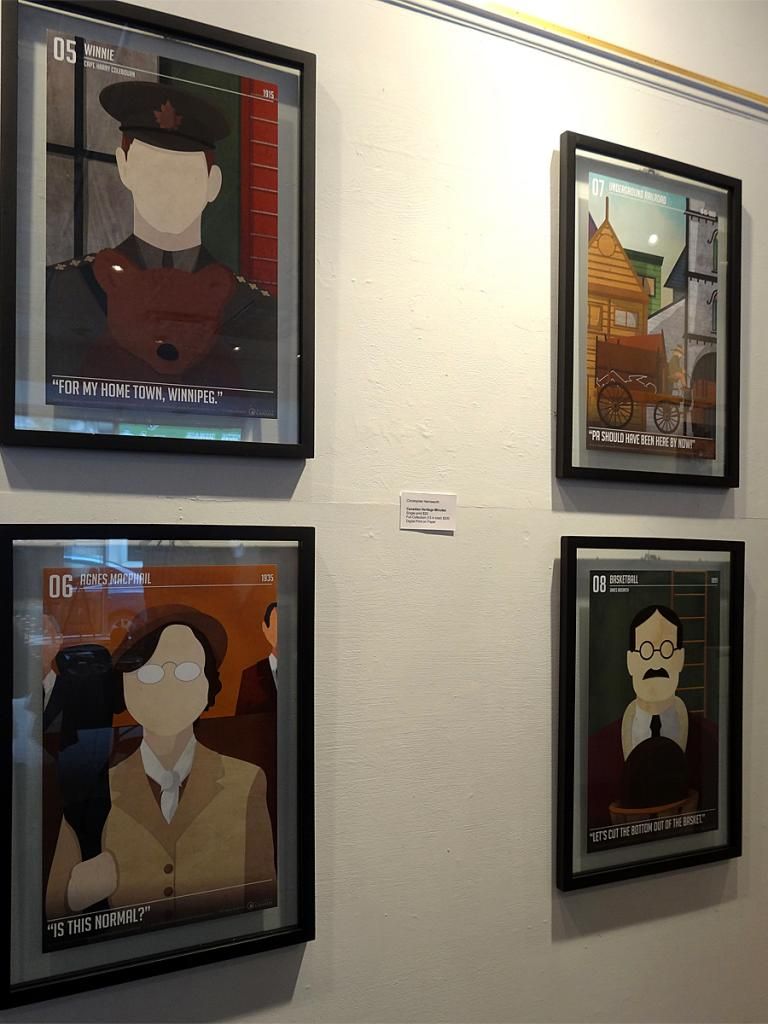 That's right. Historica-freaking-Heritage-Minutes-Prints!
If you know me at all, you know very well that my head almost exploded when I heard about this.
Trying to resist recreating every Heritage Minute while I gawked at these was surprisingly difficult.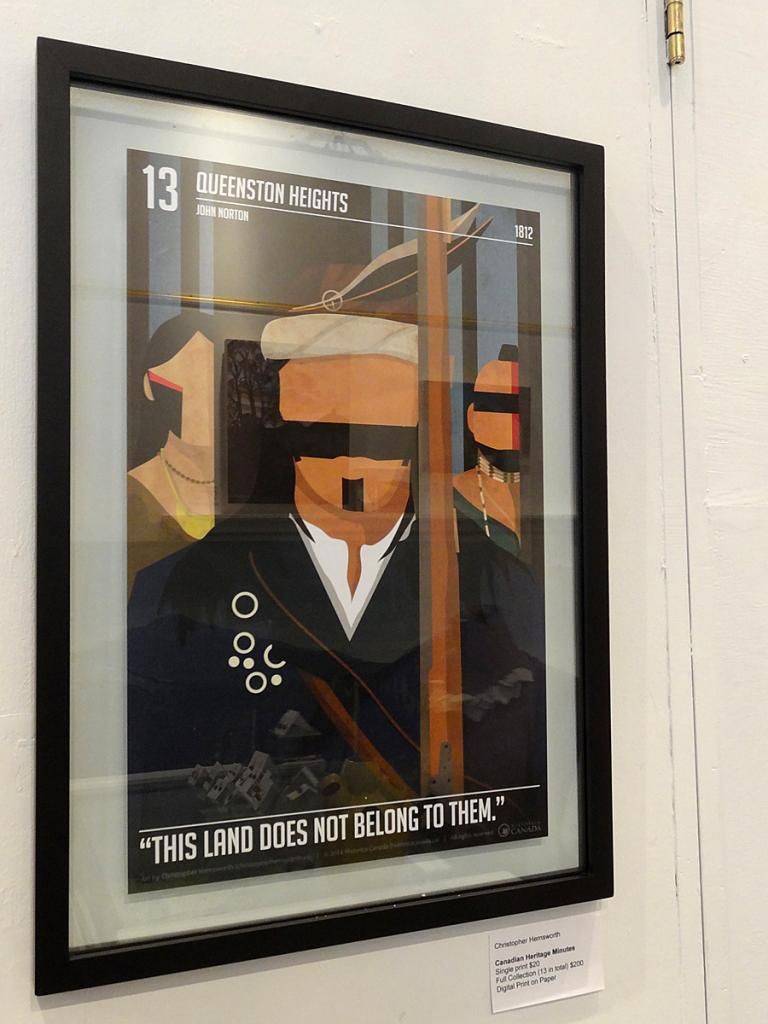 Though I was definitely too excited to take good pictures of them, so you should probably head over to the artist's portfolio and check out some of his other work as well.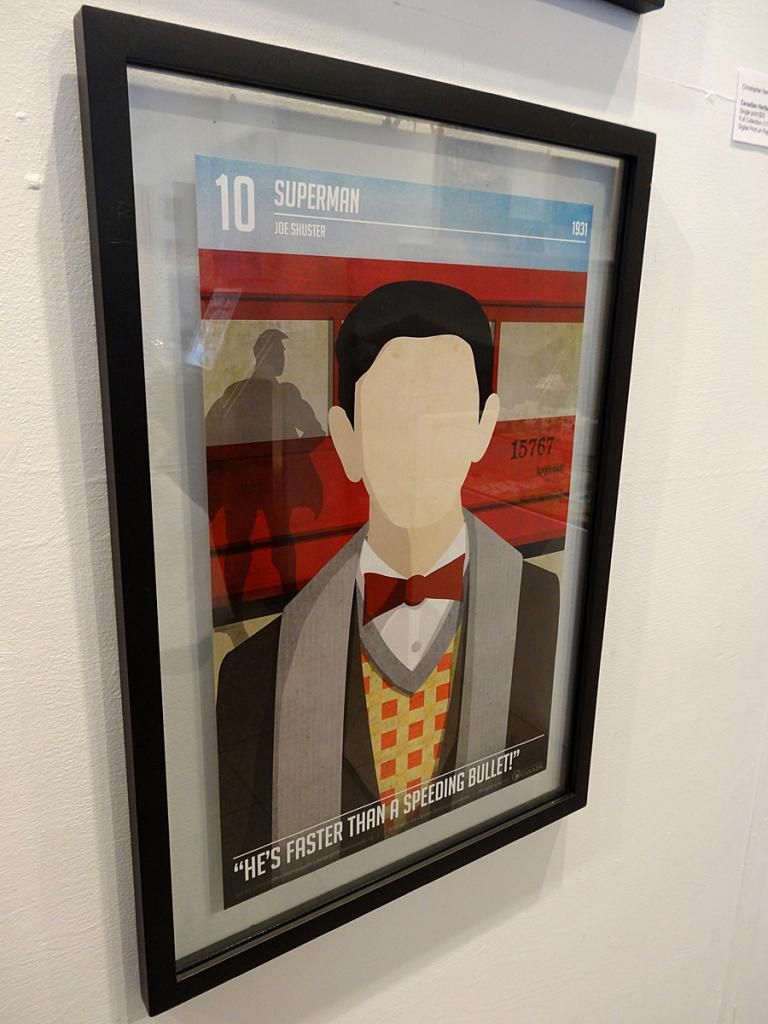 I'm still trying to decide which print(s) to order, but trust you me, when I move in to the new place there will most definitely be Heritage Minute art hung proudly on those walls… and right now I may also be watching a bunch of Heritage Minutes trying to multi-task while I write this… and failing miserably. Damn it.
Ok folks, let's focus.
Now last but not least, for our final City Harvest stop of the day, we decided to check out the grand opening of a store that will certainly be putting a dent in my wallet in the near future.
The Independent Mercantile Company feat. Satya Tea
So, if you haven't heard, this store just opened on Gottingen and you had best get over there and check it out.
We were extra lucky when we popped in, because Satya Tea was doing a tasting in-store.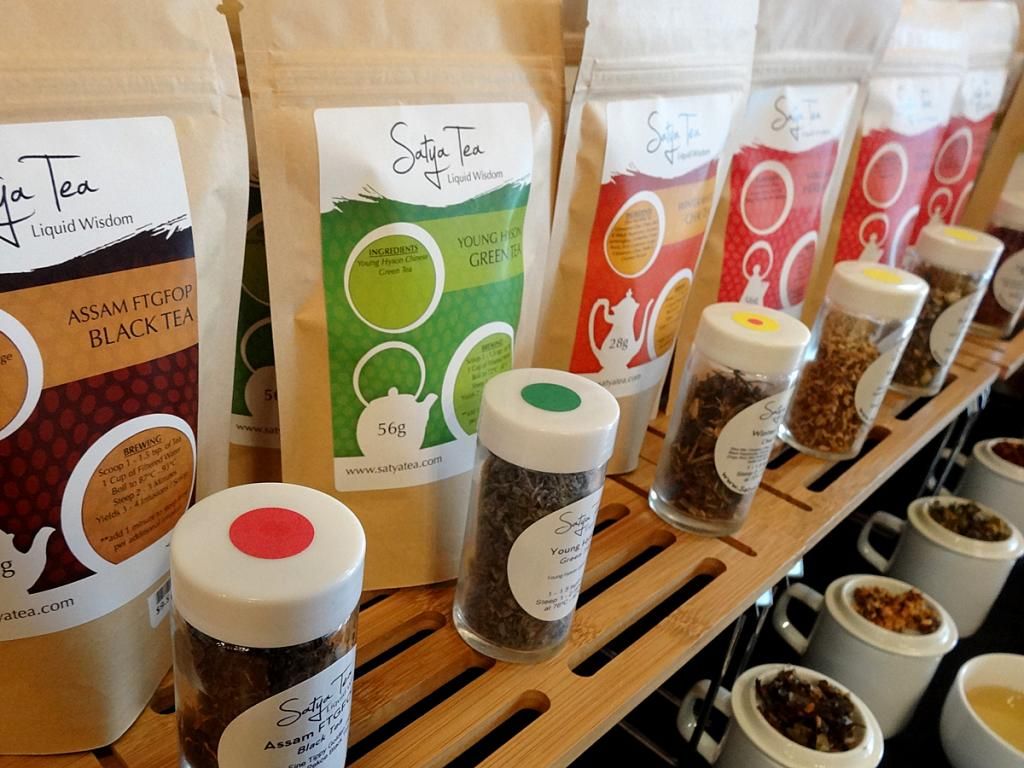 In the words of Lucille Bluth, here's some hot tea, because that's what you are: a hot-tea!
I've been following The Independent Mercantile Company on the 'ole InstaG and was itching to get in. If you like Biscuit, then you're in luck because this store is owned by the same people and is filled with some equally awesome stuff.
Exhibit A.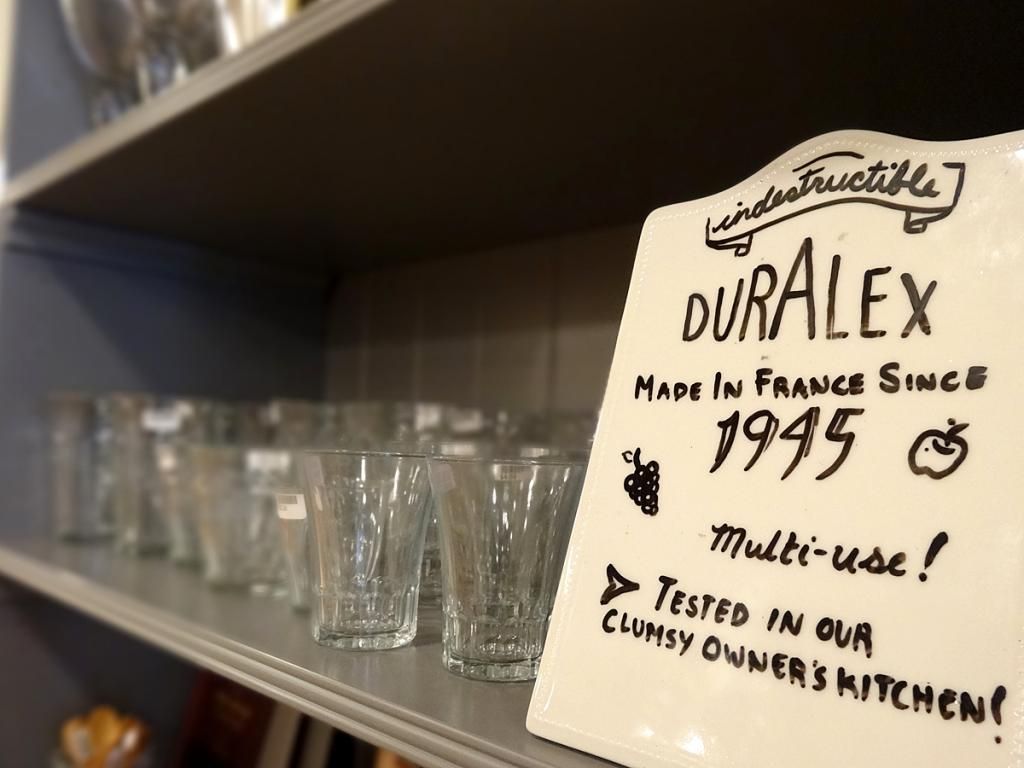 Exhibit B.

Exhibit C.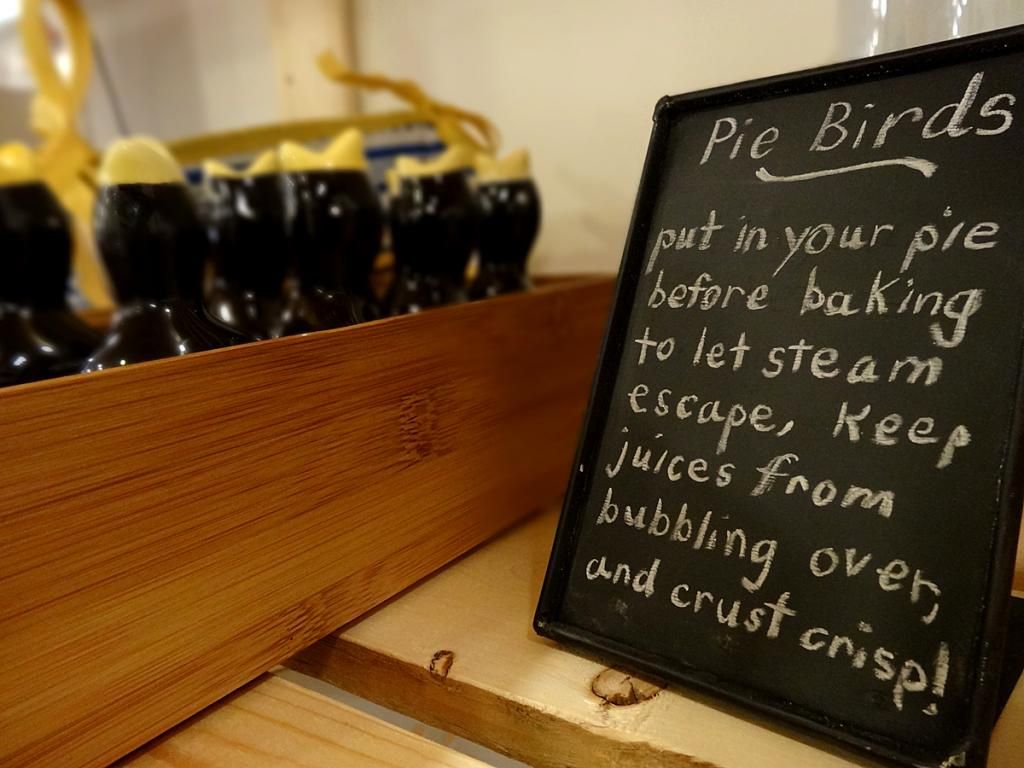 This looks like a great excuse to bake pie. Do I need an excuse to bake pie? Why aren't I baking pies right now?
I could go on with the exhibits, but I think you get the point: it's all awesome, and I want to fill my apartment with all of it.
Especially these tables.
Argh. I am having a love affair with these tables.
But not literally, because they're tables. They're inanimate objects. I just really want to furnish my apartment with them, ok? Geez.
There really is a great variety of giftable items in this store, so no matter what the occasion is I think you should check here first the next time you need to pick up something special for someone special.
Or for yourself. You're special too.
And that my friends is how we experienced this year's City Harvest. But wait, there's more…
As if this day wasn't awesome enough on its own, I was also super lucky and won a Big Day Downtown prepaid Visa on Twitter the week before
and got to use it up on Saturday night for a lady-date with my other gal pal Jacquie
… and we decided to be nice and let her husband tag along and be a third wheel. We're nice like that.

Awww someone's sad I'm on a date with their wife…
So basically, I had the best day ever filled with food, fun, friends, and apparently the letter f.
Our original dinner plans got changed because it was super busy downtown, so we relocated to The Stubborn Goat
and grabbed a drink and some pizzas and mac and cheese

Big Spruce Cereal Killer: a personal favourite… and apparently yours too, since it won Readers' Choice at the First Annual Atlantic Beer Awards!
Also, I don't have any pictures of our food because it was too dark, but I swear we ate food too. I swear I didn't only have beer for supper!
Our next stop for our Big Day (Night) Downtown was to Stillwell, and I will once again say I swear to you I did not just have beer for supper, honest!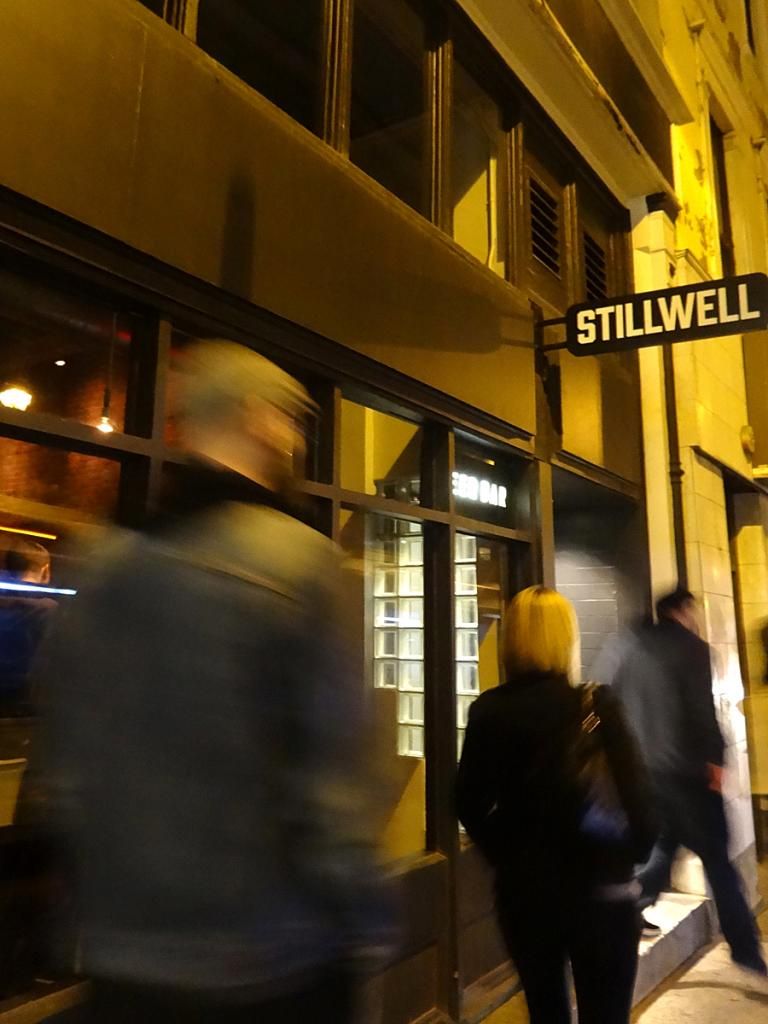 I think my favourite thing about Stillwell is that every time I go I can try something new.

Decisions, decisions. Delicious decisions.
Jacquie and Matt got Uncle Leo's Smoked Porters, and I decided to try the North Brewing Strong Dark Belgian. Followed by a pint from the Granite Ringwood Cask, because once the guy serving me explained it I needed to try it. Solid choices all around.
And so friends, that's how I spent my Saturday. I ate, drank and shopped my way through Halifax with some of the best people I know, and loved every minute of it. And I will be back to everywhere we visited for the items I couldn't pick up this time around. Oh yes, I will be back.
Thanks for reading!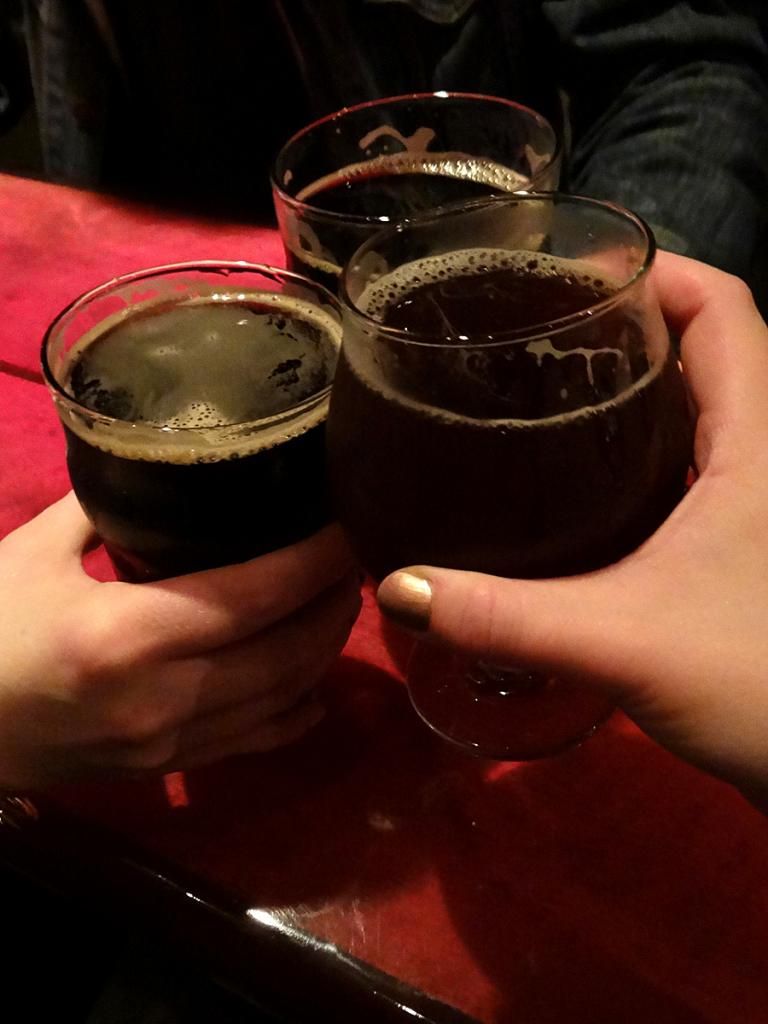 Cheers!