Welcome to the very first of in my Throwback Thursday Series, aka recipes-from-days-gone-by-that-have-yet-to-make-their-way-onto-the-blog.
Normally in the winter I find myself dreaming of the Summer heat as I do everything in my power to not go outside in the cold, but this was an especially dreary winter, and my daydreaming was willing to settle for the single-digit-hovering-around-zero "warmth" of Fall if it would just stop snowing. PLEASE. As my thoughts drifted back to the Fall, I started to appreciate it more. I've always considered myself a Spring/Summer girl, but I think it's time I start giving Fall the credit it deserves. Fall is filled with lots of loveliness – the colours, the smells, and most importantly the flavours. Sugar, and spice and all things… butter. What?
In the fall, Nova Scotia is filled with delicious produce that is just begging to be baked. I've been experimenting with pumpkin and apple recipes, and will share some in the semi-near-future, but this post is about something a little more unique: Asian Pears, grown by my friend Mark.
Before I get started, let's clarify that my friend Mark is not my husband Mark. They are two different people. Two people with the same name? Preposterous!
I hope this isn't too confusing for you, but if it makes you feel better when I first met my Mark he was roommates with other Mark and this confused me for much longer than should have been socially acceptable.
Ex:* as we pull into driveway *
Mark: Oh, Mark's car is here. I didn't think he was home. I'll be right back. * runs into house *
Me: * turns to sister sitting in the backseat, in absolute panic* If that's Mark's car, THEN WHO IS HE?!
Yeah… I'm not living that down.
Now back to the pears. A few years ago, Mark planted some grafted Asian Pear trees on his property.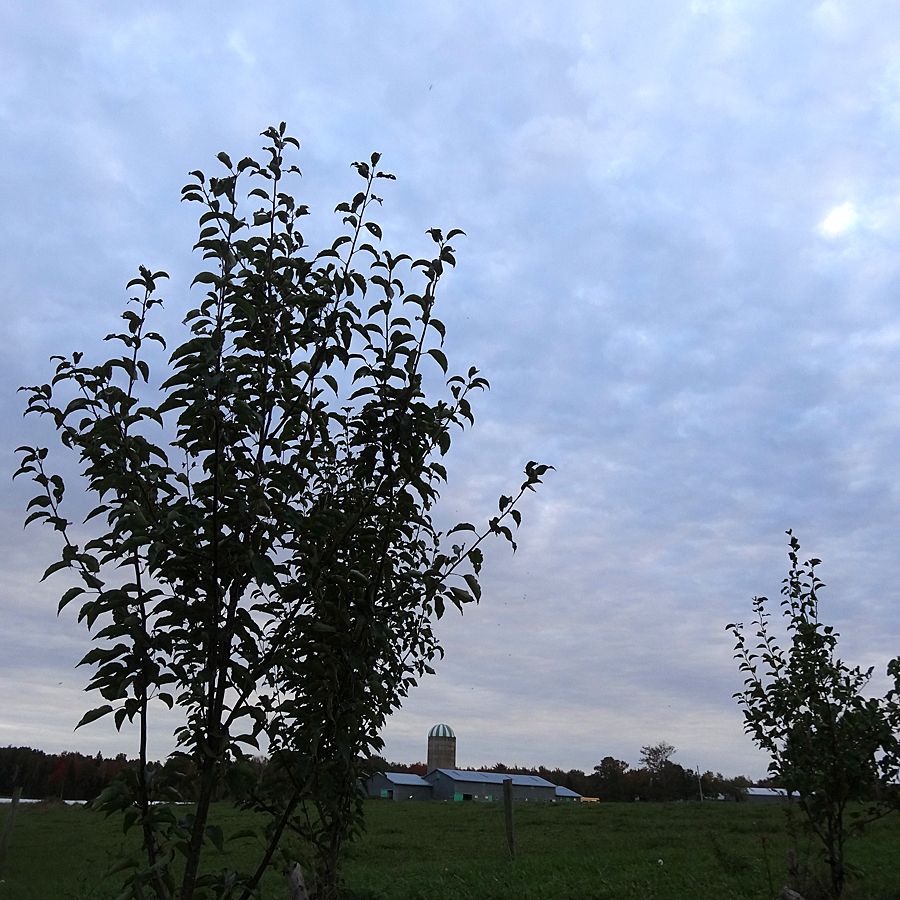 I can't wait to come back and see these beauties when they still have pears on them.
Come harvest time, there were some extras and he very kindly offered me some to try in my baking exploits. I'd never baked with pears before, so I asked around for suggestions on what I should try. The consensus was that baking with pears was similar to baking with apples, and that I should probably do something that involved caramel because, well… caramel is delicious. That's why.
I've always been a big apple pie fan, so I figured why not try a fancy pear pie? With crumble topping. And caramel sauce. YES. Let's do this.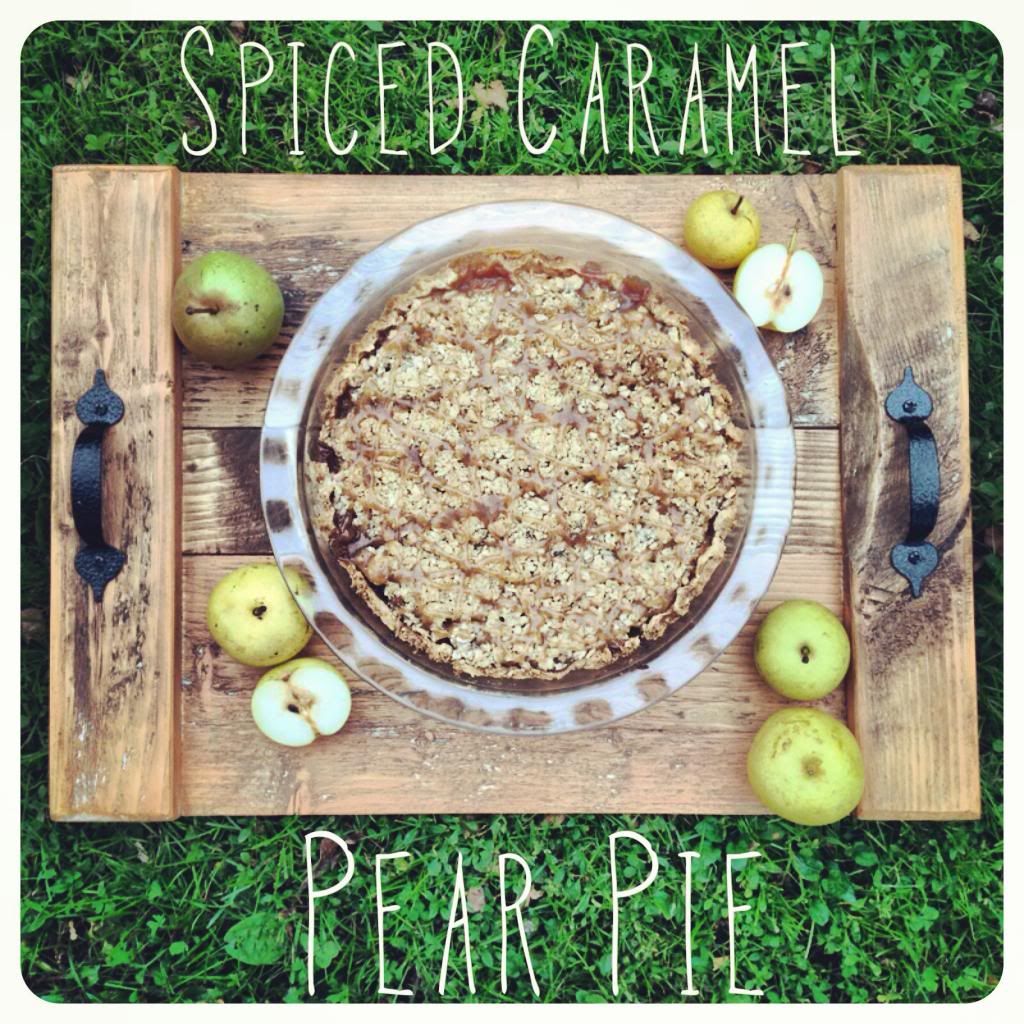 Please note: unless you are also lucky enough to be friends with Mr. Mark J the Pear Man, you probably aren't going to be able to get your hands on these super tasty local Asian Pears. He's a really nice guy, but realistically it's probably not going to happen. Sorry. However, I think this recipe would still be delicious with other local pear varieties or a blend of your favourite local apples. There are still lots of local apples available in grocery stores, so just take a second to check the signs and stickers. If you try this with apple, I am also happy to volunteer to taste test your variations for you. I will never say no to pie. NEVER.
Spiced Caramel Pear Pie
Yields one 9 inch pie
For the filling
10 sm Asian Pears (for normal/medium sized pears you'll probably need 5-6)
½ C Just Us! Fair Trade Organic Cane Sugar
1/3 C Speerville Flour Mill Organic Unbleached White Flour
½ tsp nutmeg
½ tsp cloves
1 tsp cinnamon
½ a lemon
For the topping
4 ½ tbs Speerville Flour Mill Organic Unbleached White Flour
4 tbs brown sugar
½ tsp cinnamon
¼ tsp nutmeg
2 tbs Scotsburn butter

For the sauce
2 tbs Scotsburn butter

3 tbs Scotsburn whipping cream
1/3 C brown sugar
½ tsp cinnamon
¼ tsp nutmeg
¼ tsp ginger
To start things off, you're going to need a pie crust. May I suggest this one?
You should also preheat your oven to 375 degrees now.
Next we'll prep the pears. Start by peeling and coring them,
and then slice them nice and thin.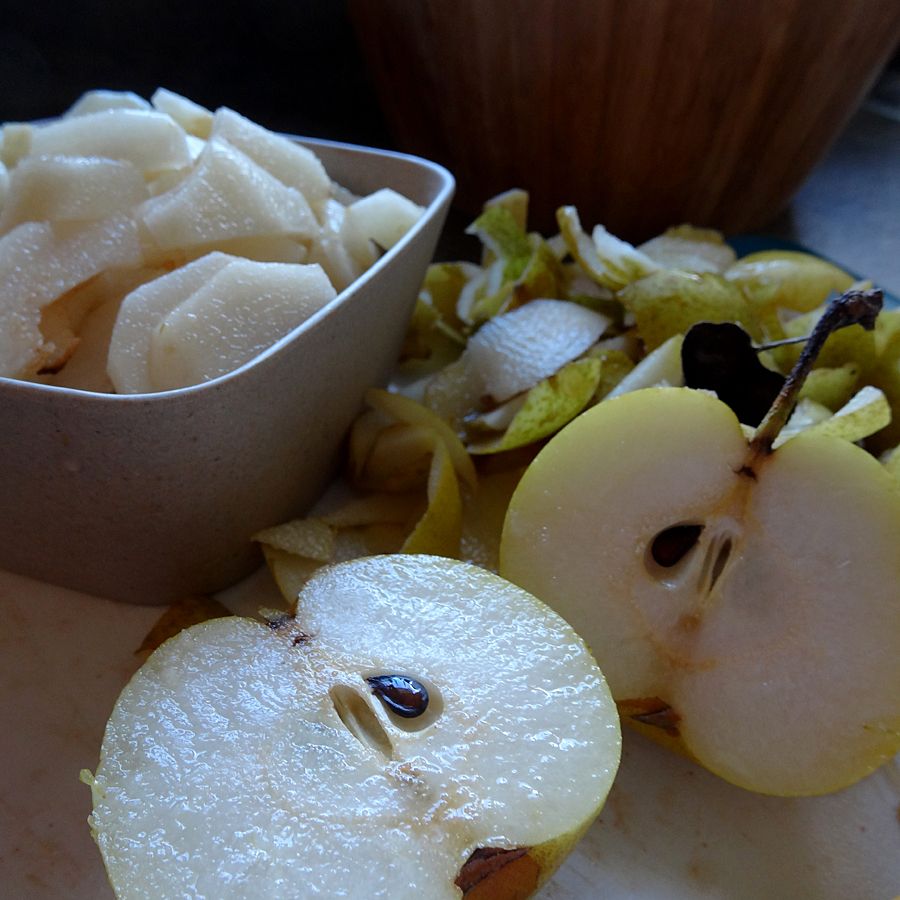 Perfect.
Mix your sugar, flour, nutmeg, cloves, and cinnamon together.
Squeeze lemon juice all over the sliced pears, and then pour the flour mixture all up on it. Mix it up.
Pour the coated pear slices into the pie crust.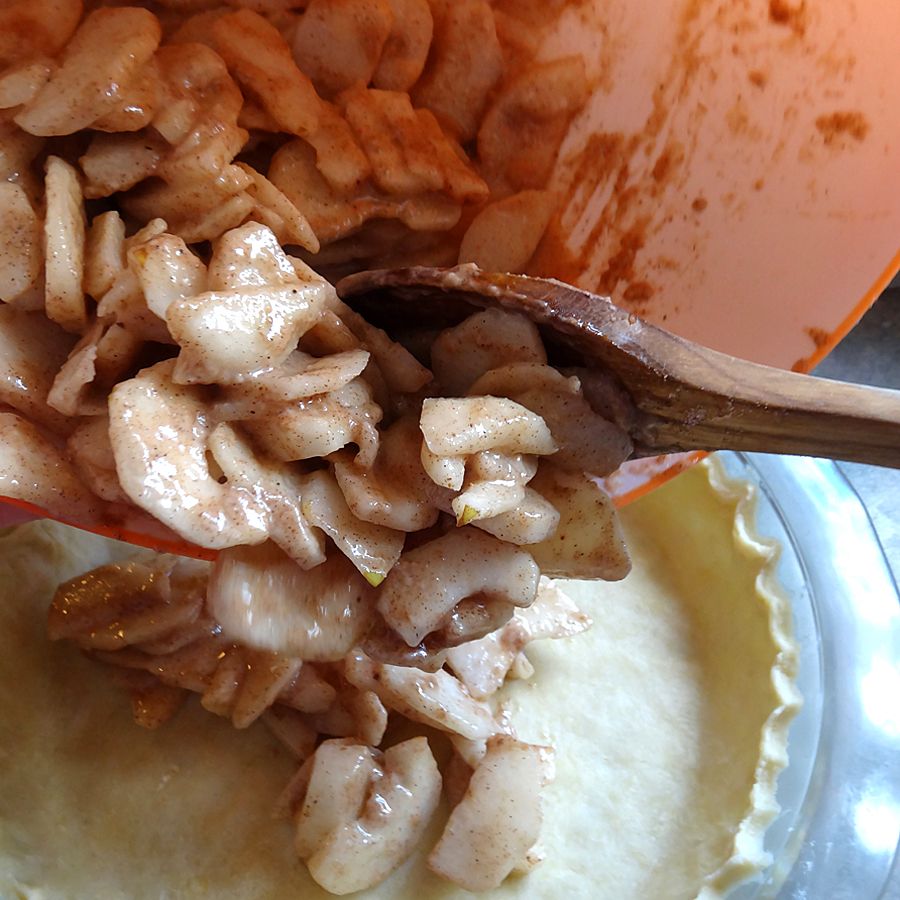 Now it's time to make the delicious crumbly topping. Get your flour, brown sugar, cinnamon, nutmeg and butter in a bowl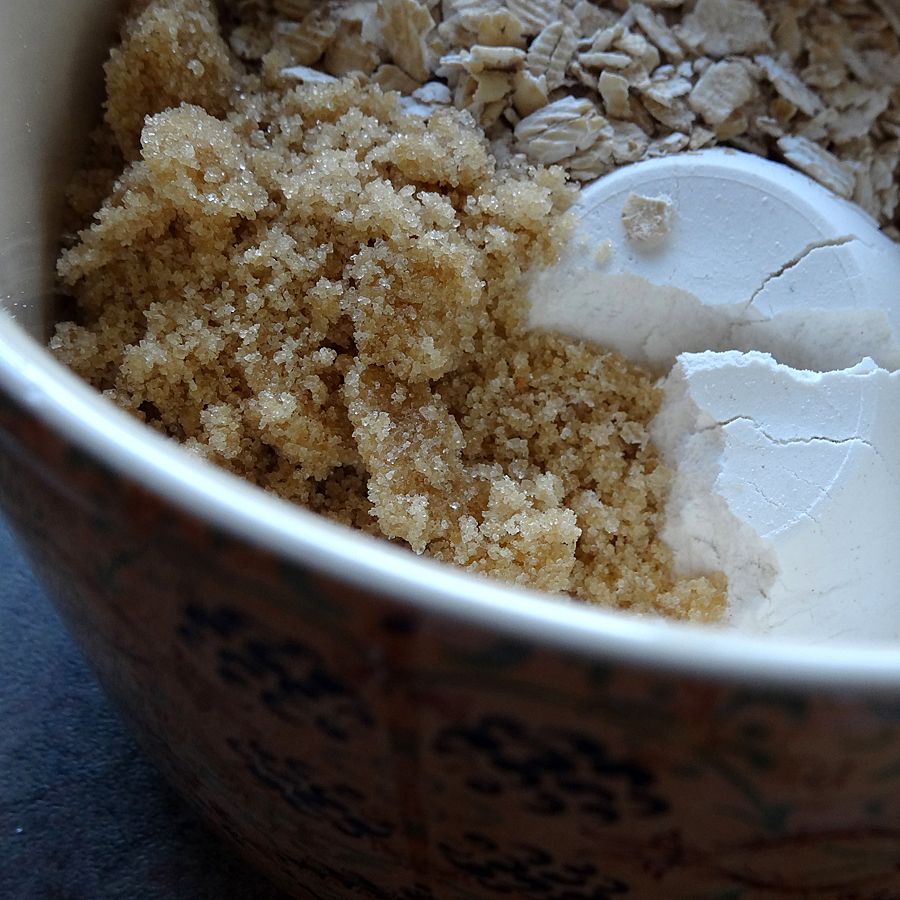 then use two knives to cut them mixture together until it's a) all mixed together b) coarse c)I don't have a third thing to list.
Smooth the pear slices out in the shell so they're more or less even.
Then generously sprinkle crumble topping all up on it.
Geez, I am all up on saying all up on today.
Bake for approximately 1 hour, or until it's gorgeous and golden.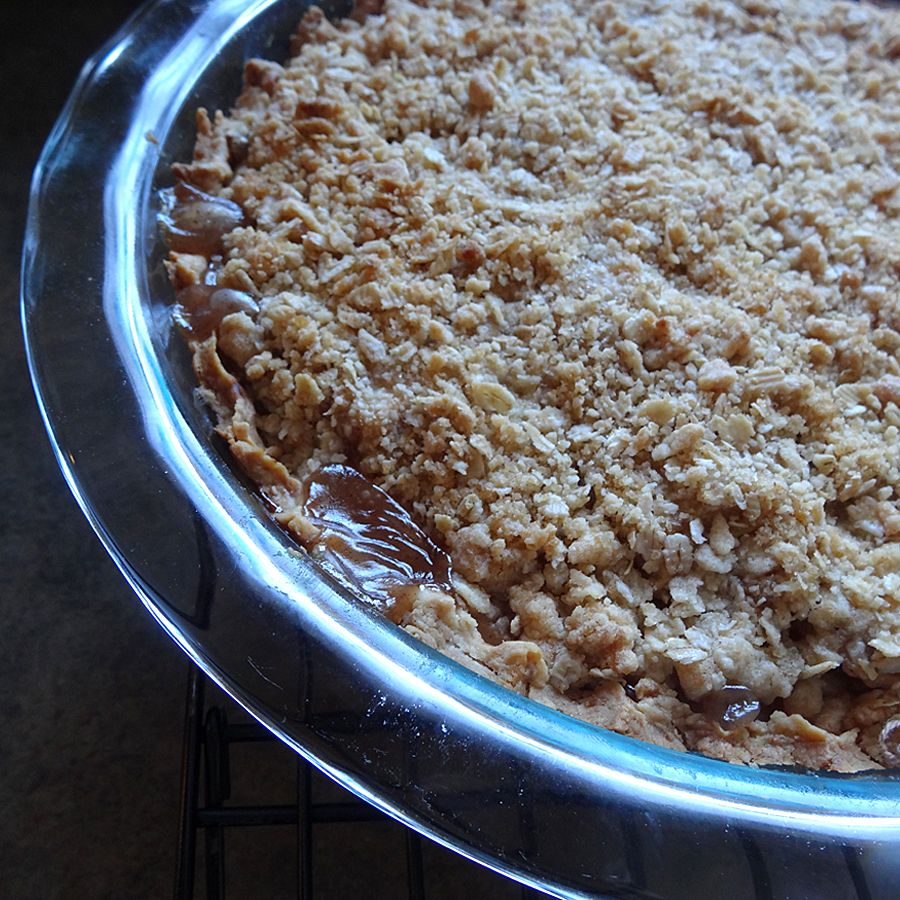 While the pie is baking, you can get busy making the spiced caramel sauce.
Caramel sauce can be a pain, but if you're careful it's worth the effort. It's really easy to burn caramel sauce, so let's do this the easy way. Get your whipping cream, butter and brown sugar ready to go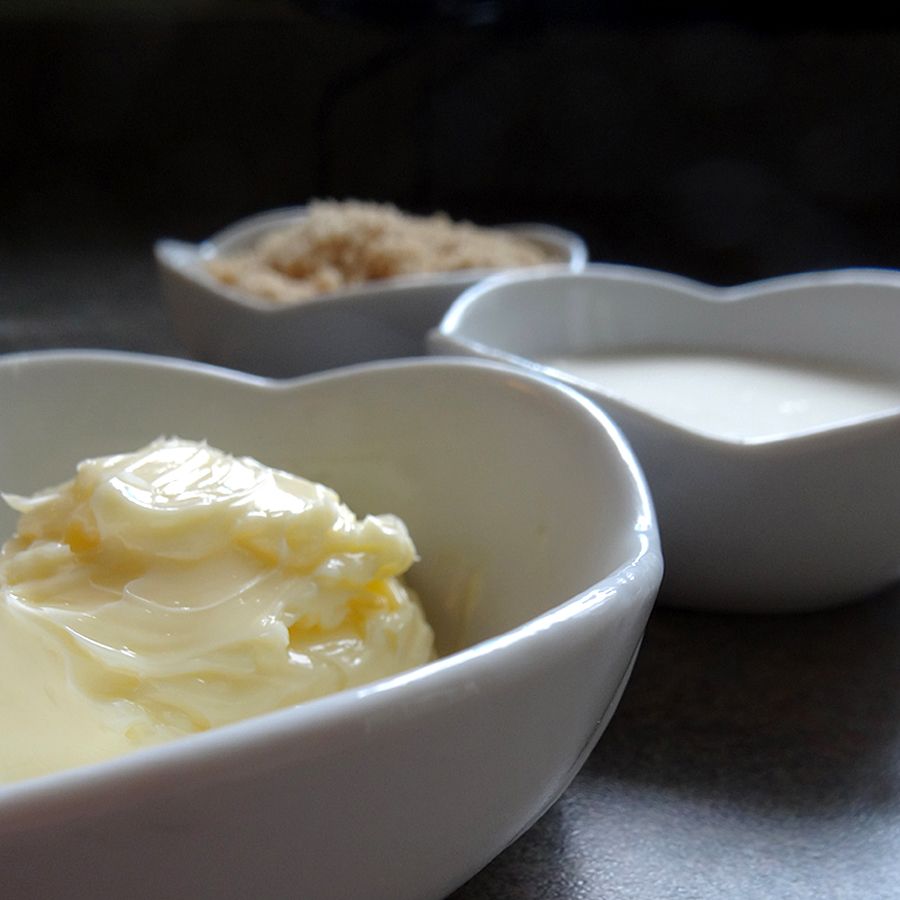 now plop them all in a pan and bring it to a boil over low-medium heat while whisking frequently. (If we were doing this the difficult way, we'd slowly add each at just the right time. But to be safe let's just throw it all in together). It will start off really liquidy, then it will start boiling and look kind of weird, then it will start to look better and thicken up.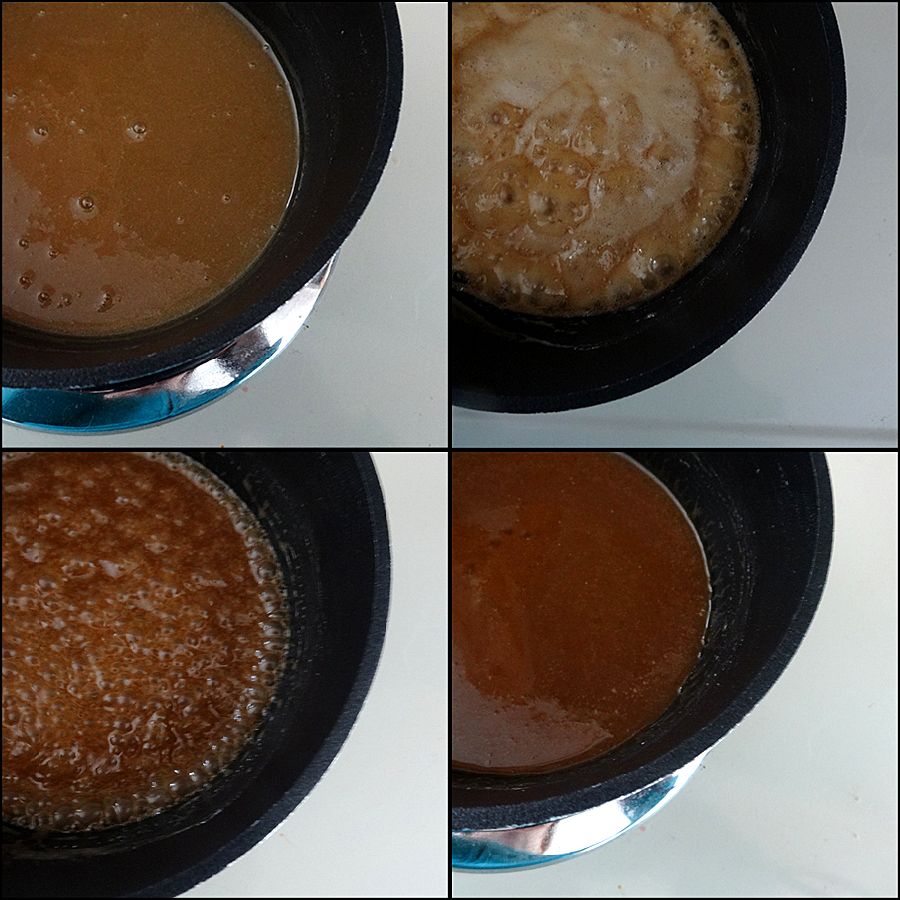 After maybe 5 minutes or so it should be thick enough, and you can remove it from the heat, mix in your spices, and then let it cool.
Once the caramel sauce is cool enough to handle, and the pie is done baking, drizzle the caramel all over the top of the pie.
All. Up. On. It.
And you're done.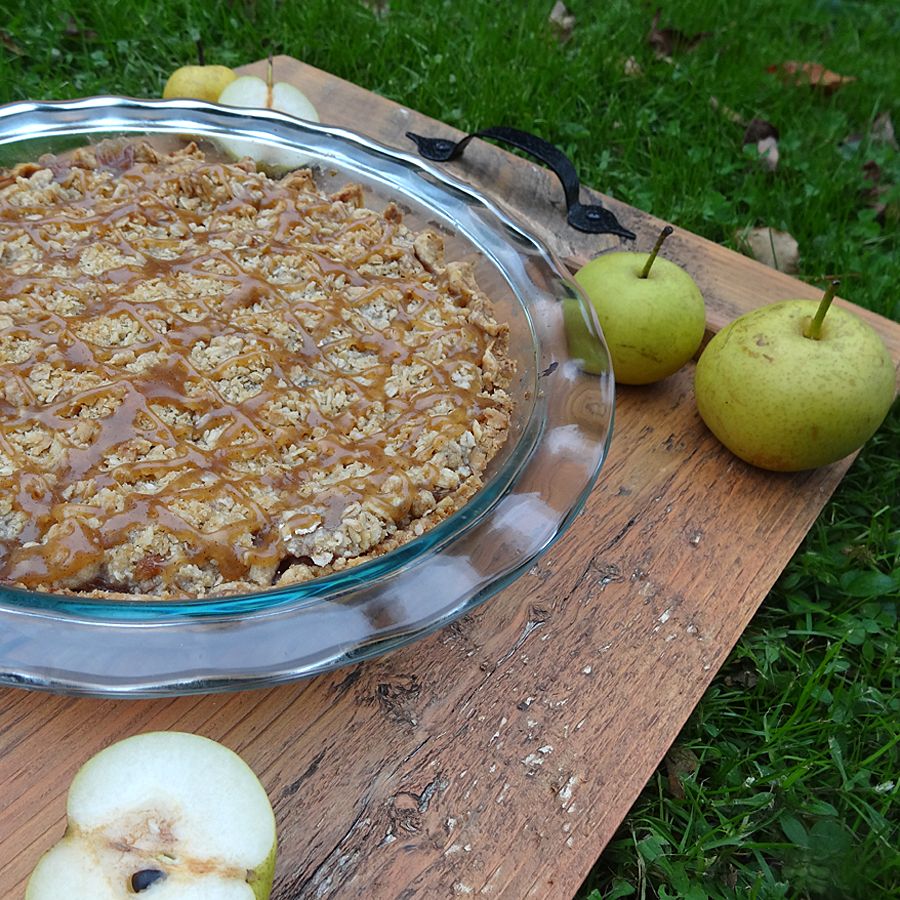 Easy, delicious, and full of local loveliness. Enjoy.