Sometimes you just need to celebrate.
Maybe it's your birthday, or maybe you just started a new job. What's that? It's your wedding anniversary? Perfect. Getting together with family is always a great reason to celebrate. So is moving. Don't forget when someone you love comes home for a visit from far away, that's an excellent reason to celebrate. Or maybe you just got a new pet. Whatever your reason, it's time to treat yourself.
Or for all you Parks and Rec fans, Treat Yo Self.
What's my reason to celebrate? Well, it's all of those things actually. Needless to say I'm feeling a bit spoiled. So since we're heading into the last long weekend of the summer, it's time to celebrate again. I know I am. Tonight we're celebrating my brother in law's birthday, and tomorrow we're heading over to PEI with some friends for the long weekend. Clearly I've got this celebration thing down pat, so I think that now it's time for you to celebrate.
And I think you should celebrate with cake.
Specifically, this one.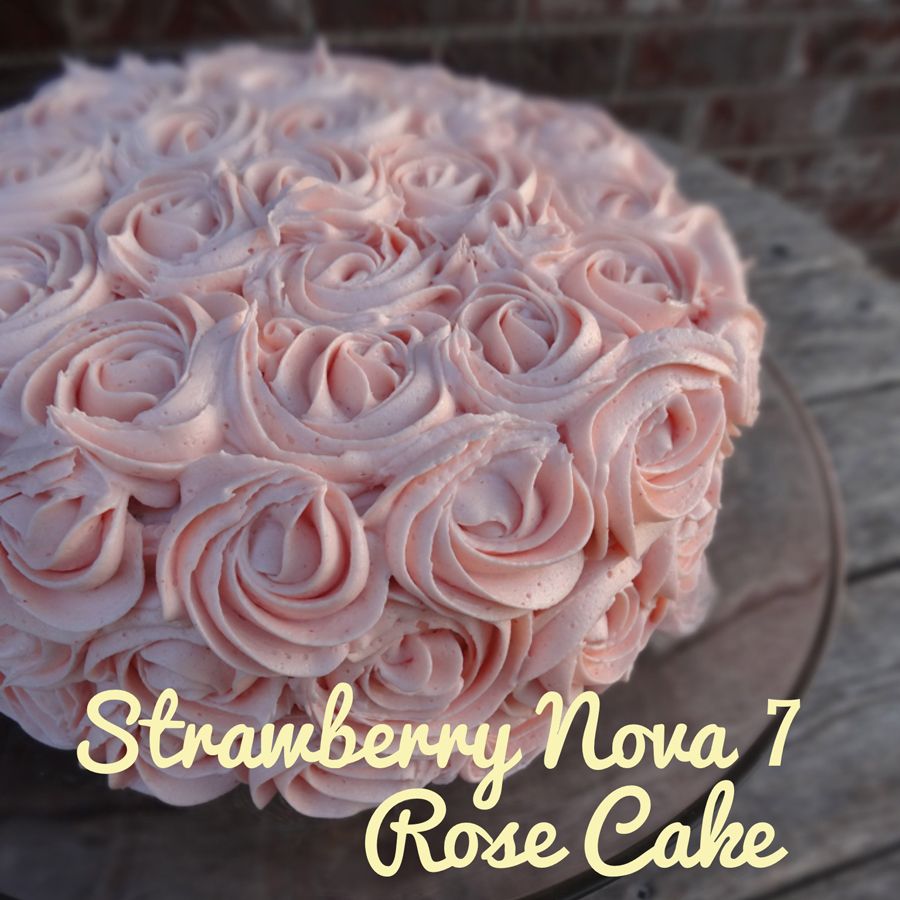 When I have something to celebrate, there are two things I like to indulge in.
The first is cake. Every accomplishment is that much sweeter with a celebratory cake. That's a fact.
The second, is a glass (or two) of Benjamin Bridge's Nova7.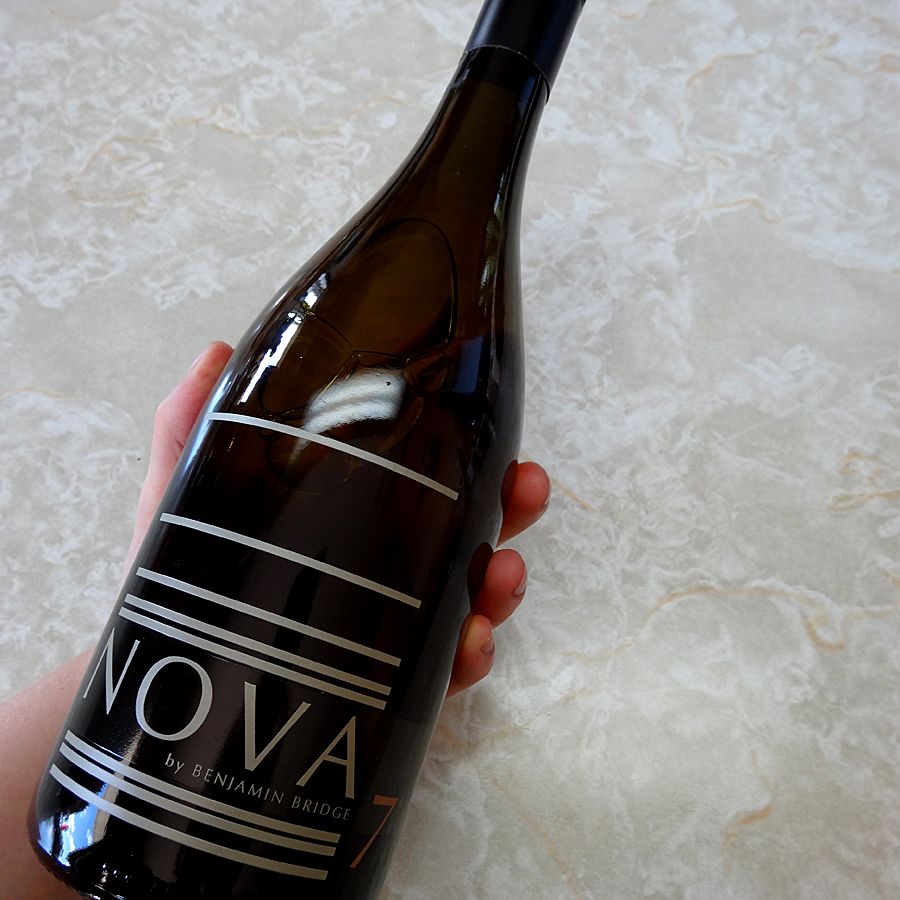 This locally produced wine is my "go to" for "way to go!" So far, my favourite description of Nova 7 came from my friend April who said she was once told it tasted like "sunshine, hope and unicorns." Sounds about right to me. If you want a more technical description though, check out their tasting notes from Winemaker Jean-Benoit Deslauriers.
It only seems fitting that the ultimate celebratory indulgence would be a combination of the two. But how?
I must admit, I've been dreaming up this cake for a while. I originally wanted to make it for my birthday or anniversary in early June, but local strawberry supplies were low so I held off. Once we moved home to Antigonish, I swung by the Antigonish Farmers' Market for some strawberries but was too late. Note to self: go earlier. I stocked up on some other delicious local treats, and then made my way on to my next stop; Bennett's Market. Luckily for me, they had lots of local strawberries, so I loaded up and was on my merry way.
And so, with supplies in hand, and after much deliberation, I finally developed a recipe for a cake for life's little celebrations. Or big celebrations. It would probably be suitable for medium sized celebrations as well.
Strawberry Nova 7 Rose Cake
Makes a 4 layer, 8 in round cake
(depending on the size of your mixer, you may want to cut this recipe in half and do it as two batches)
For the cake
1 C Scotsburn Butter
2 C Just Us! Fair Trade Organic Cane Sugar
4 tbs local strawberry puree
1 tsp Vanilla Extract
6 Overmars Farms egg whites
2 C local strawberries, diced
4 1/2 C Speerville Flour Mill whole white flour
2 tbs baking powder
2 C Benjamin Bridge Nova 7
For the icing
3 C Scotsburn Butter
8-10 C Icing sugar
2 tsp vanilla extract
2/3 C local strawberry puree
2 tbs Scotsburn Whipping Cream
To get started, preheated your oven to 325 degrees. Give your strawberries a quick wash, and chop off the tops.
Measure out approximately 1 ½ C of prepped berries.
Then pop them in the blender or food processor,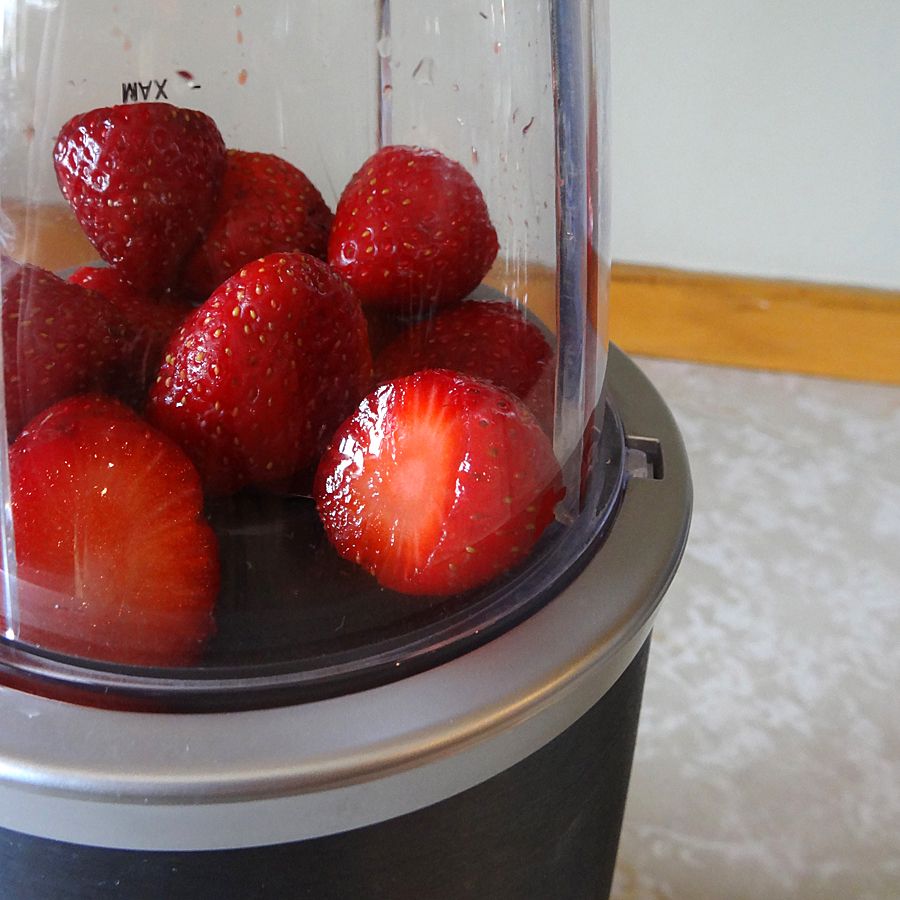 and let them blend until you have a beautiful strawberry puree.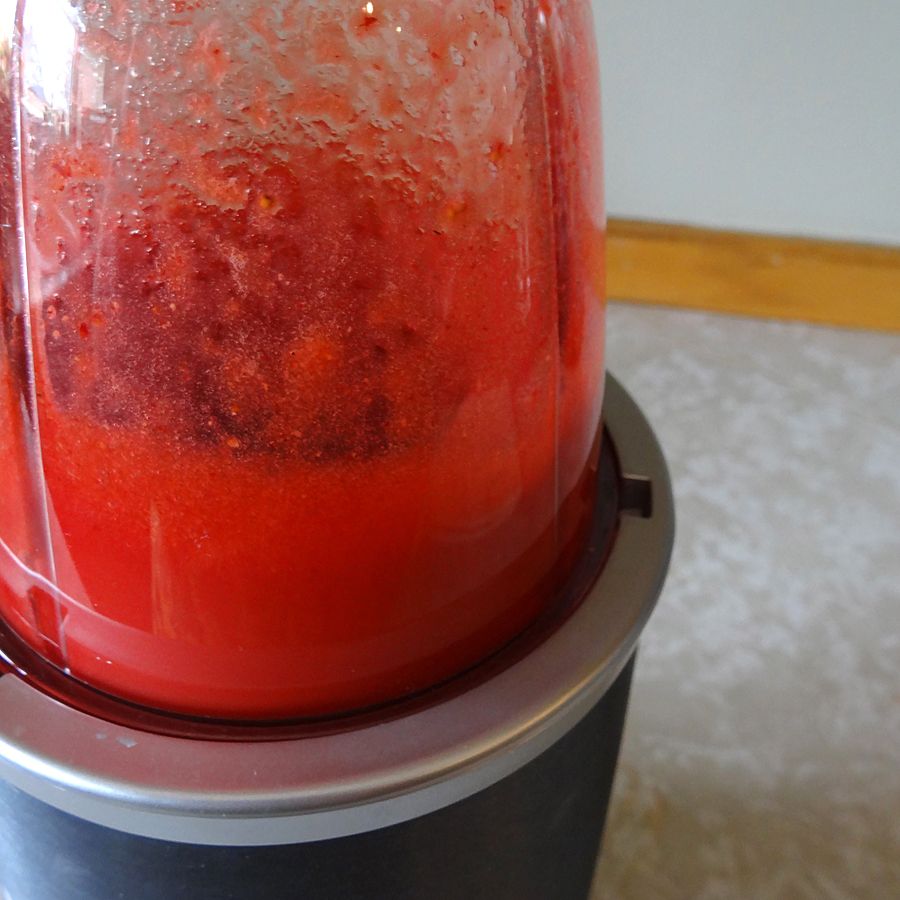 Delicious.
This will be used for the batter and the icing, but you can put it in the fridge until you need it.
Dice 2 cups of strawberries and put aside.
Cream together the butter, sugar and vanilla. Once smooth, start adding in the strawberry puree.

Blend.
In a separate bowl, collect your three egg whites
and then add them one by one, mixing until just blended each time. Add all of your dry ingredients, and blend again.
Open your bottle of Nova 7, and pour out 2 C for the cake, and a glass for you to enjoy while you bake of course.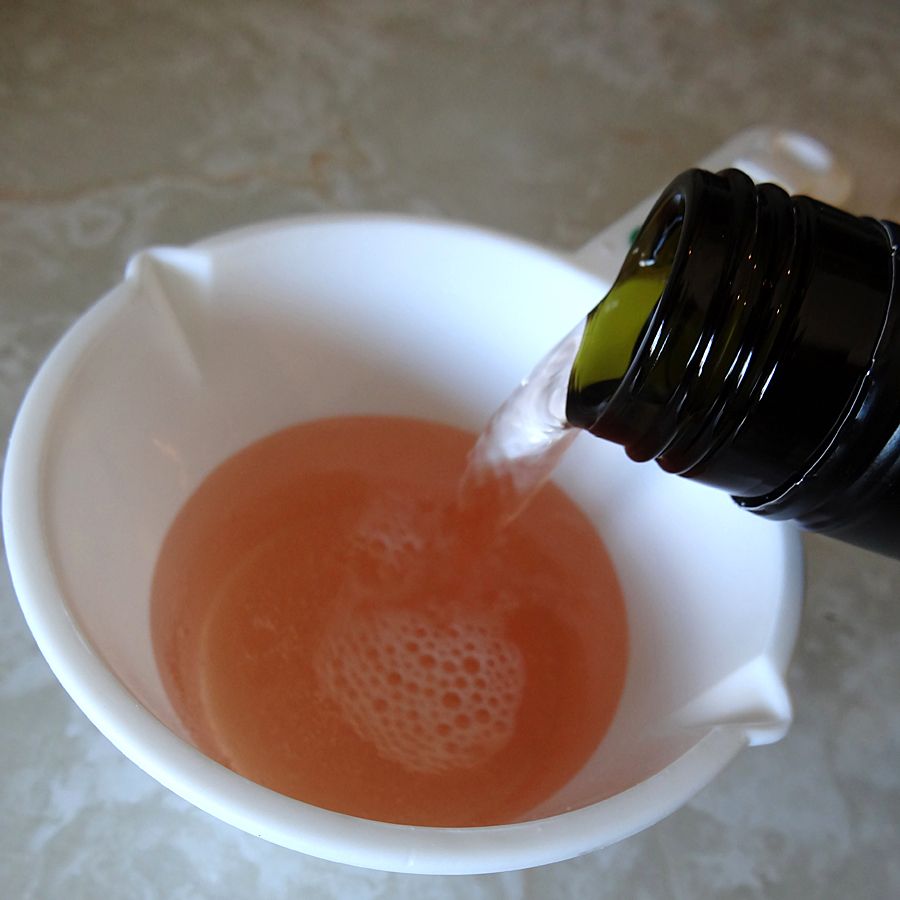 Add the Nova 7 to the batter
and, you guessed it, blend again.
Next, add your diced strawberries
then blend for a minute or two until you have a beautiful, smooth and slightly pink batter.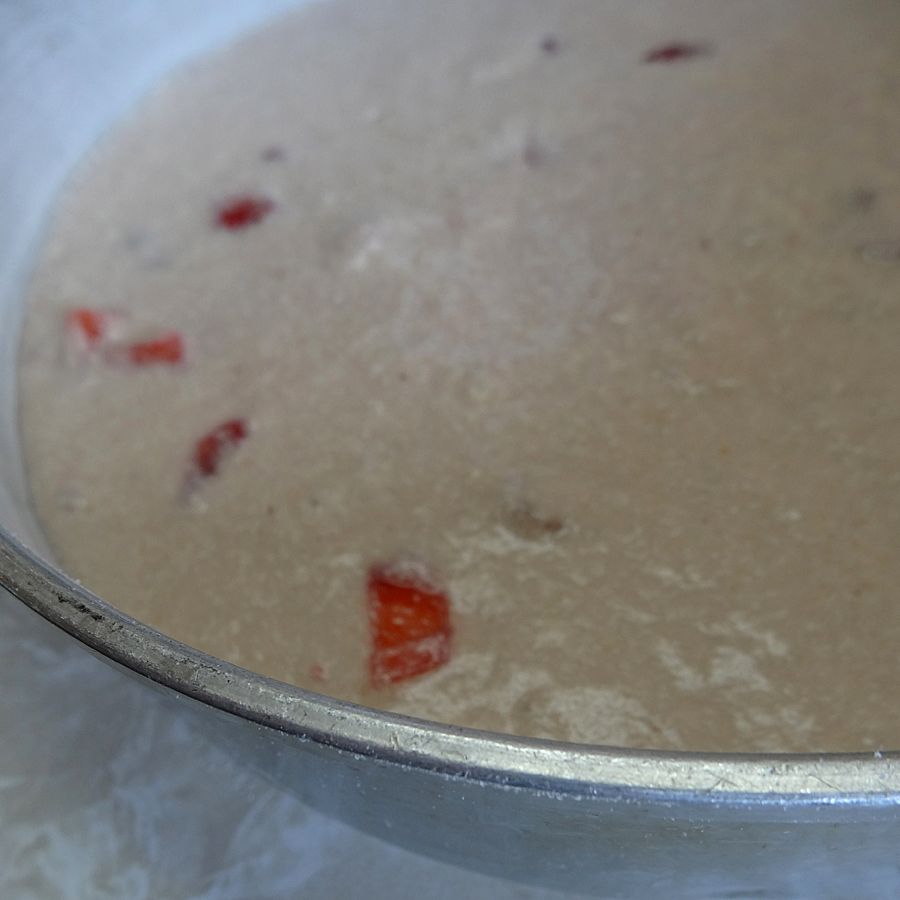 Depending on your cake pans, you may need to grease and flour them, line them with parchment paper, or whatever little baking trick suits your fancy. When I make layer cakes, I prefer to divide my batter equally between four identical cake pans, and then level them out. This usually produces more even layers and takes less time to bake.
While the cakes are cooling, move on to the icing.
Make sure that your butter is no warmer than room temperature. If it's any warmer, the consistency of your icing will be off. Slowly drizzle in your strawberry puree.
I recommend adding the strawberry puree in small increments throughout the icing making process. Why? Icing can be a little tricky, and to make sure you get the right consistency you need to be very careful with your liquids. Try starting with a few tablespoons of the puree, then add half of the icing sugar, vanilla extract and whipping cream. Let it blend.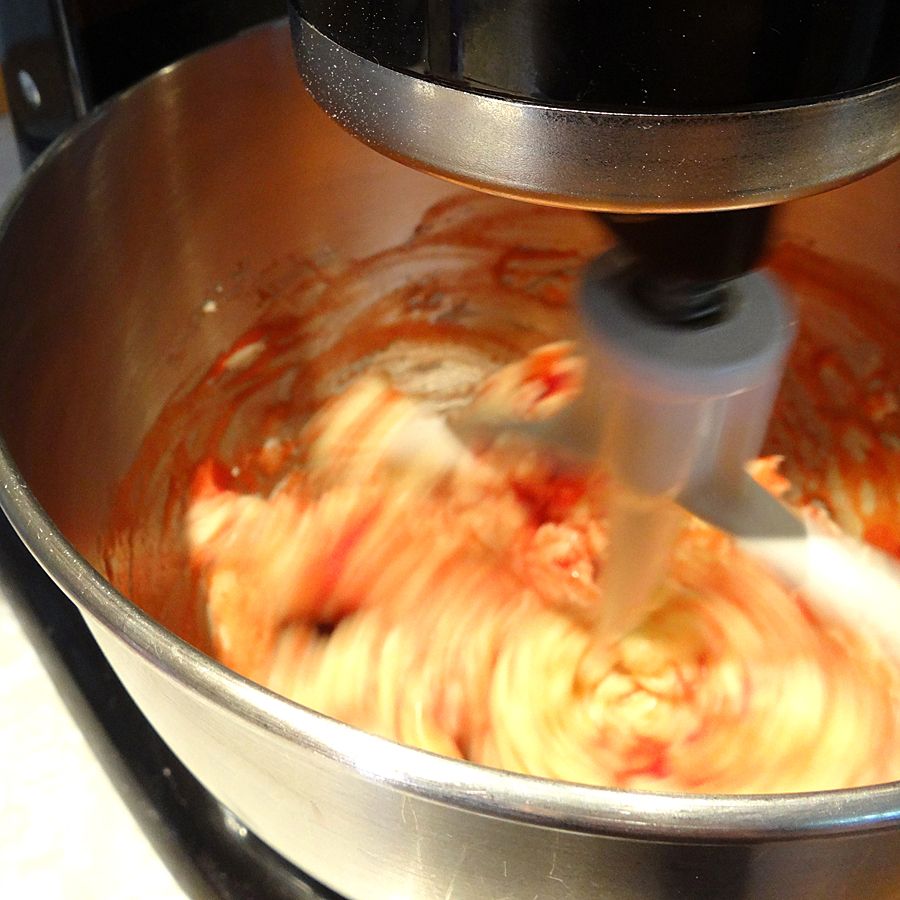 Then add half of the remaining icing sugar, and a few more tablespoons of strawberry puree. Blend again, but this time let it blend for a full two minutes. Repeat this until you get the colour, flavour and consistency that you want.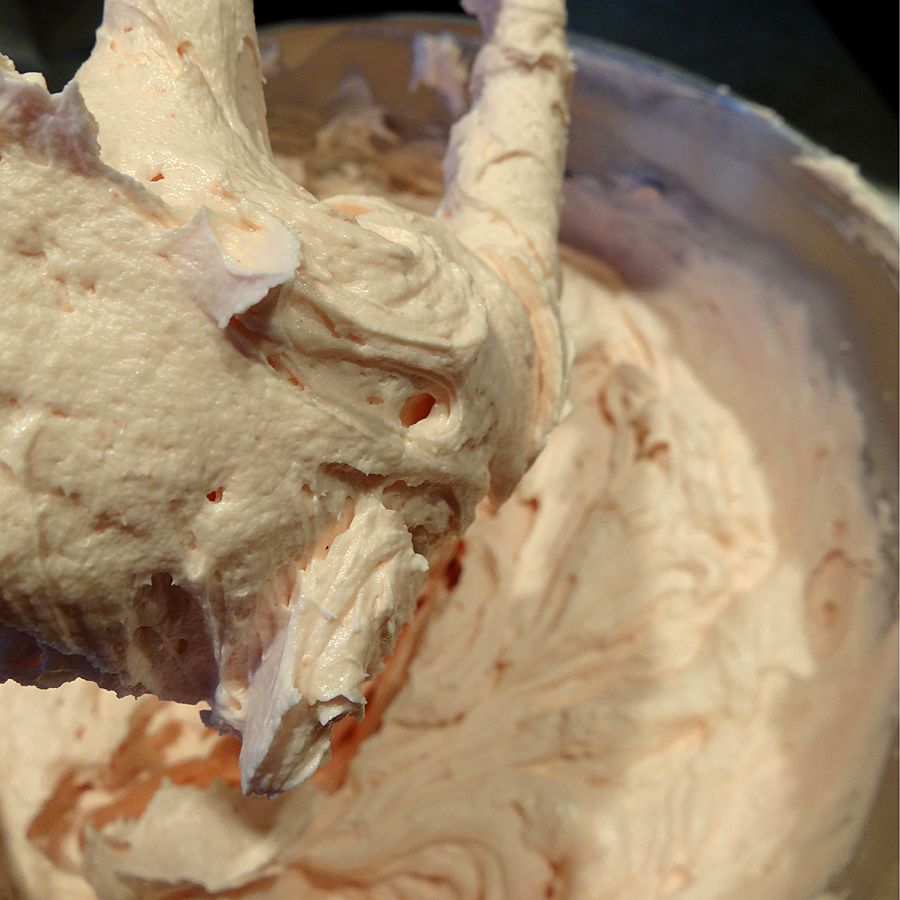 And yes, that does mean that frequent taste testing is required. For, you know, quality assurance.
Now it's time to assemble the cake. Carefully level off the tops of your cakes.
Preferably don't do it on the wire cooling racks as shown in the picture above. If most of my baking supplies weren't packed away at the moment I would have opted for little cake decorating lazy susan which makes it easy to spin the cake while I level it off, but instead I opted for arguably the least safe surface in the kitchen. Bad Maureen!
Pipe a quick spiral on the top of your bottom layer.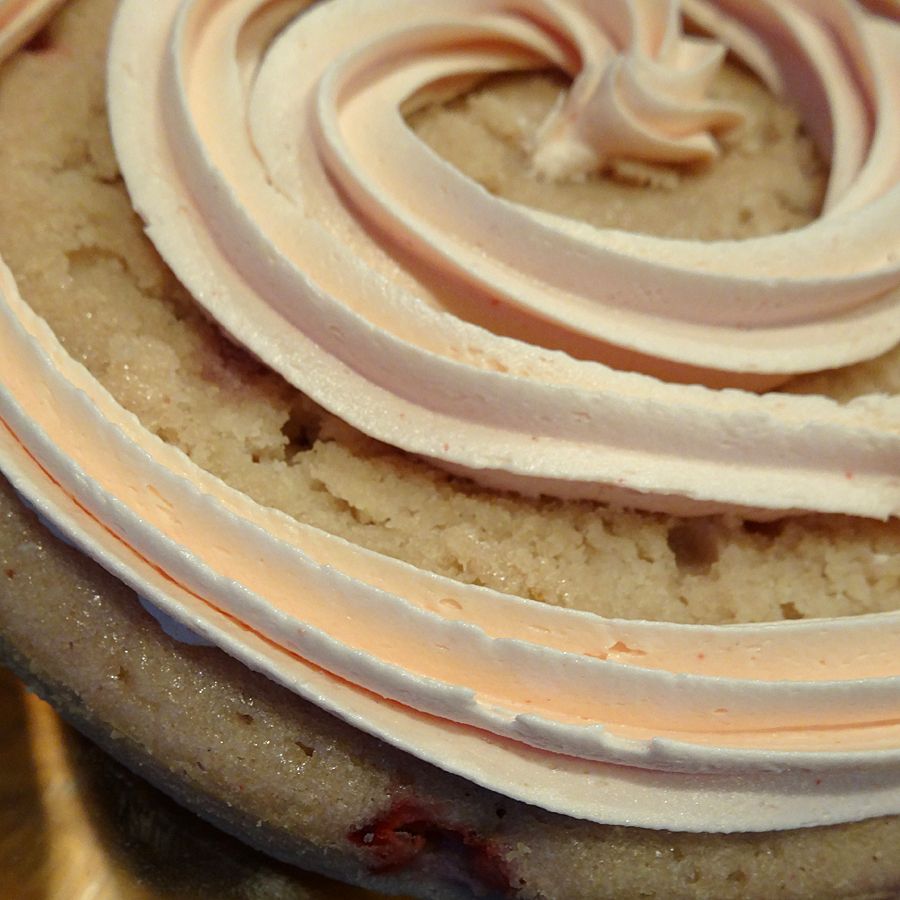 Spread it out.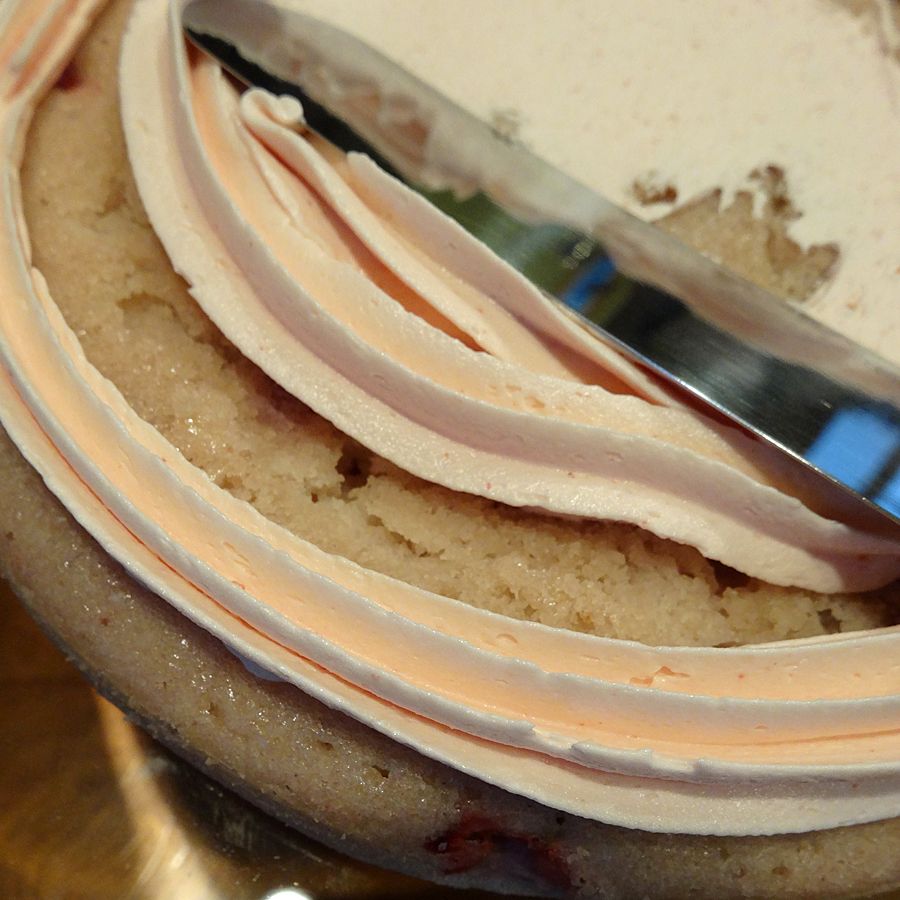 Once it's smooth and even, pop your next layer on top.
Repeat. Once you get to the top layer, pipe a larger spiral of icing on the top and spread it out flat until it reaches the very edge of the cake.
Keep spreading the icing, and gently push it over the edge of the cake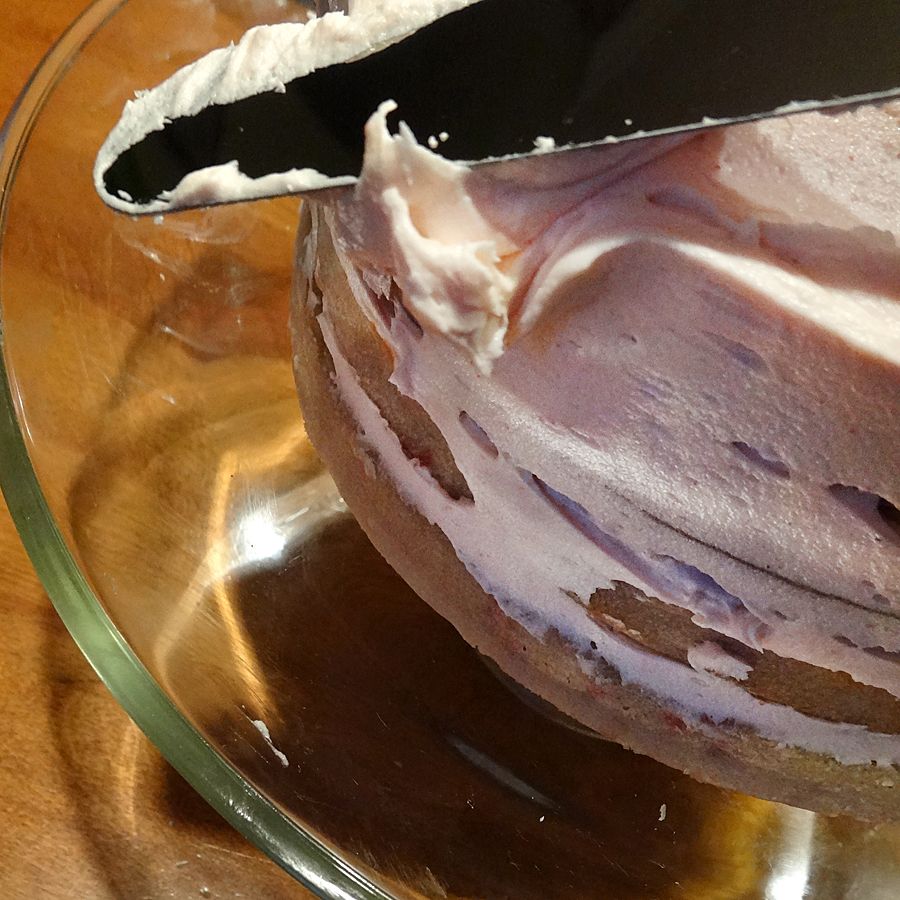 and then down and around the sides of the cake.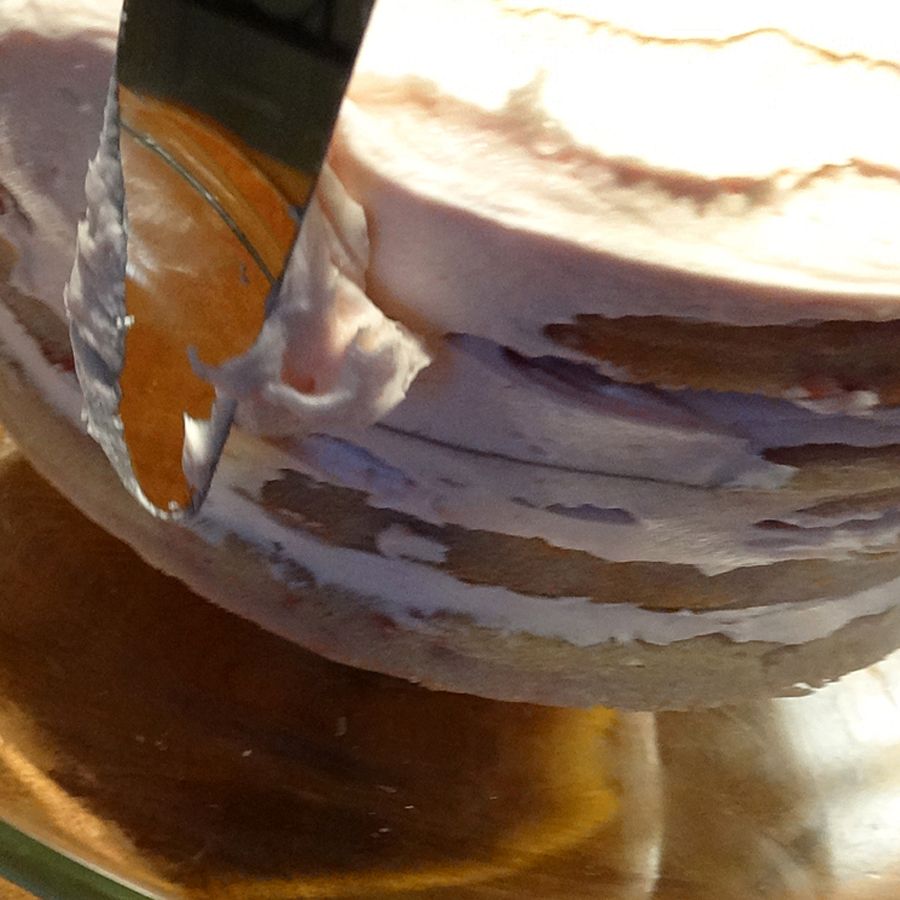 Your goal is to get a thin, even layer all over the cake. This is where that lazy susan is really helpful. As you ice the sides of the cake, you can just spin and pull. Once you get the hang of it, it's pretty easy.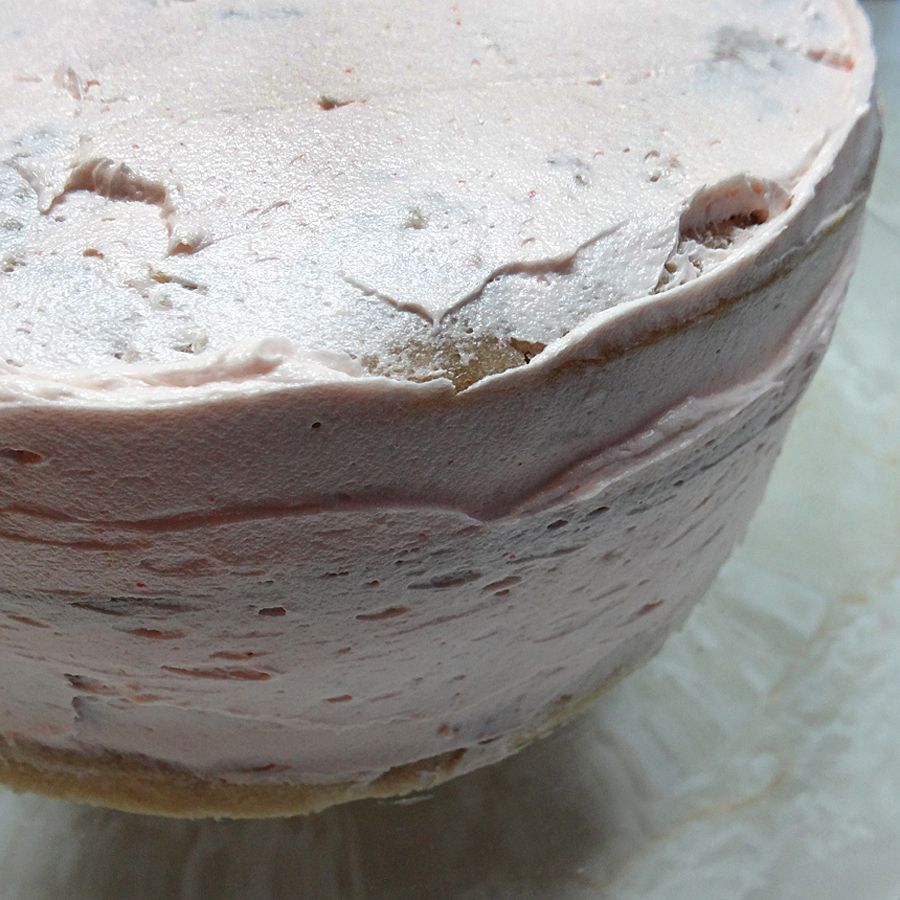 Now it's time to pipe. Fill a piping bag fitted with a star tip (I used a Wilton 1 M) and make little rosettes/swirls all around the base of the cake.
To make the rosettes, hold the piping bag at a 90 degree angle from the side of the cake, and gently squeeze. You are starting at the centre of the swirl, so just gently squeeze, swirl the icing around and release.*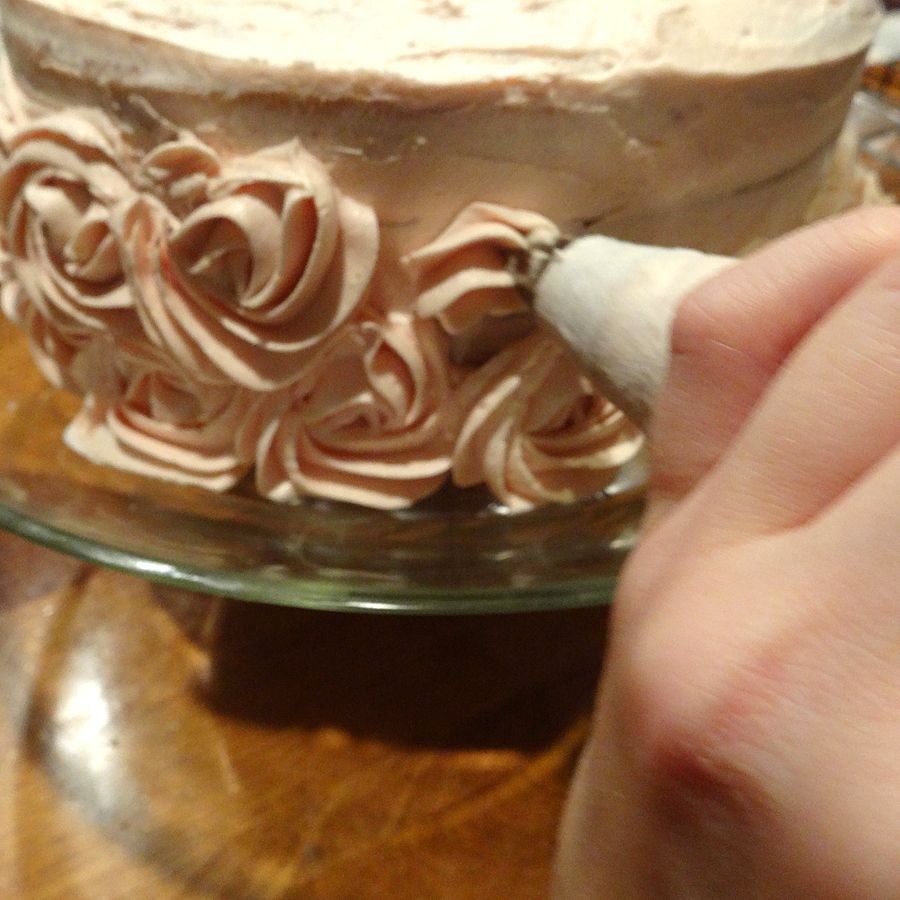 *If this is confusing, just have a look at this post from 52 Kitchen Adventures on how to make a cupcake bouquet, and how to use the same technique to ice a rose cake. Better? Once you're done here, you should probably go and check out the rest of the awesome posts she has. But then come back here, or I will get lonely.
Go all the way around the cake, and then start your next row half on the side of the cake, and half on the top of the cake.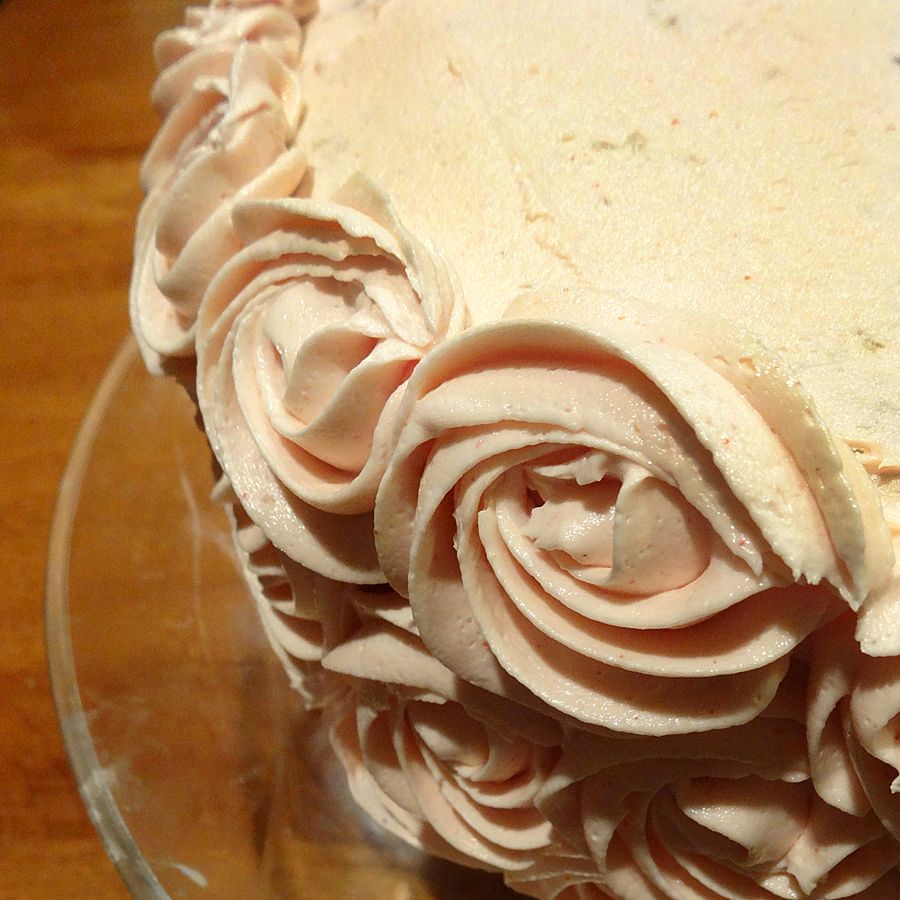 Cover the top with rosettes as well, and you're done.
And now my friends, it's time to celebrate.