Summer is finally here, and since it's hot as all get out it's time to share a simple how-to for one of my most favourite beverages in the world: iced coffee.
Now, I'm not talking about pouring hot coffee over ice cubes. That is just wrong. Stop doing it. Especially cafes. You should know better. Come on! I'm talking about cold brewed iced coffee aka the very best iced coffee, which, lucky for you is super easy to make. I use a 4-cup recycled Bodum coffee press, and it makes it SO EASY though I do regret that it's so small. Sorry, sometimes size does matter.
Honestly though, the most complicated part is just waiting for the coffee to steep, so I suggest making this right before bed so you can enjoy it first thing in the morning.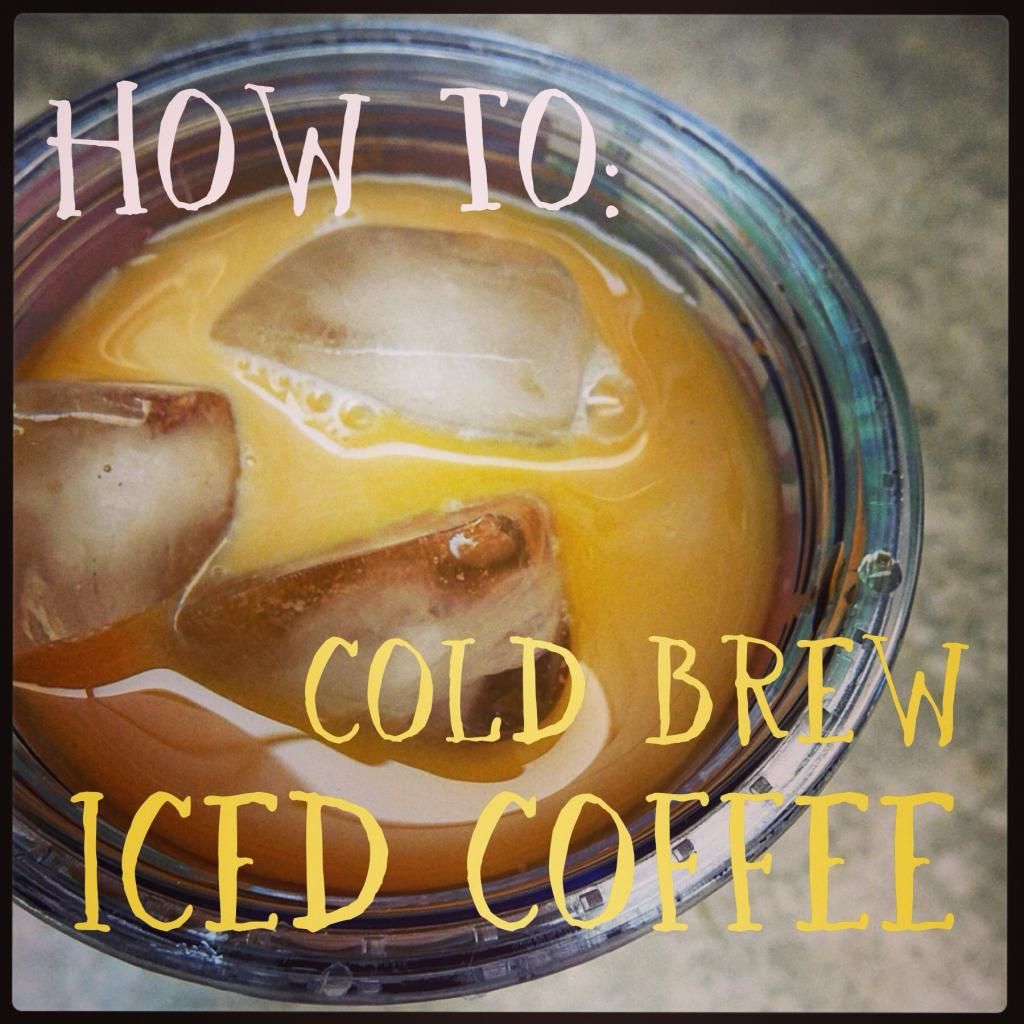 How To: Cold Brew Iced Coffee
½ C (or to taste) your favourite locally roasted coffee beans (I'm using one of my personal favourites: Full Steam Coffee's Fogarty's Cove blend)
2 ½ C cold water
Scotsburn Milk or Cream (to taste)
Just Us! Fair Trade Organic Cane Sugar (to taste)
Start with a bag of fresh locally roasted coffee.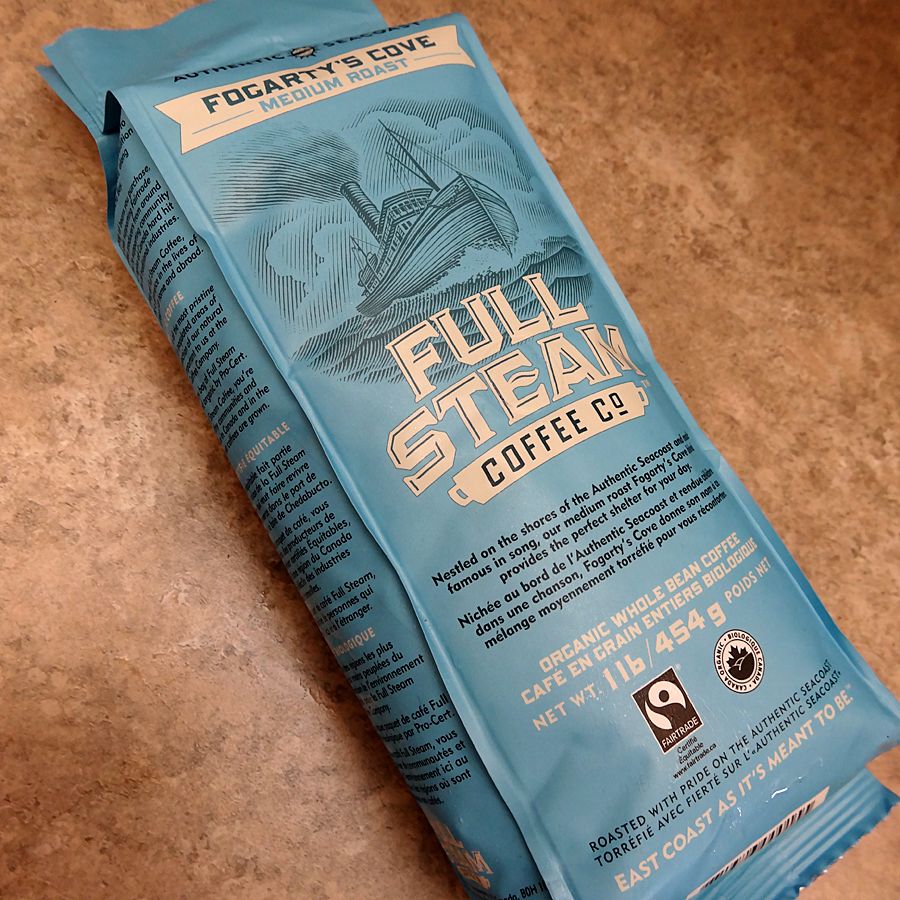 This roasts seems fitting since Stan Fest is this weekend, so let's all just enjoy this while we read the rest of this post, shall we?
Open up the bag, and smell those beautiful beans.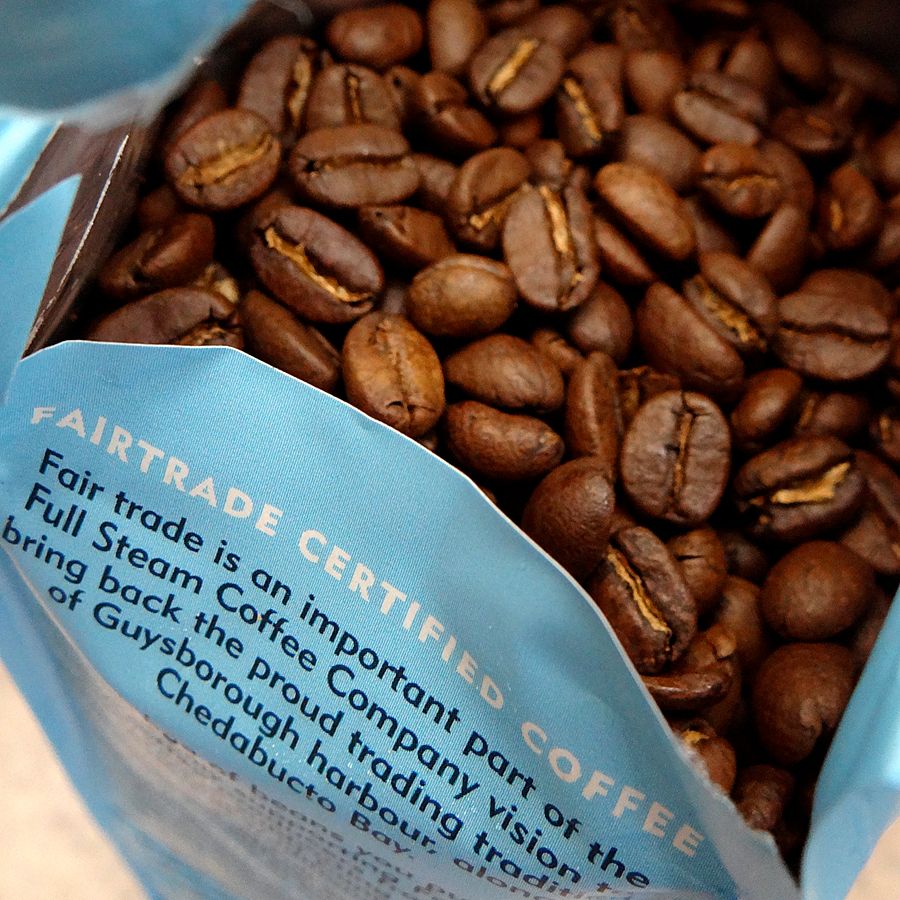 There are few things in this world that smell as good as coffee beans. Damn.
Measure out your beans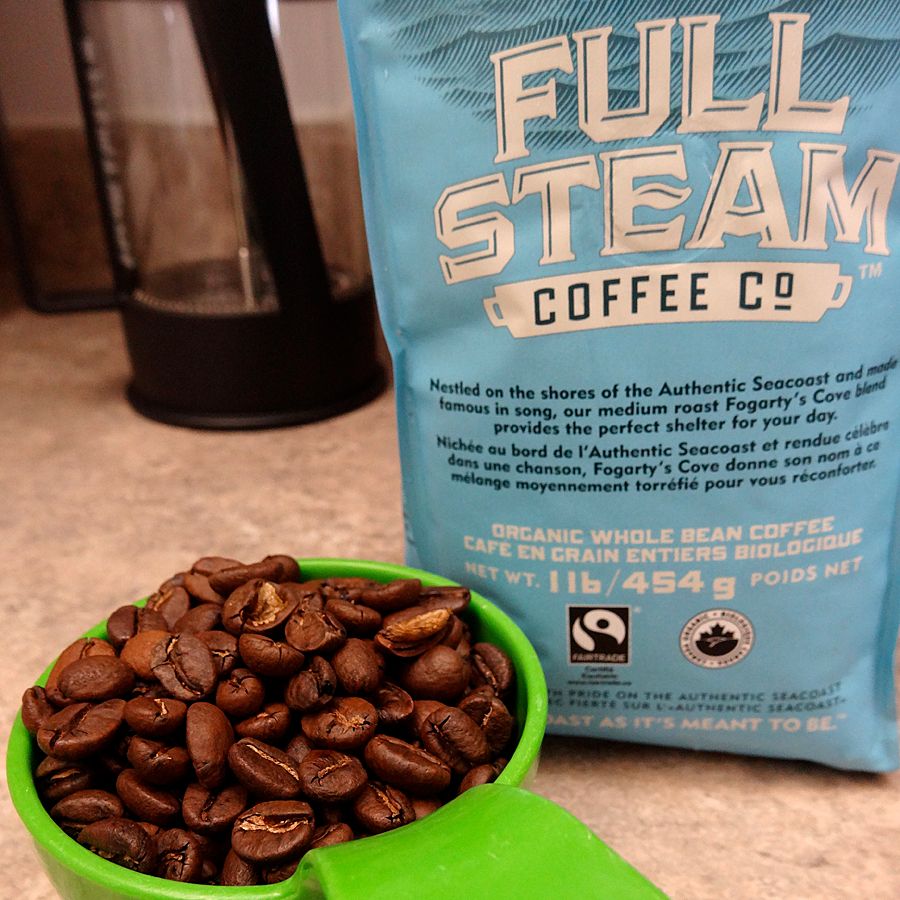 Feel free to grind more for stronger iced coffee. I recommend testing out strengths until you get it just the way you like it. That's right, I recommend making things the way you like them. What a novel idea!
Next, get ready to grind them.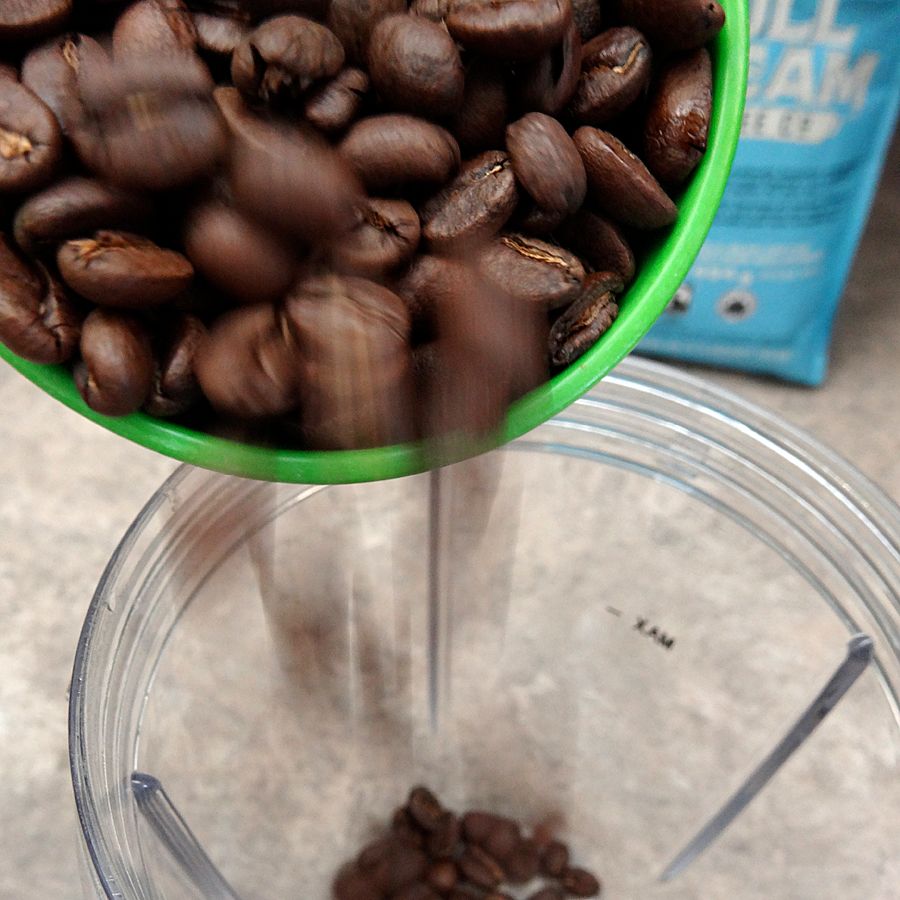 Now, if you have a proper coffee grinder then you should obviously use that. But if you're like me, you own a coffee maker with a built in burr grinder but have yet to pick up a separate one so you just go ahead and use your Nutri-Bullet. It's ok.
And now, it's grinding time.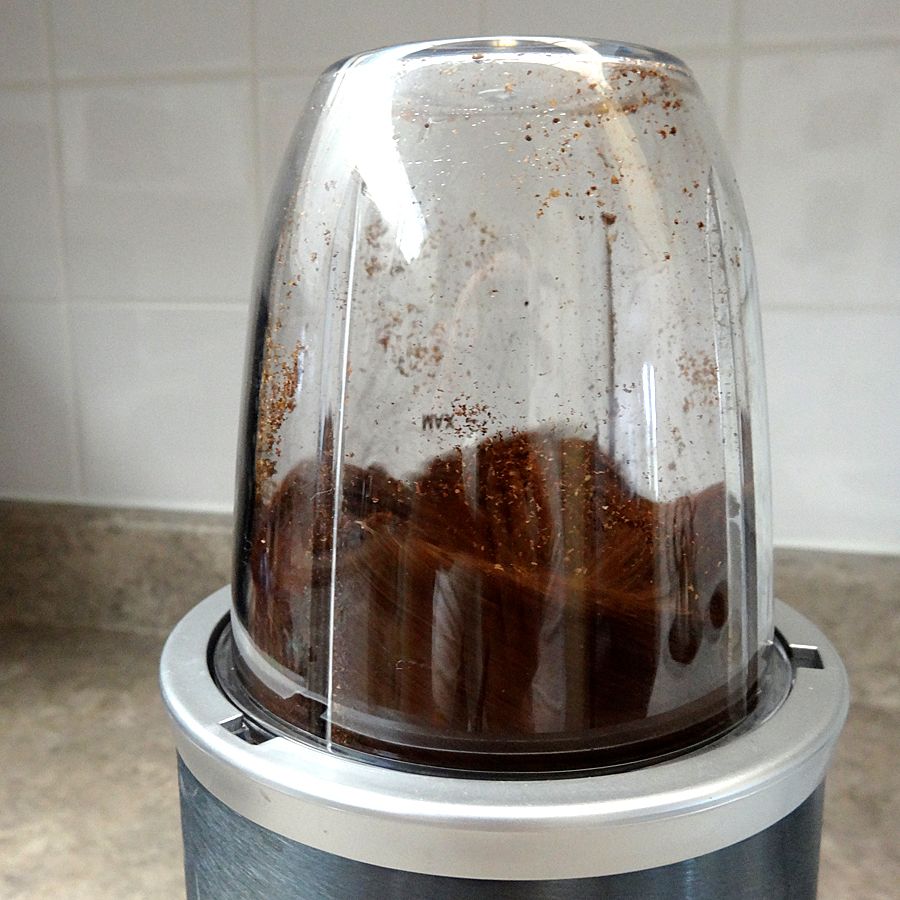 That's what she said! Sorry. Couldn't resist.
I ground mine a little too fine trying to take pictures… so don't do that. Coarse grind is best. Trust me.
Pour the ground coffee into the french press, and pour in your cold water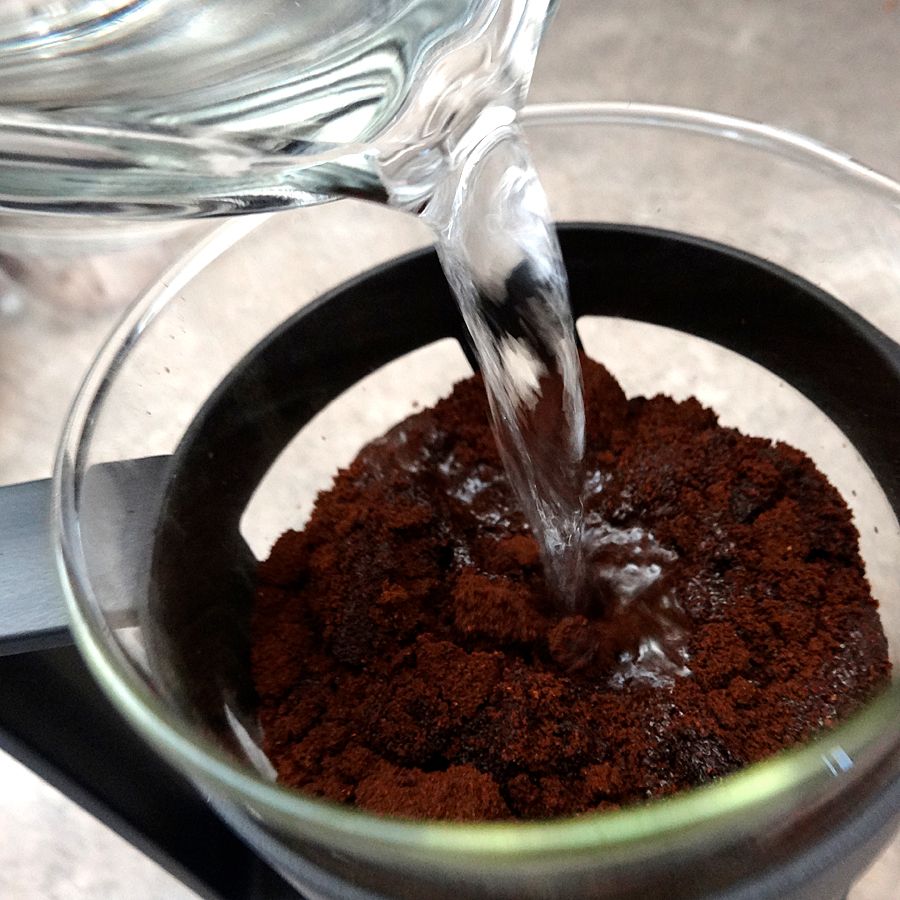 give it a stir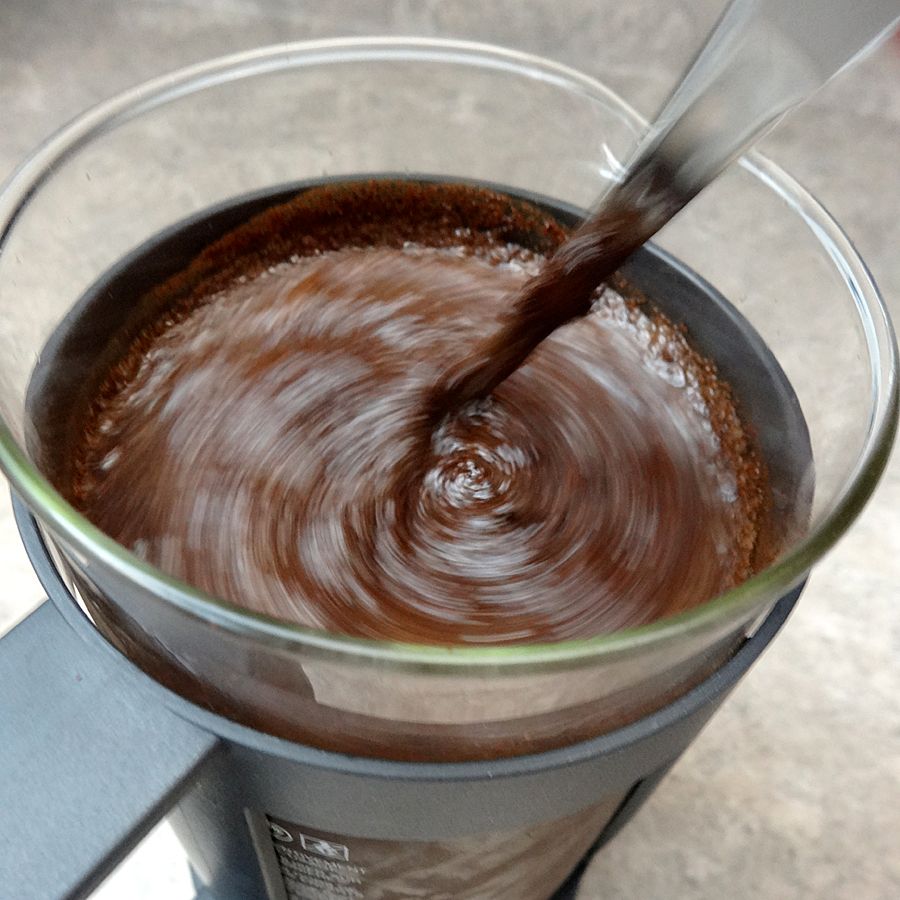 wheeeeeeeeeeeeeeee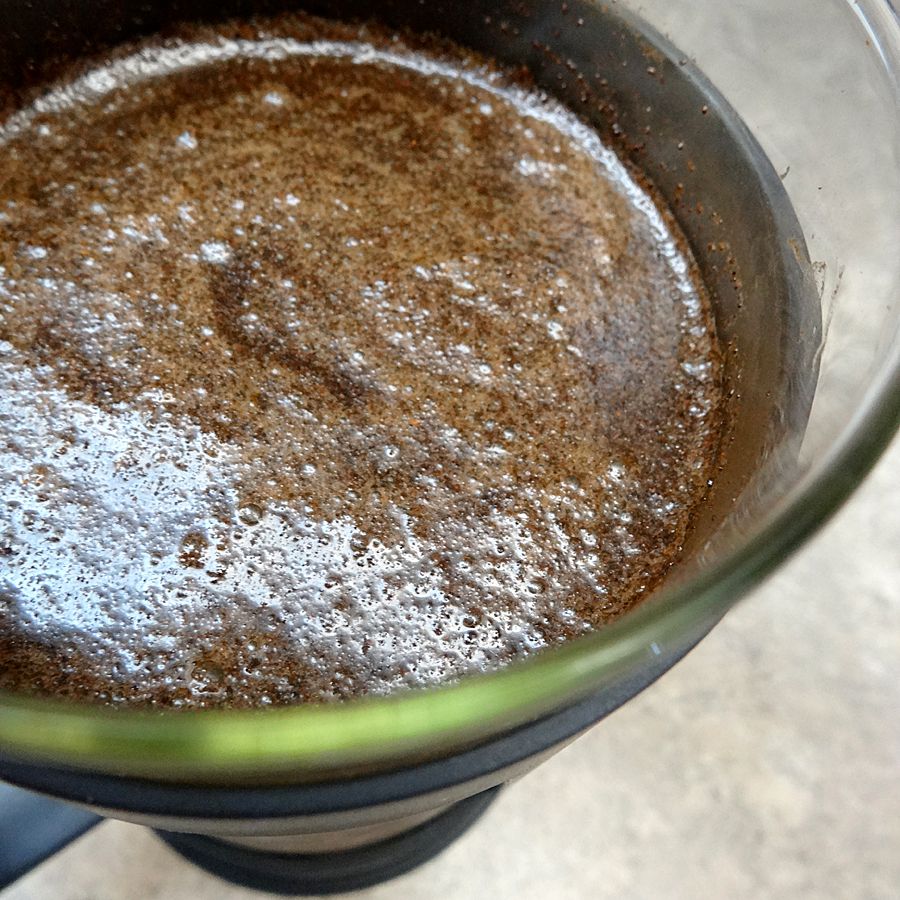 Lovely.
and pop the press into the fridge to steep and chill.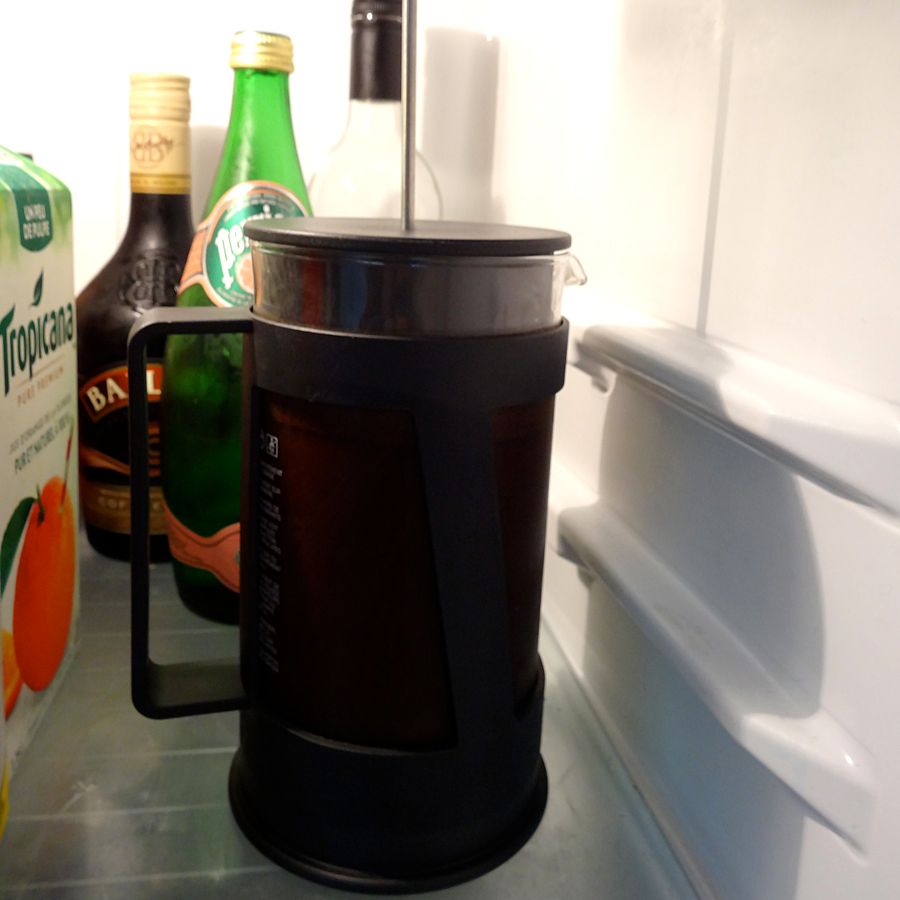 As you can see, my fridge is stocked with high priority items: orange juice, Baileys, Perrier, and wine. I swear there's food in there too…
The coffee needs to steep for a long time, so over night works like a charm.
After a minimum of 8 hours, it's time to strain the coffee. Take your french press out of the fridge and press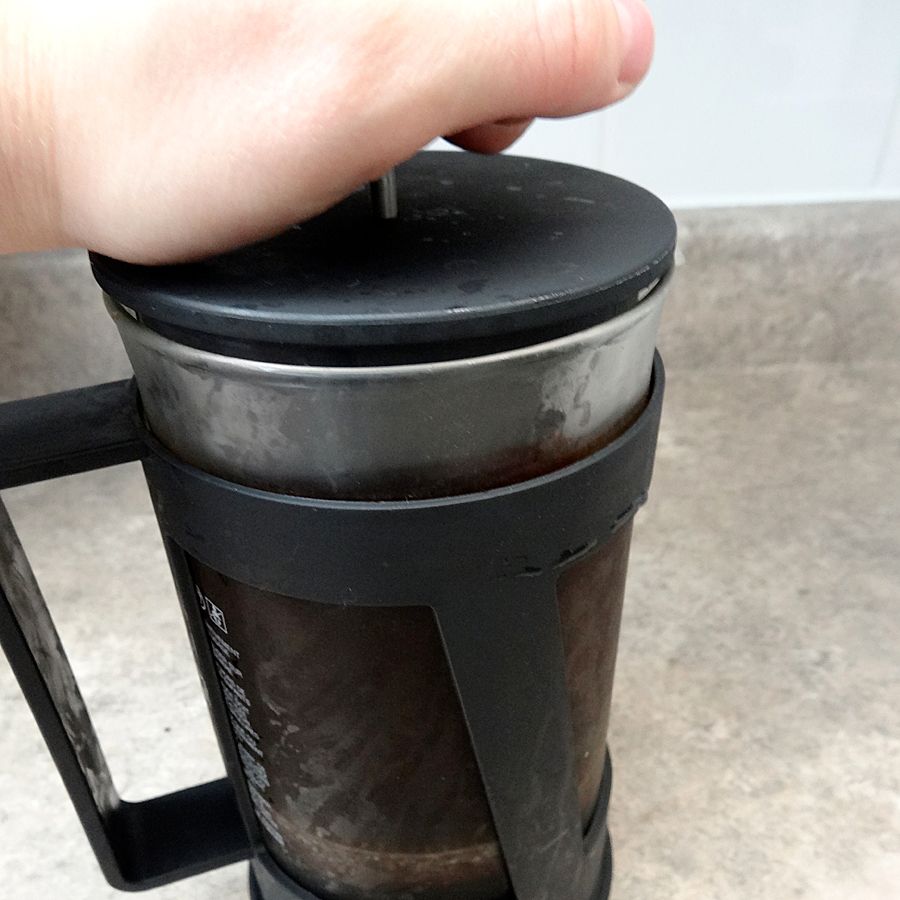 Can we all just take a second and look at how weird my hand looks in this cropped picture? It really didn't look much better before it got cropped either. What. The. Heck.
Keep pressing until it's as far down as it will go.
Welcome back, normal looking hand.
Strain the coffee out and behold the delicious, cold coffee concentrate you've made.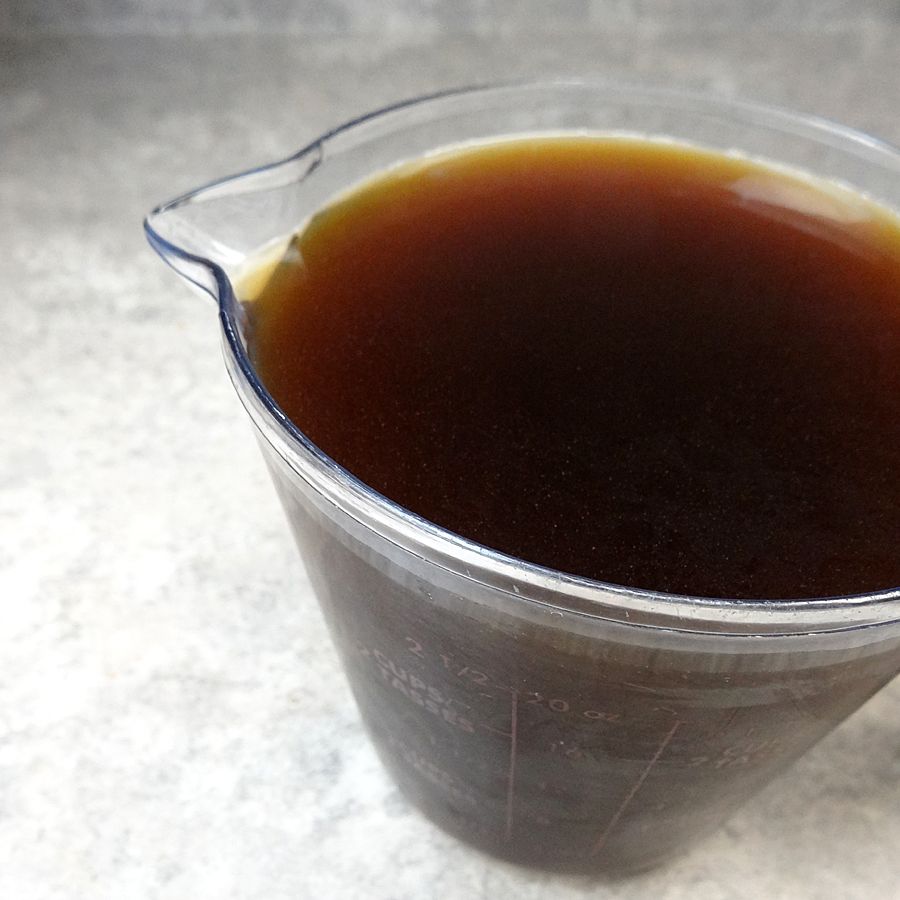 It's almost time to drink up… pour the coffee concentrate over some ice cubes
If you REALLY want to step your iced-coffee-game-up, make ice cubes out of coffee. That way as the ice cubes melt, it's just adding more coffee instead of diluting your drank. GENIUS.
then add some milk or cream depending on your preference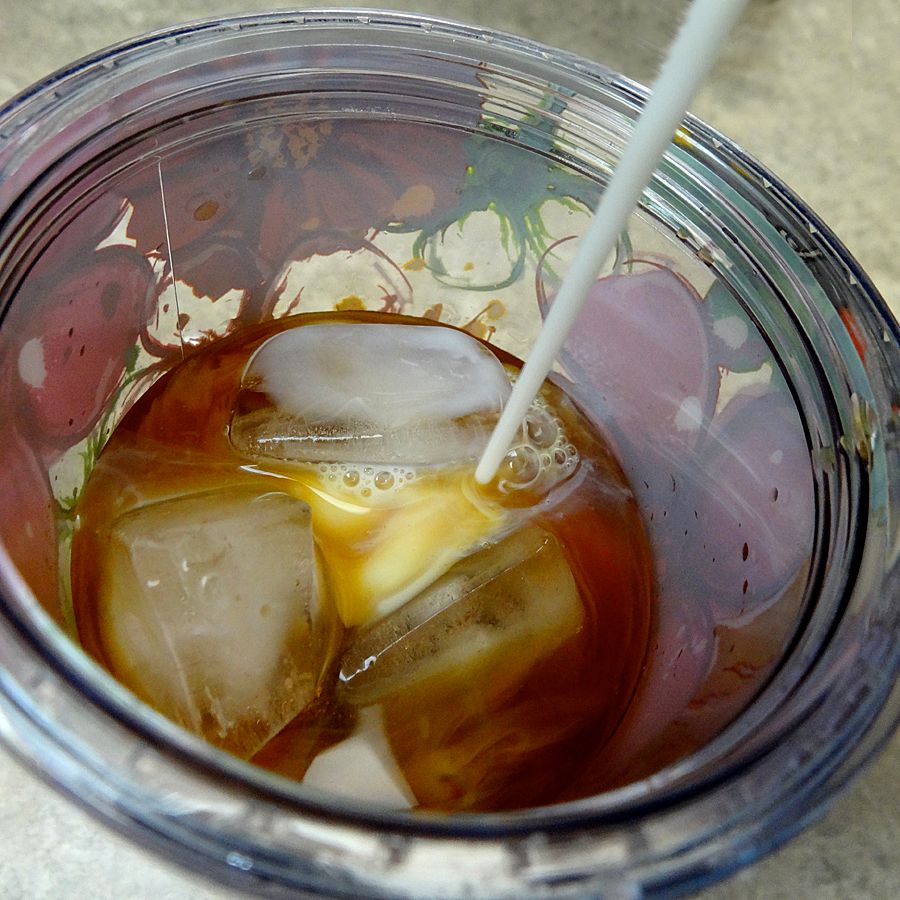 You can add whatever sweetener you want at this point too. Sugar is great. Maple syrup is also a solid choice. Sea salt caramel sauce is a crazy delicious option. You just do whatever your little heart desires.
Ta da! It's time to raise your glass, and enjoy the delicious chilled goodness of iced coffee.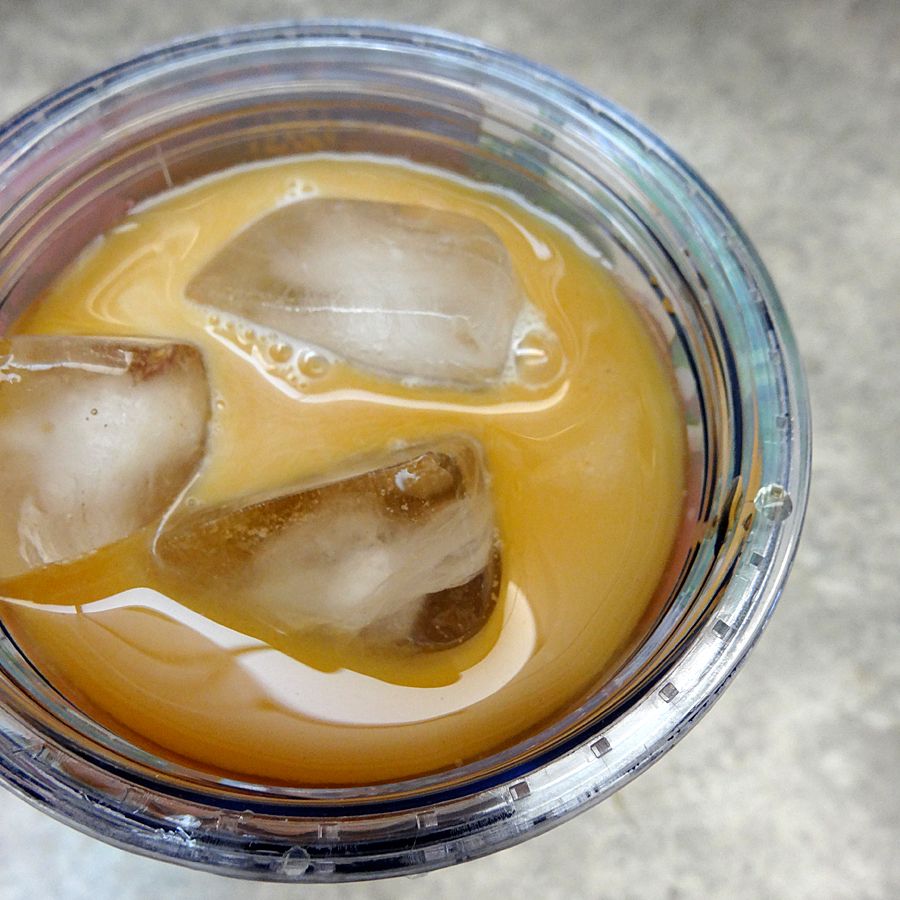 Happy summer!