If you haven't gathered from my instagram feed – wait, you don't follow me on instagram? Get on that! @ma_armour and @bakedinns – I'm all about the donuts right now.
At first I was absolutely terrified of try frying them, imagining my entire kitchen bursting into flames somehow despite the fact that it would be extremely unlikely for that to happen. I've since acquired a deep fryer (thank you ma & pa) but before I came to terms with my irrational fear of fried donuts I made a delicious discovery: baked donuts.
I know, I know, baked donuts don't seem like REAL donuts. But they are. Trust me. There are lots of great recipes out there for baked donuts that are actually pretty darn delicious, and I would know since I tried several of them. Oh what a chore, taste testing all-a-tha-donuts. Woe is me!
I (semi) recently asked the twitterverse (FYI I hate the fact that I just used the word twitterverse. TWICE.) if there were any local ingredients they'd like to see used in a recipe on Baked in Nova Scotia and rhubarb was one of the first suggestions. Since I was just starting my love affair with baking donuts I figured why not throw some rhubarb in there and see what happens. What happens is deliciousness, that's what.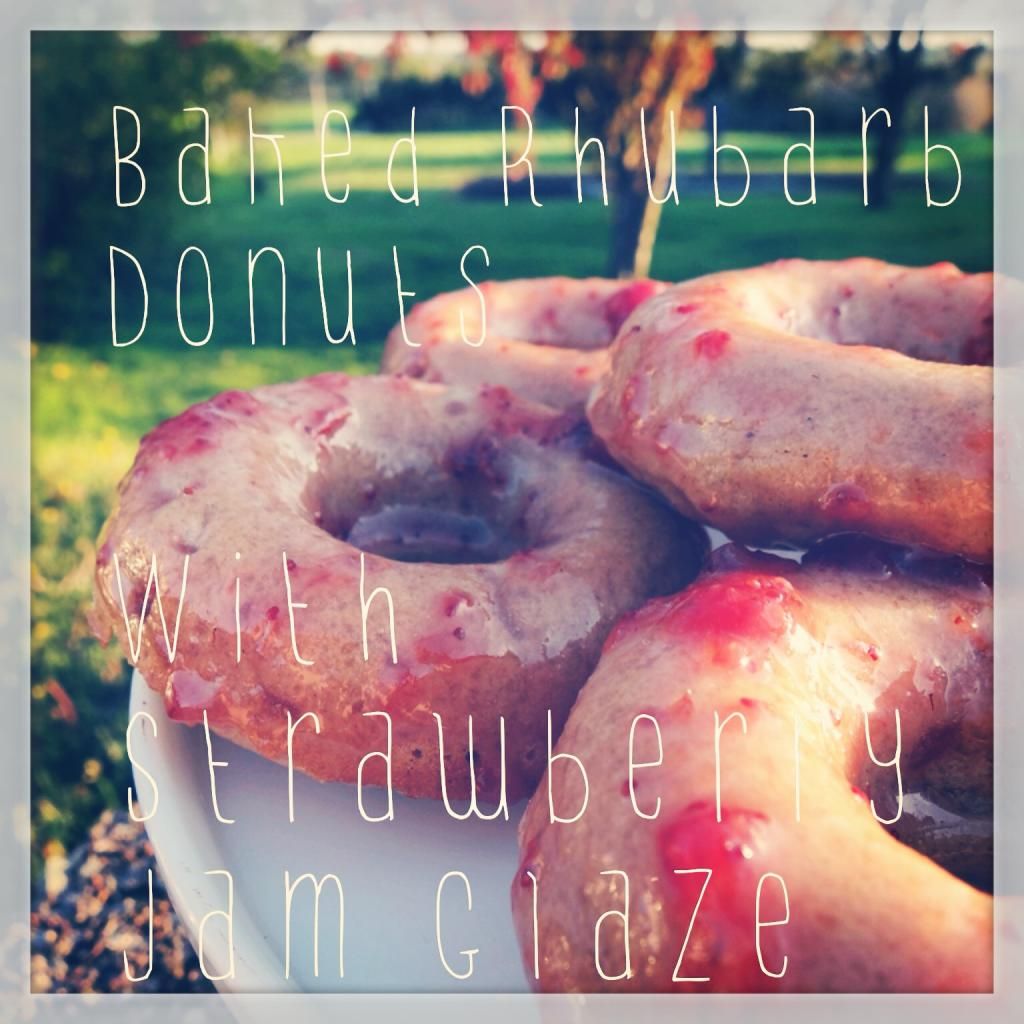 Baked Rhubarb Donuts with Strawberry Jam Glaze
For the donuts
2 C Speerville Unbleached Organic Whole White Flour
2 tsp Acadia baking powder
1 tsp salt
1/2-1 tsp nutmeg (to taste. I went all in)
2/3 C Just Us! Fair Trade Organic Cane Sugar
2 Overmars Farms Eggs
1 C Scotsburn Buttermilk
2 tsp vanilla extract
2/3 C Scotsburn butter (melted)
1 C diced rhubarb
For the glaze
1 Tbsp local strawberry jam (I'm using Venedam Berry Farm's, if you have homemade, I'm jealous)
1-2 Tbsp Scotsburn milk (as needed)
½ – 1 C powdered sugar (as needed)
To get this party started, you're going to need some rhubarb.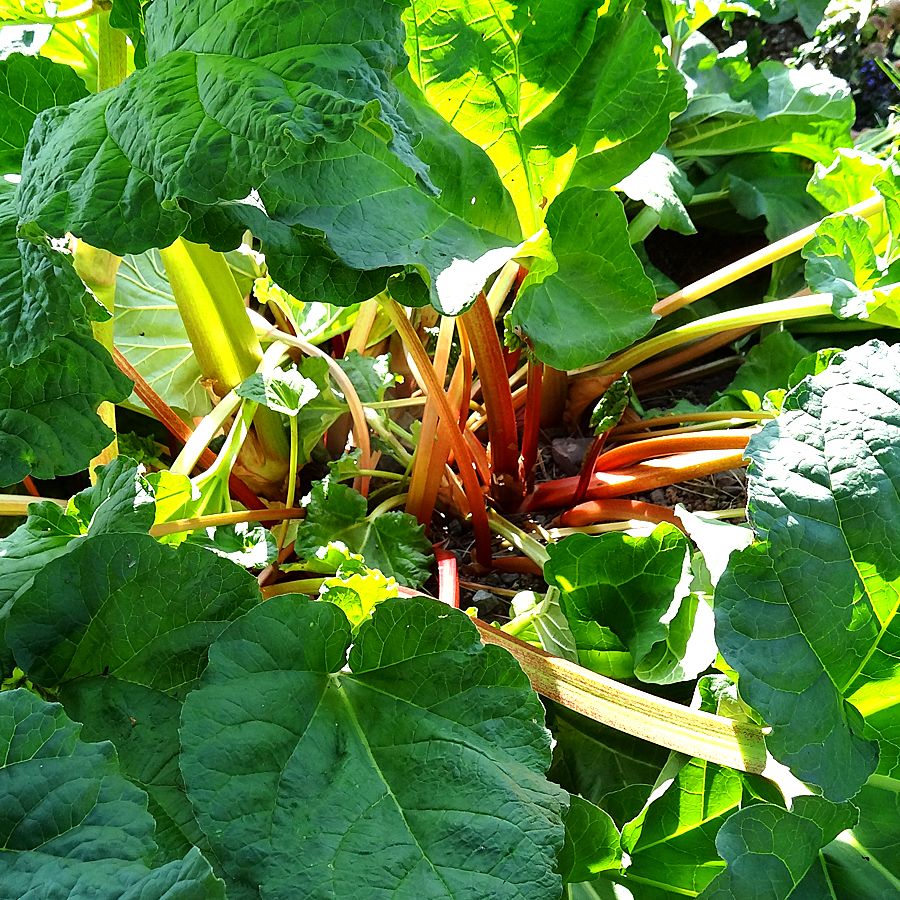 Lucky for me, there's a big 'ole patch of it growing out behind my house so all I had to do was go outside and cut a few stalks.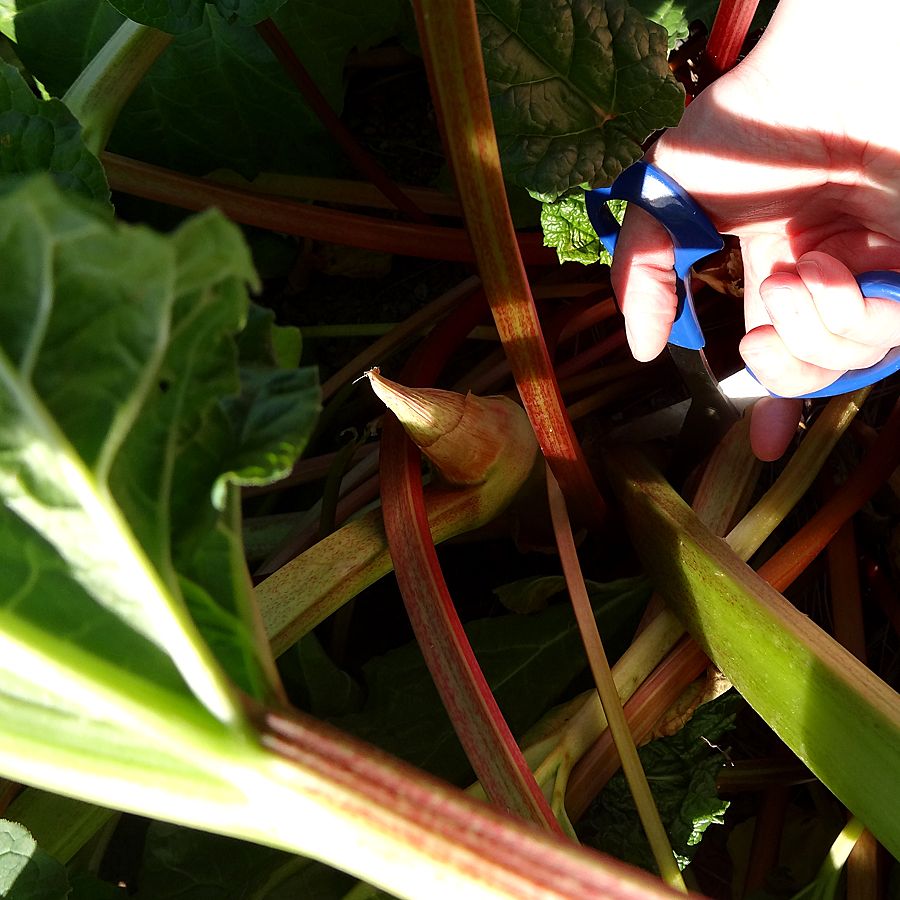 There we go.
If you aren't so lucky, take a stroll down to your local Farmers' Market and pick some up.
Give the rhubarb a rinse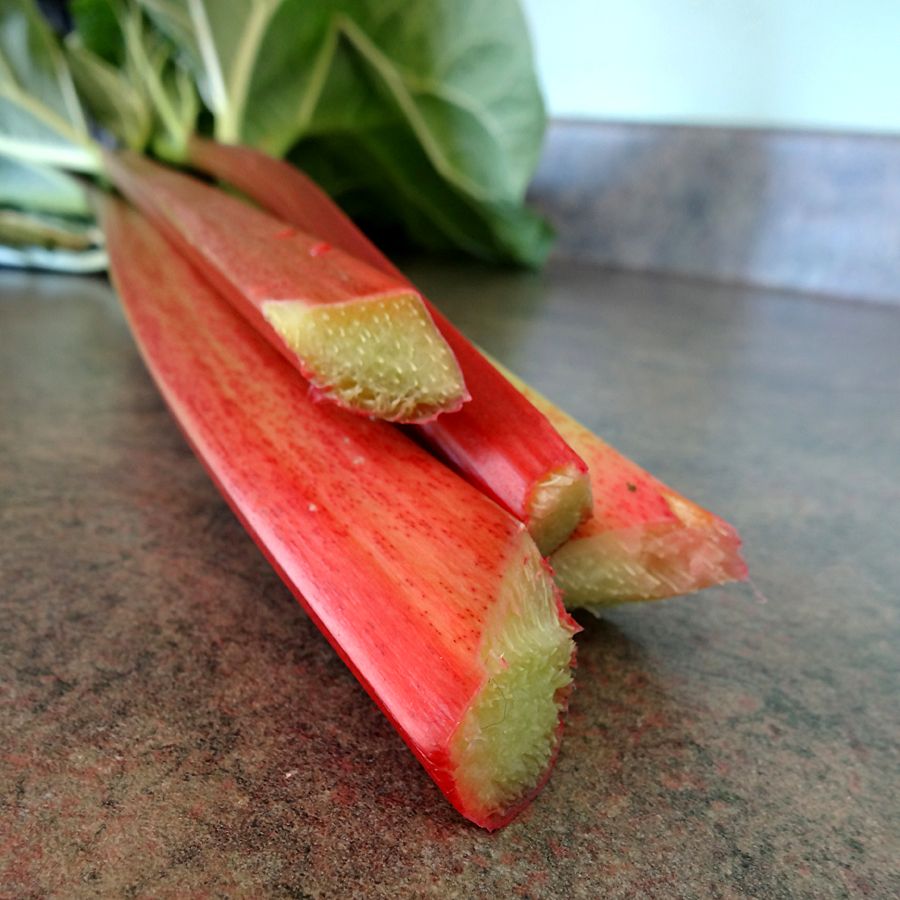 and start chopping it up.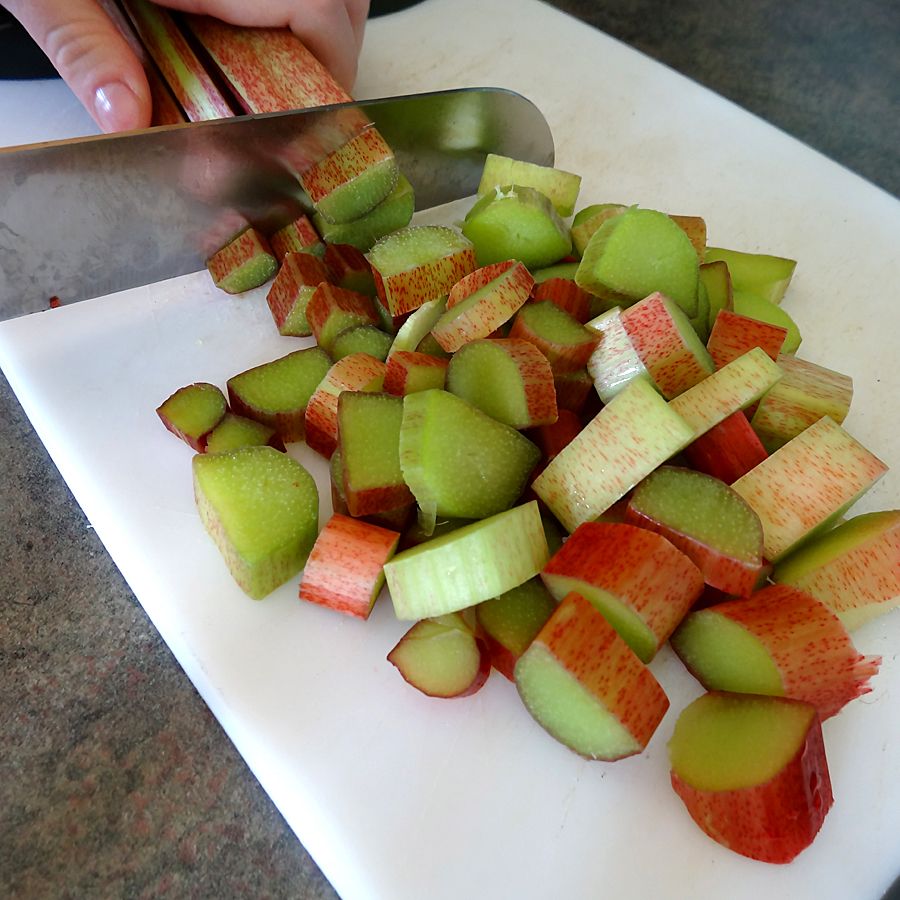 keep going until it's a lot smaller.

Like so.
Now you can preheat your oven to 350 degrees. Thought I forgot, didn't you? Well guess what: I didn't. I just didn't want to tell you to preheat your oven before you acquired your rhubarb. I mean seriously, what if you had to wait until Saturday to go to the Market and your oven was preheating for several days? That would just be silly…
Next we'll mix our dry ingredients. Start by measuring out your Speerville Flour
and here's a little tip: sift it.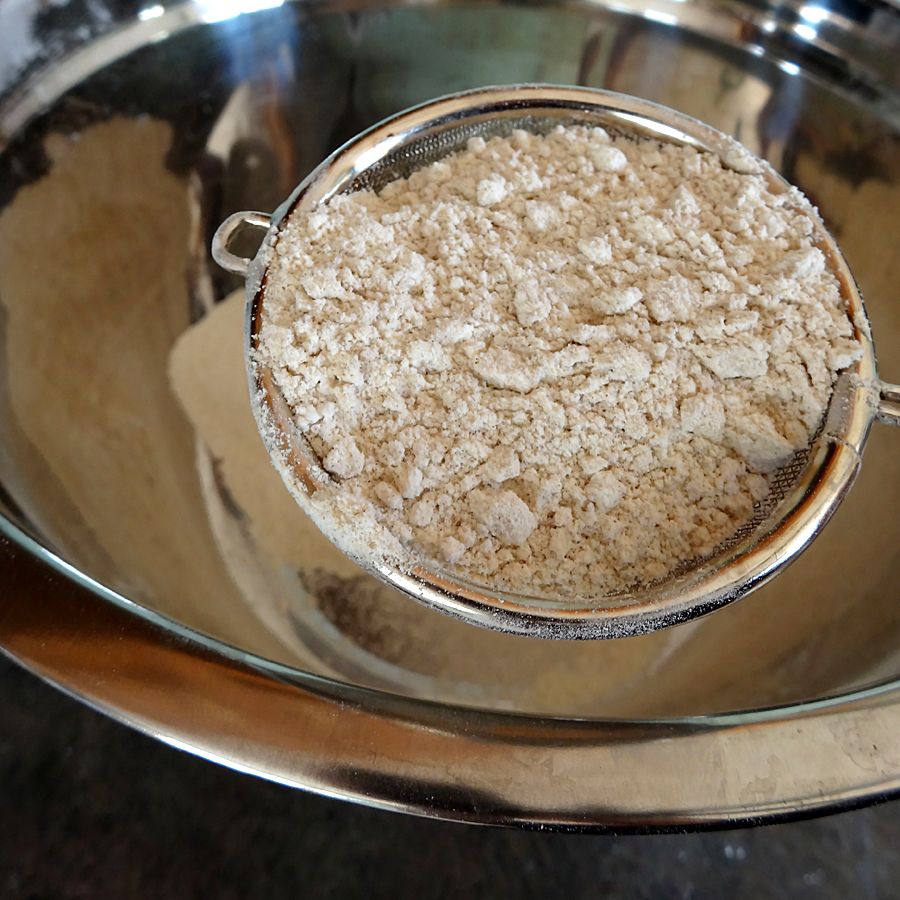 You can add your baking powder in here too and just sift it all together.
Then stir in the sugar, salt and nutmeg until well combined and put it aside.
In another bowl, whisk your eggs and buttermilk together.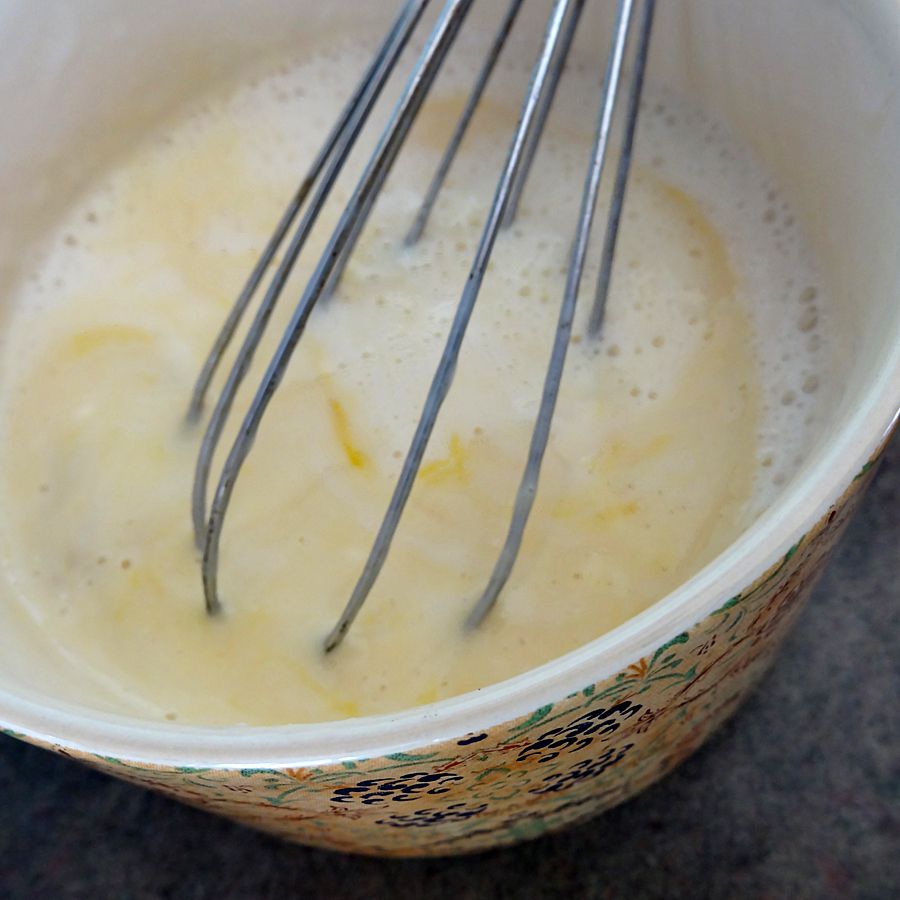 Then you can add you vanilla, and give it a little whisk. Then add your melted butter
and whisk away!

Ok, I may have whisked a little too overzealously. My bad.
Now pour your wet ingredients into your dry ingredients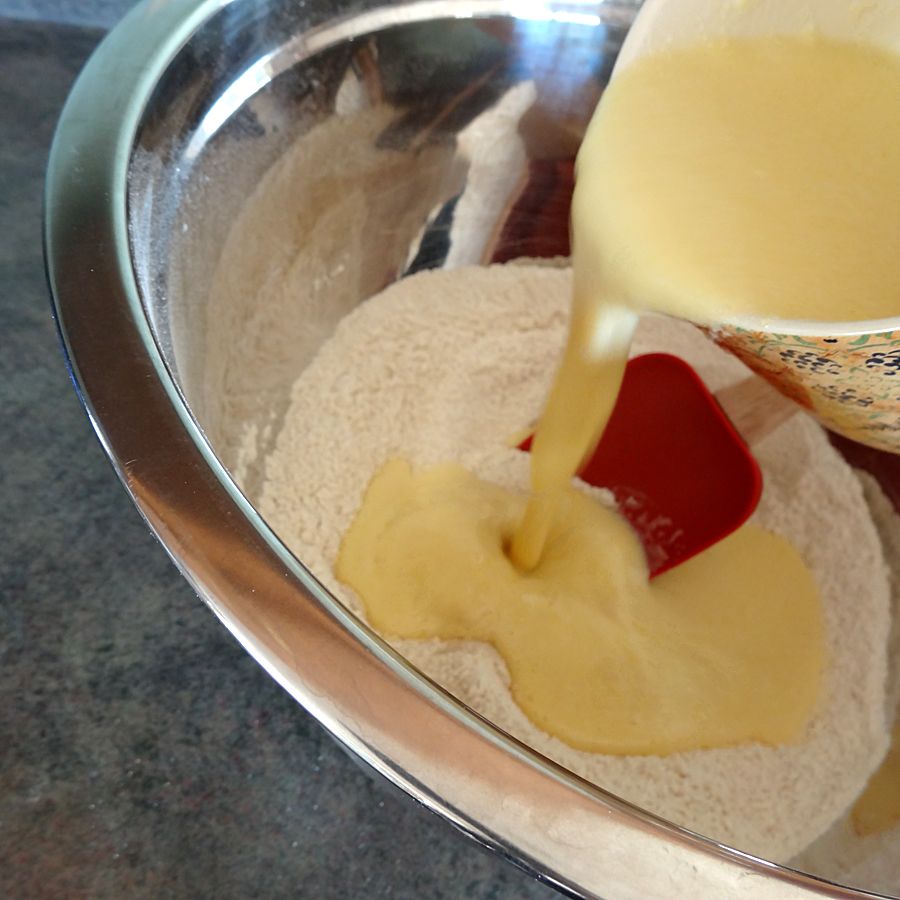 and stir it up.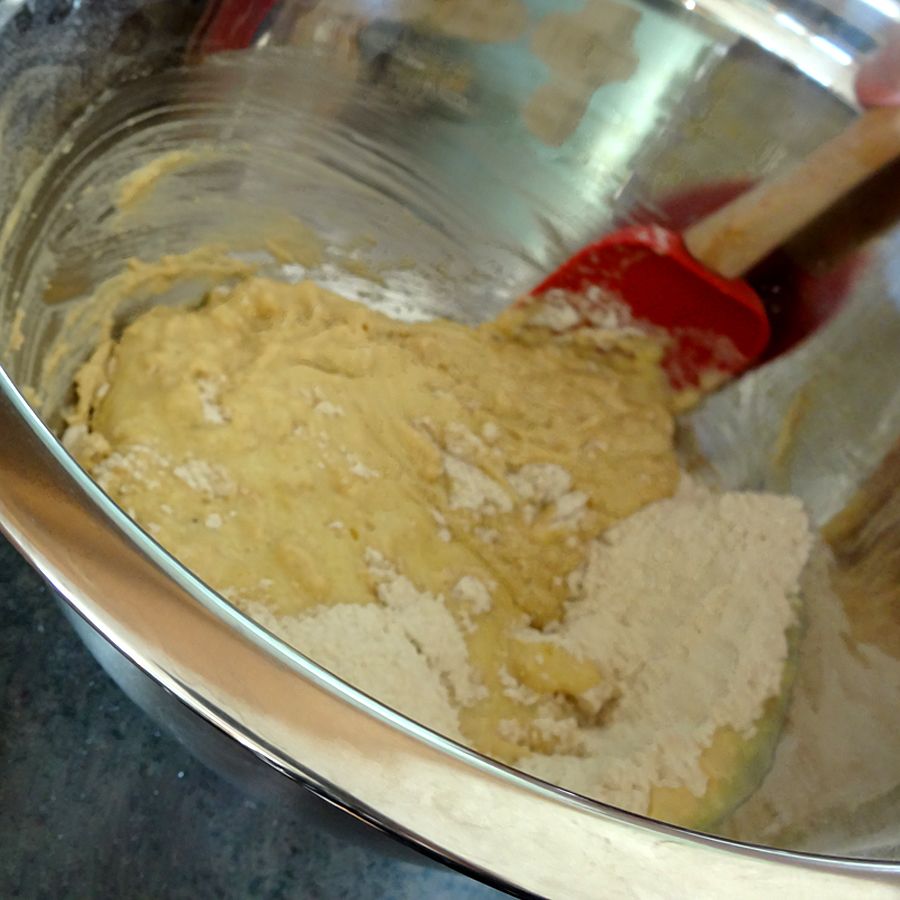 Add your diced rhubarb and stir it up again until just combined.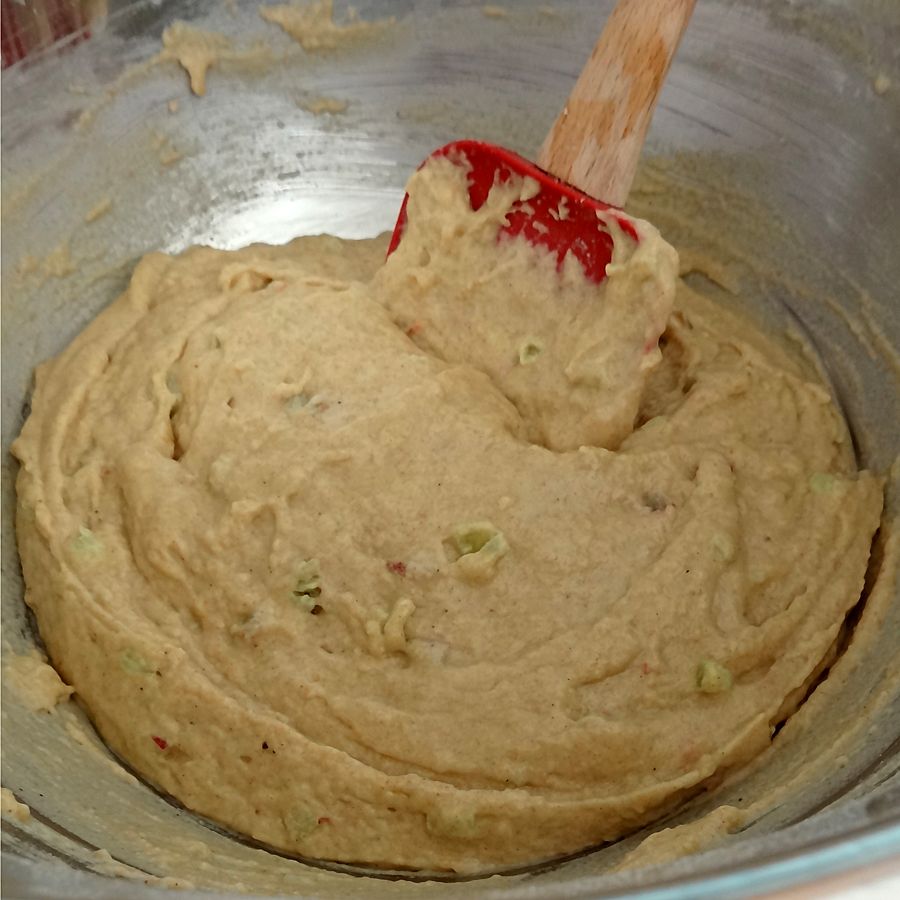 Ohhhh hey rhubarb donut batter. I'ma bake you into adorable little donuts. Then I'ma eat you.

Lightly grease and flour your donut pans (which I just misspelled as donuts pants and laughed like a jerk at) and using a piping bag fill 'em up
Fill 'em right up.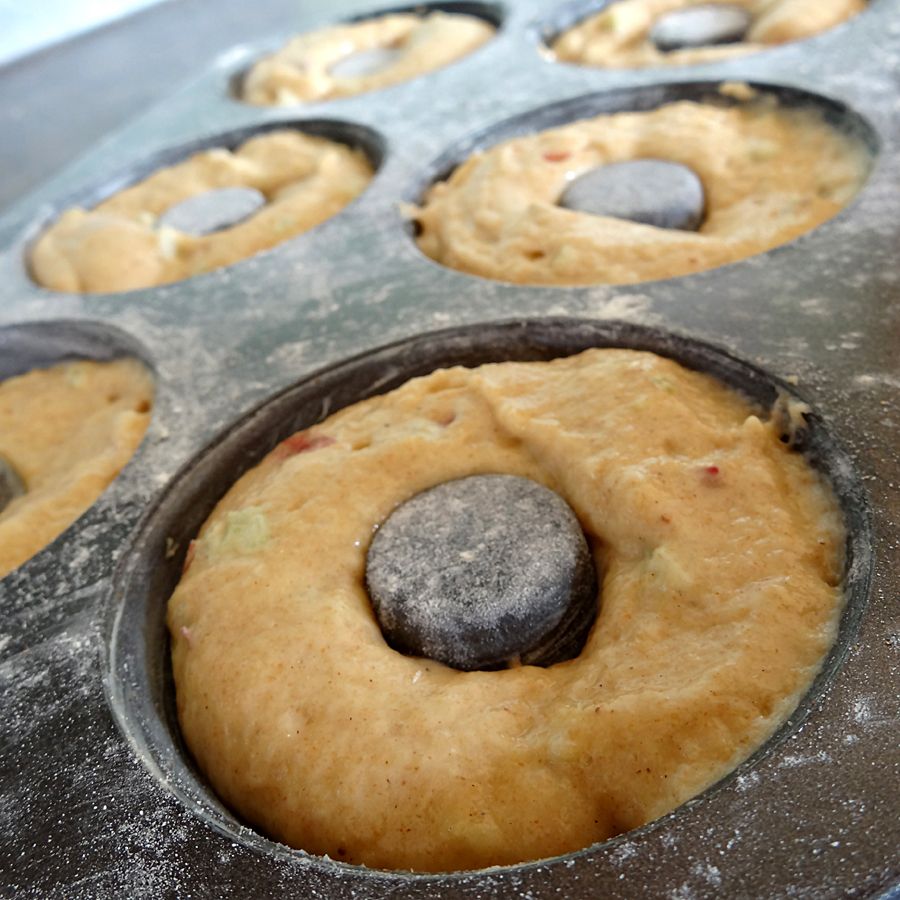 It will take the donuts about 6-8 minutes to bake depending on your oven. Use the toothpick test to confirm when they're done.
While they're baking, you can move on to your glaze.
Grab a jar of some delicious strawberry jam made with local strawberries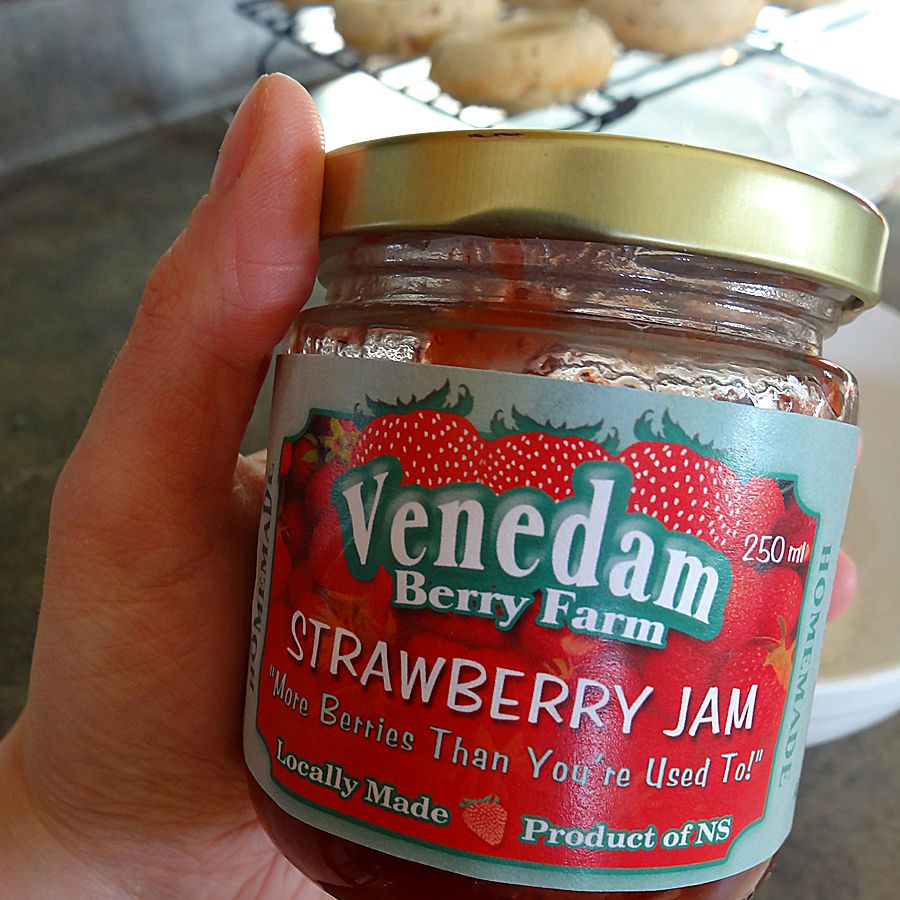 and measure out a nice big tablespoon.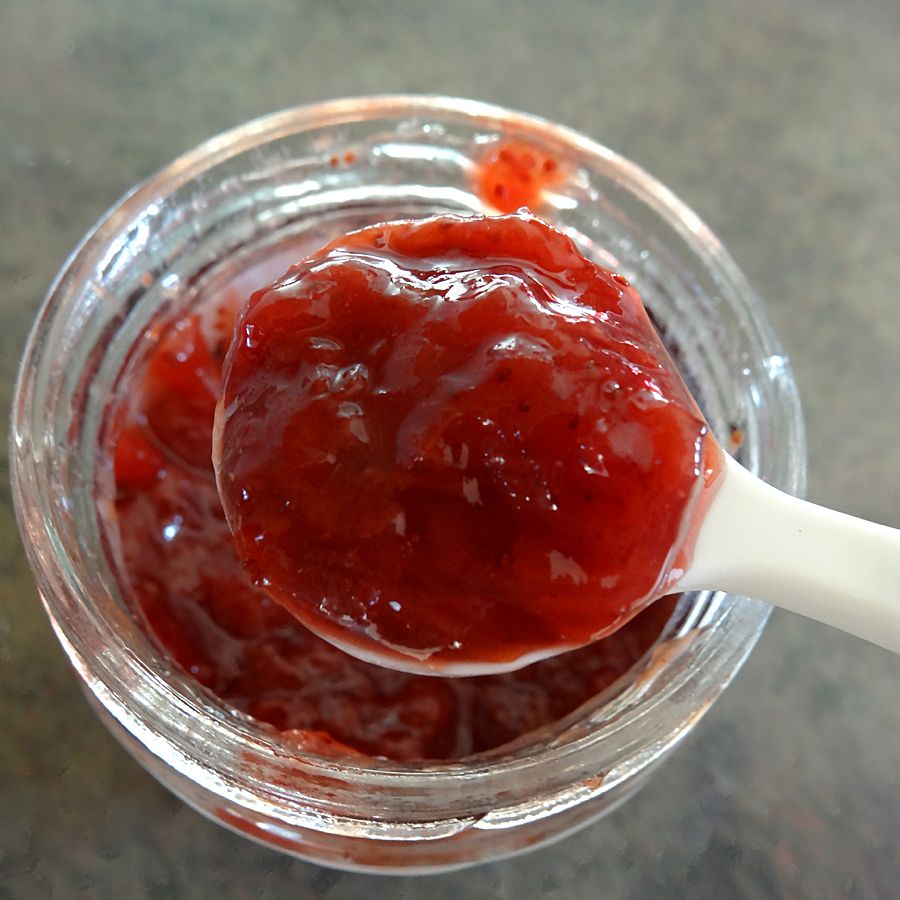 Whisk the jam, 1 tablespoon of the milk and ¼ C of the icing sugar together with the tiniest whisk you can find.
Or a regular sized whisk if that's all you have, I guess.
Keep adding icing sugar ¼ C at a time until you get the consistency you like. You can also slowly add a little bit more milk if you want to thin it out a bit. Or a little more jam. I like to make my glaze a little trial-and-errory. Just do what feels right.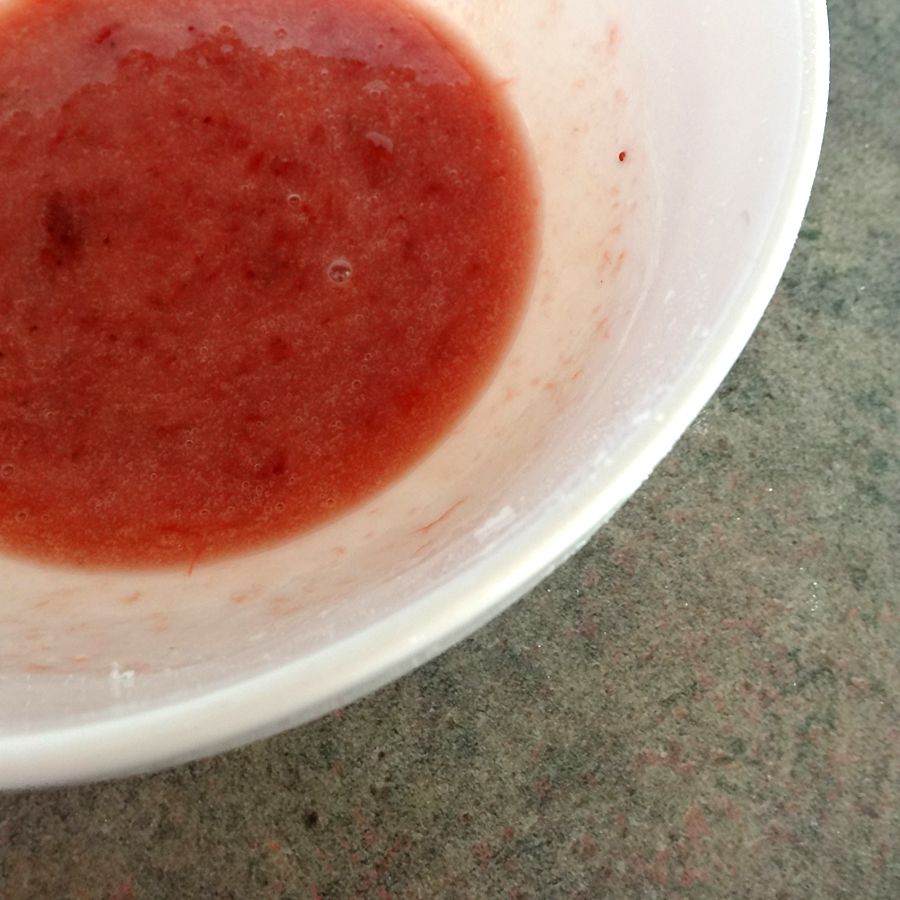 Glorious.
Once the donuts and done baking, let them cool completely before dipping them in the glaze.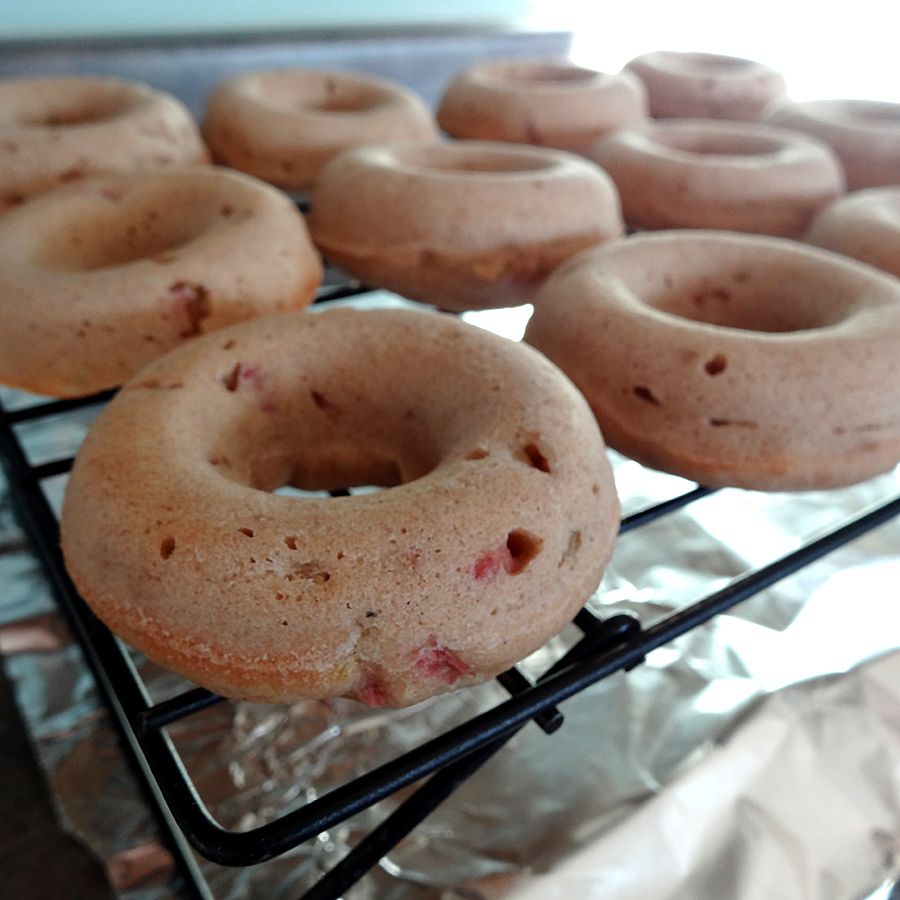 Cool? Cool. Cool cool cool.
Now here's the fun-and-messy-and-delicious-part: take each donut and dip it in the glaze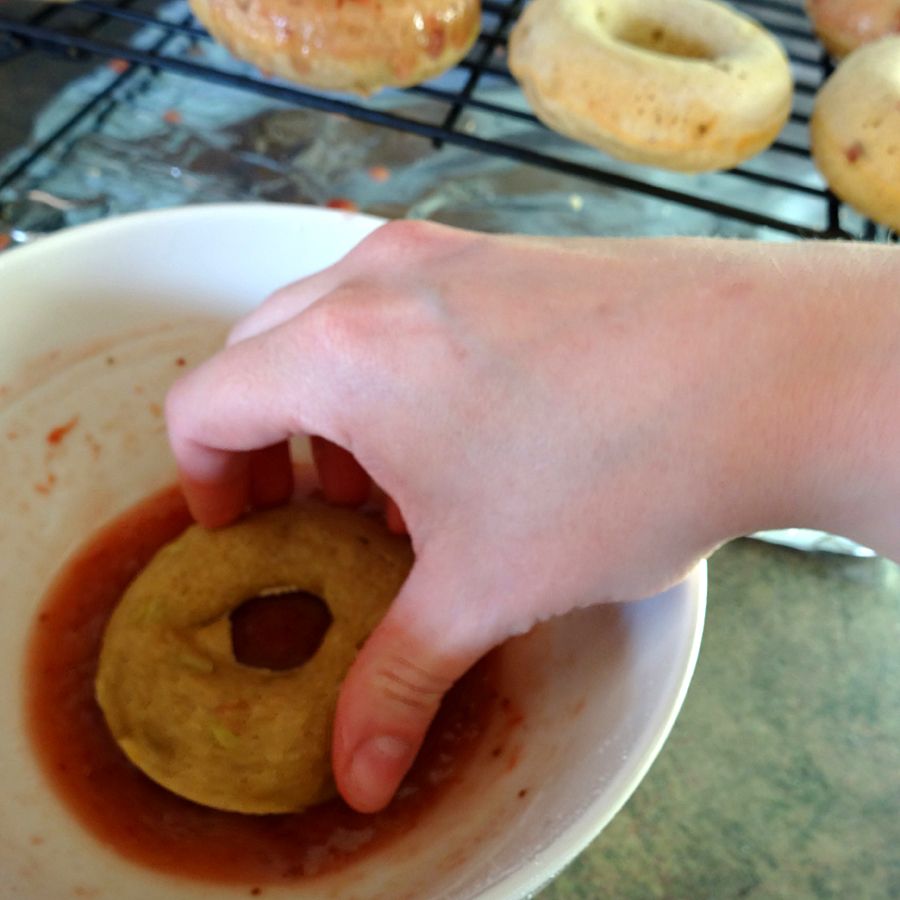 and gently rotate the donut with a slight flick of the wrist to coat,
and then put it on a wire rack to drip all over the place.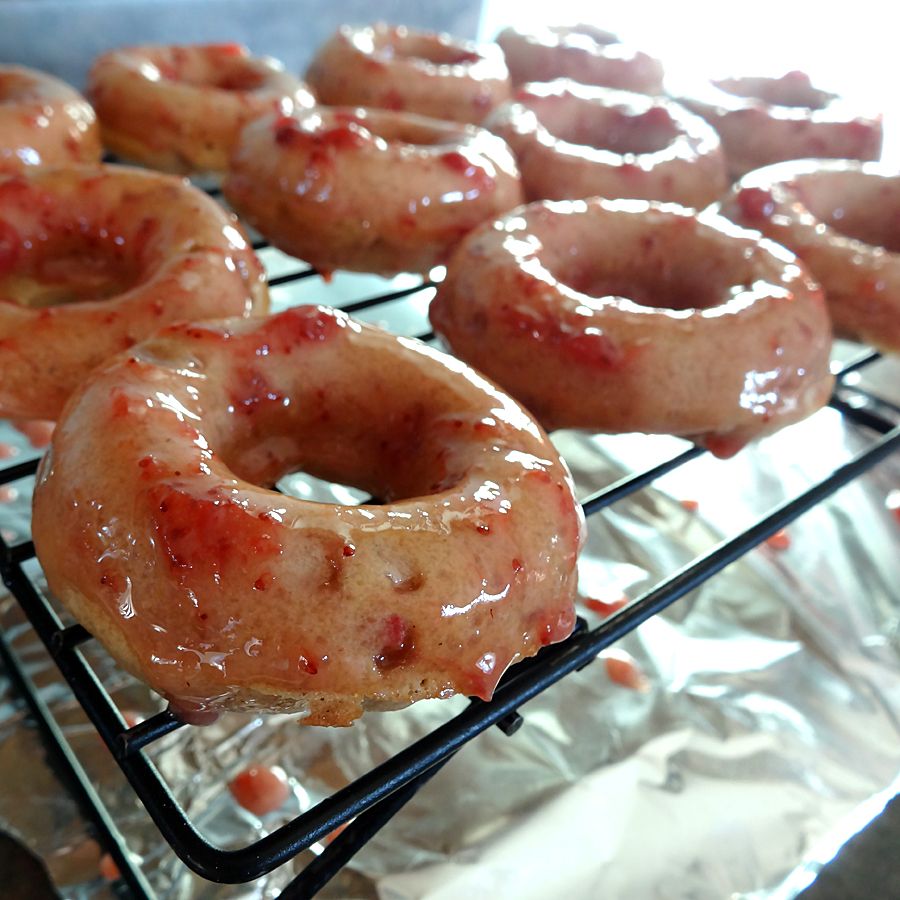 Repeat until they're all coated.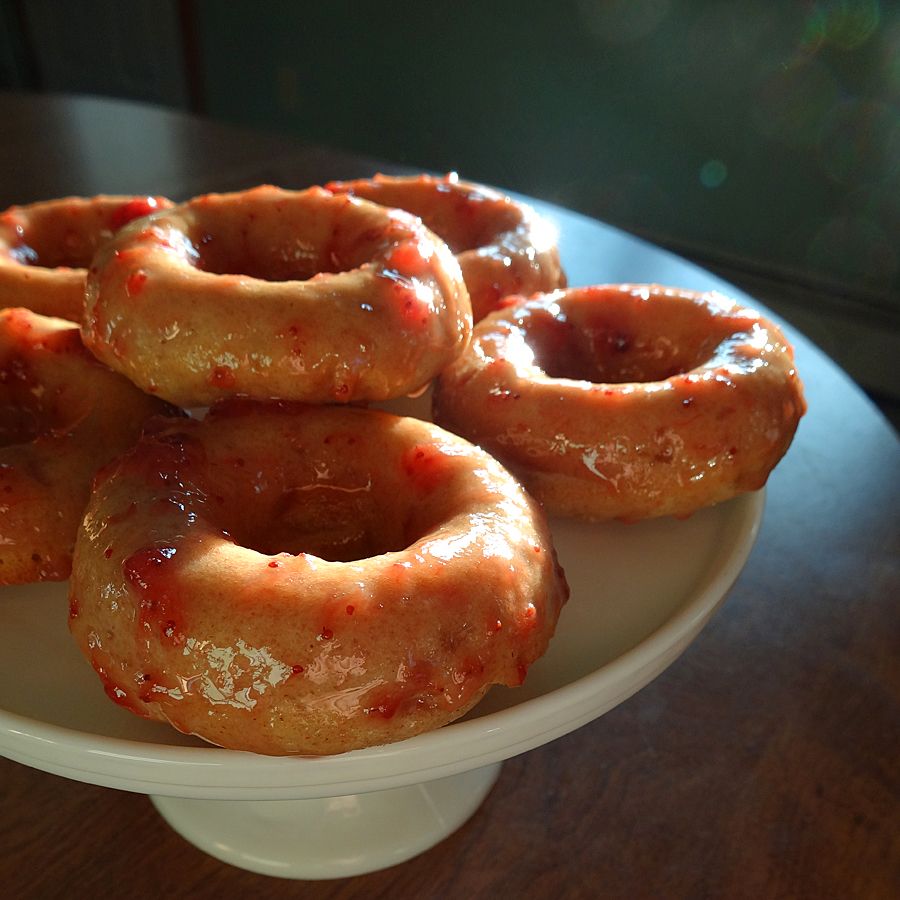 And that my friends, is how super simple it is to bake your own donuts. The not-so-simple-part is not eating them all.
Have fun with that.