Back in 2008, I tried to make brownies from scratch for the first time. It was… a mess. Arguably the worst thing I ever baked. It just went wrong in so many ways.
See?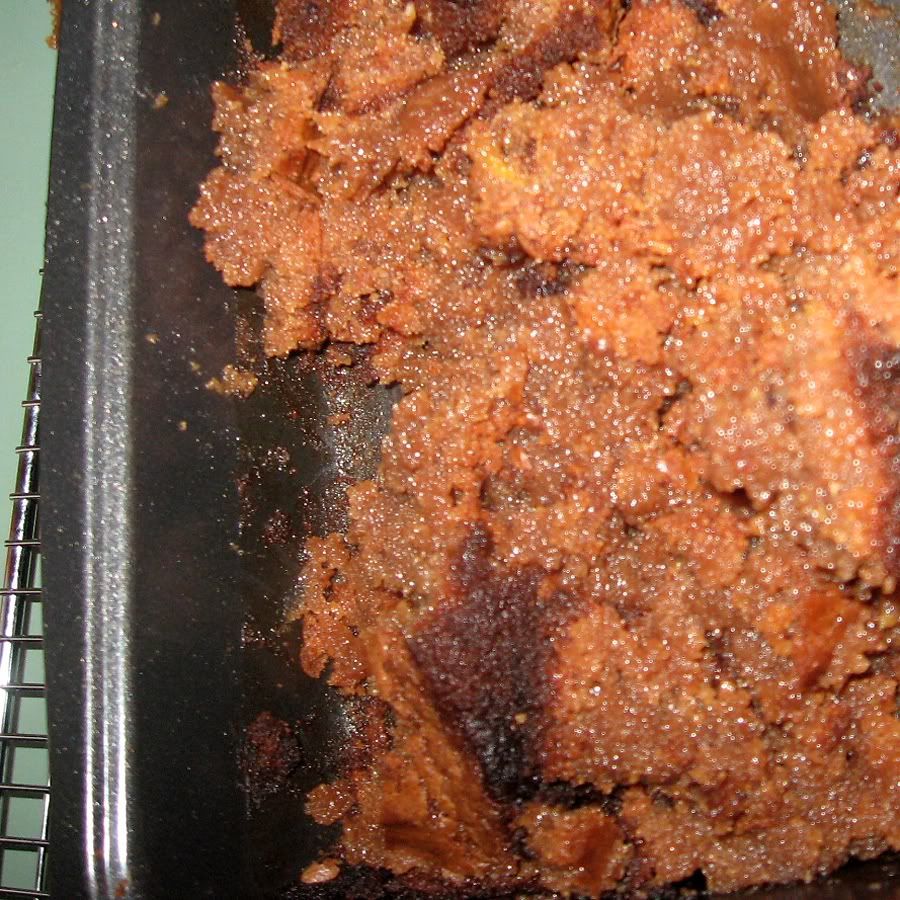 Apologies for the terrible picture, I had no intention of ever showing this to the public…
My roommate and I dubbed them "brownie sludge" and then tried to eat them anyways.
Perhaps we should have let them cool a little longer, who knows? Regardless, I decided that day that I was not capable of making brownies from scratch, and that I'd never stray away from the trusty box of just-add-water mix again.
Finally, after 4 years I am happy to say that I have found an incredible from-scratch brownie recipe that is easy, quick, and produces unbelievably perfect brownies. What made me stray from my oath to never chance re-creating the brownie sludge disaster again?
Burger cupcakes.
That's right. I was asked to make cupcakes that looked like hamburgers, and after looking at some pictures online I decided the pattie needed to be a brownie. I toyed with the idea of just using chocolate cake, but knew that would be inadequate. To make these babies exciting I wanted to sandwich a rich brownie pattie in the middle of a vanilla cupcake. Sadly, brownies are the only baked good that I still relied on a boxed mix for, so I saw this as a challenge – not just to make cupcakes that could be mistaken for sliders, but to finally make brownies that weren't a complete disaster.
To increase my chances of success, I went through all of my cookbooks and looked at the brownie recipes. Last time I used a recipe out a cookbook though, and despite following the instructions I failed miserably. I couldn't trust the cookbooks (yet), so I went online and searched "best brownies EVER." And there it was, the 6th result down: David Lebovitz's Absolute Best Brownies on Leite's Culinaria.
If you aren't familiar with David Lebovitz, then I highly suggest you take the time to acquaint yourself with his blog.You should probably also consider purchasing his cook book "Ready for Dessert," where this recipe can also be found. This book is a collection of all his best recipes, so it's pretty much guaranteed to be amazing. In fact, these turned out so well that I ended up making them (and burger cupcakes) twice in less than a month.
After reading the recipe, and looking at the comments I knew I had to try these out, with a few very minor adjustments. I basically made a double batch and used some local goodies. I picked up 4 Just Us! Fair Trade Organic Dark Chocolate Bars from Pete's to go with the Scotsburn butter and Overmars eggs I had in the fridge, and adjusted the other ingredients as necessary.
I think it's time to cut the small talk though. There are amazing brownies to be made, and perhaps even some super cute burger cupcakes. All the information you need can be found below. I hope you will enjoy these as much as I do.
David Lebovitz's Absolute Best Brownies
Yields two thin 9×13 in rectangular pans, perfect for burger cupcake patties, or one normal thickness 9×13 rectangular pan of regular brownies
¾ C butter
4 Just Us! Dark Chocolate bars (this works out to 14 oz. of chocolate, feel free to add more. I won't judge you.)
2 C sugar
2 tsp vanilla extract
½ C flour
Start by preheating your oven to 350 degrees, and lining your pans with a sheet of parchment paper. At first I thought this was weird, but it was so easy to get the brownies out of the pan afterwards that I couldn't believe I'd never tried this before.
Next it's time to melt the butter and the chocolate. If you have one, use a double boiler to help avoid scorching the chocolate when you melt it. Start with the butter.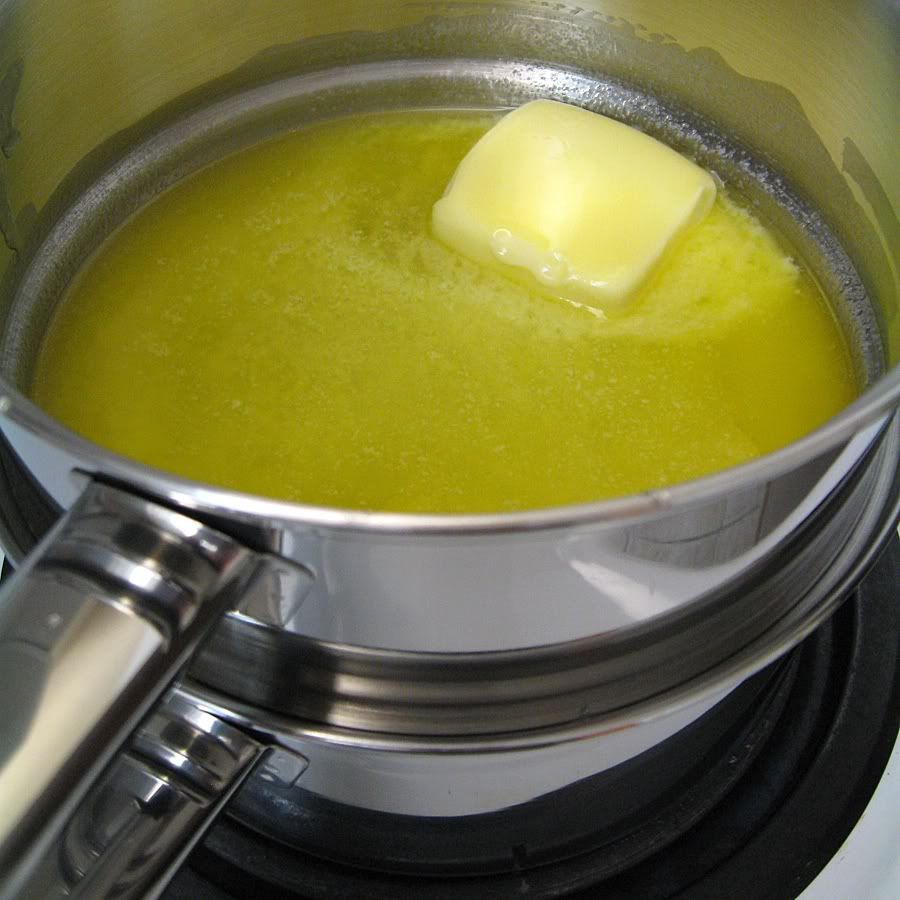 While it's melting, break the chocolate bars into quarters.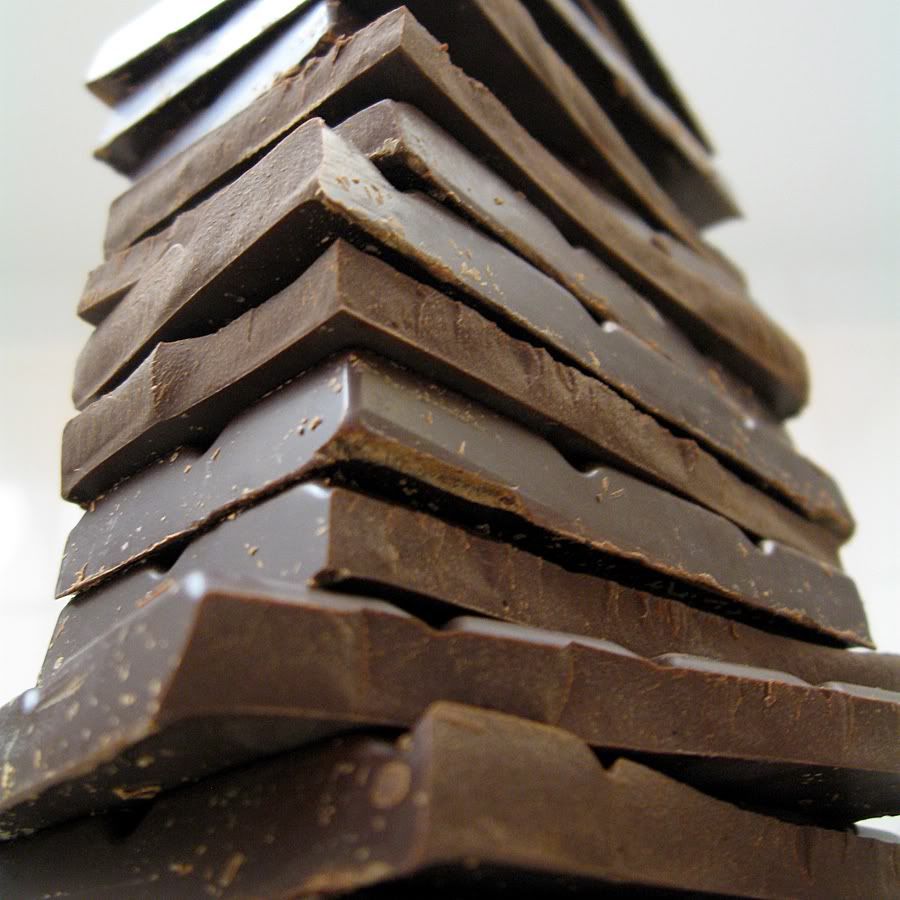 Oh man, it's hard not to just eat all of them. Try to restrain yourself. I suggest buying an extra bar that you can eat to distract yourself from the chocolate you need for your brownies.
Once the butter is melted, put the chocolate bar pieces in and stir gently until it's all melted.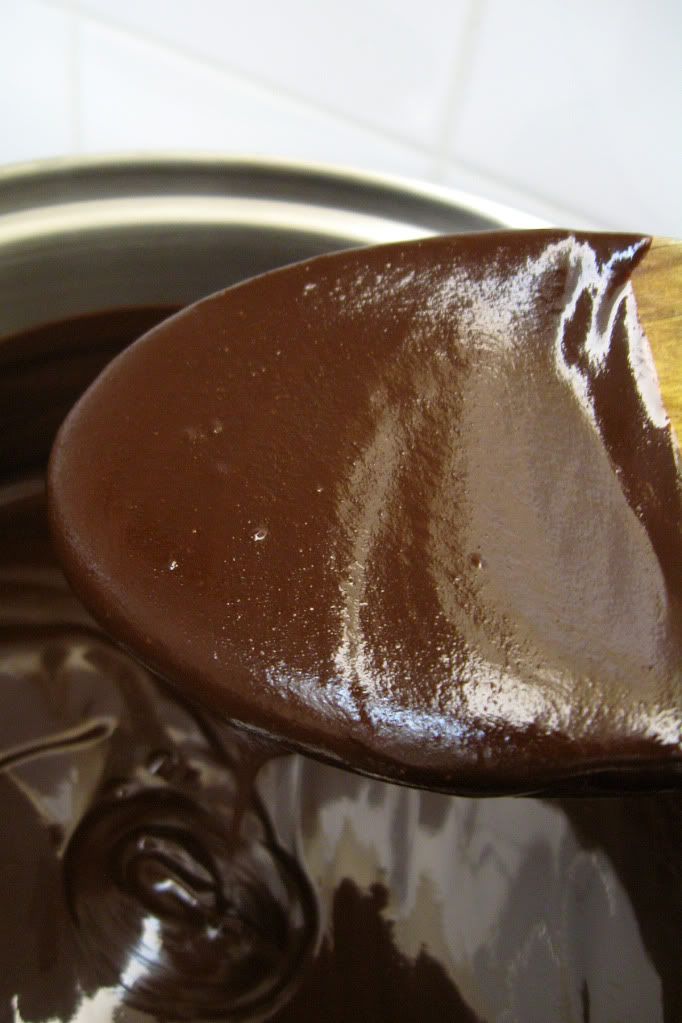 Now that it's all smooth, scrape the chocolate buttery mixture into a bowl. But first, look at it.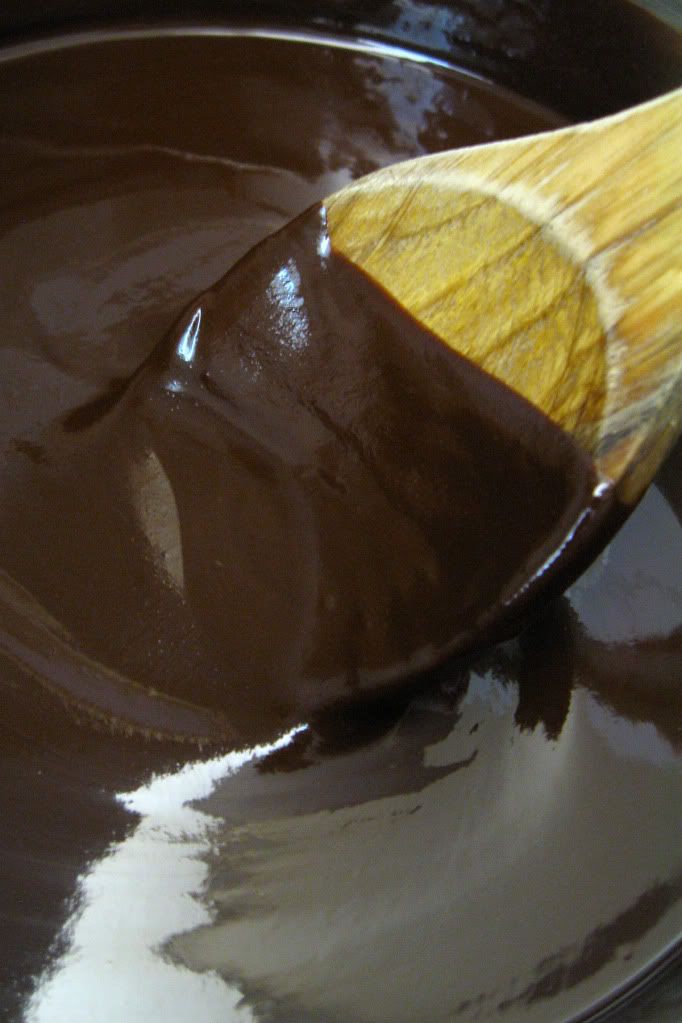 It's… so… beautiful…
Snap out of it! Then add sugar.
Mix it by hand and add the vanilla. Then, add the eggs one at time.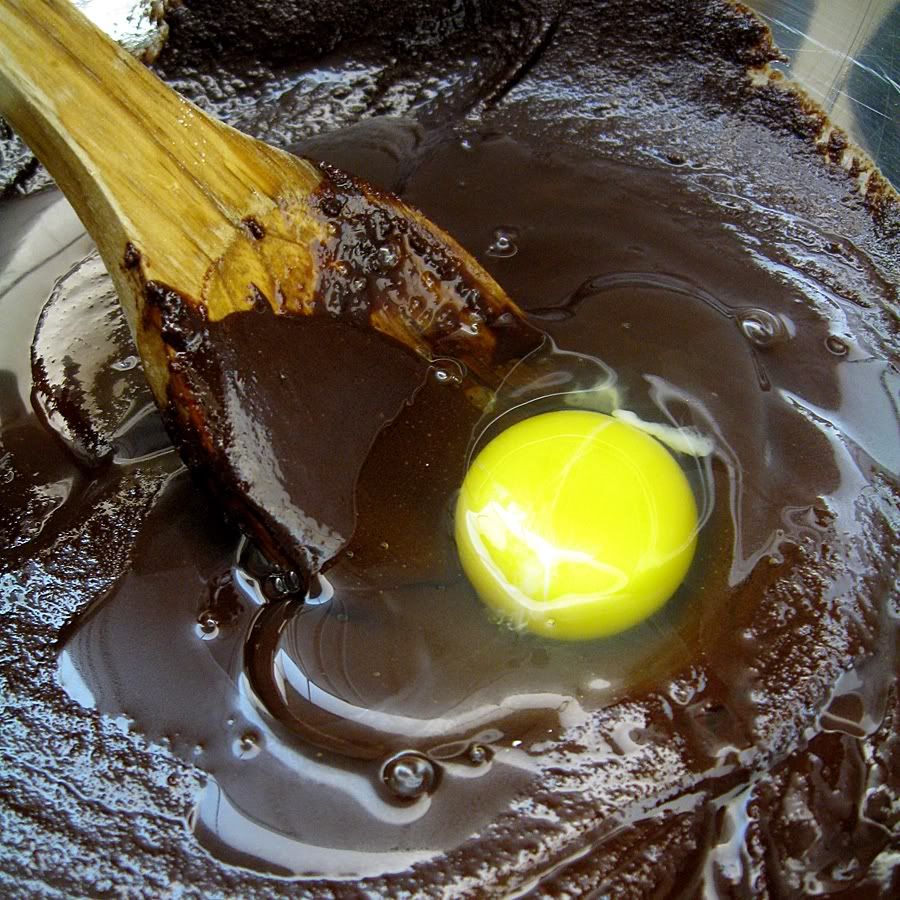 Keep stirring.
This next part is important, and may very likely be the key to avoiding a brownie sludge disaster: add the flour, set a timer for 1 minute, and then stir like you've never stirred before.
I'm serious. Make sure you stir it for at least 1 full minute, at full hand-mixing strength. When your minute is up, you'll notice that the batter starts to pull away from the bowl. If you're as big of a nerd as I am, you'll also think that's pretty cool.
Pour the batter into the two pans, and use your spatula to spread them out and make them nice and even.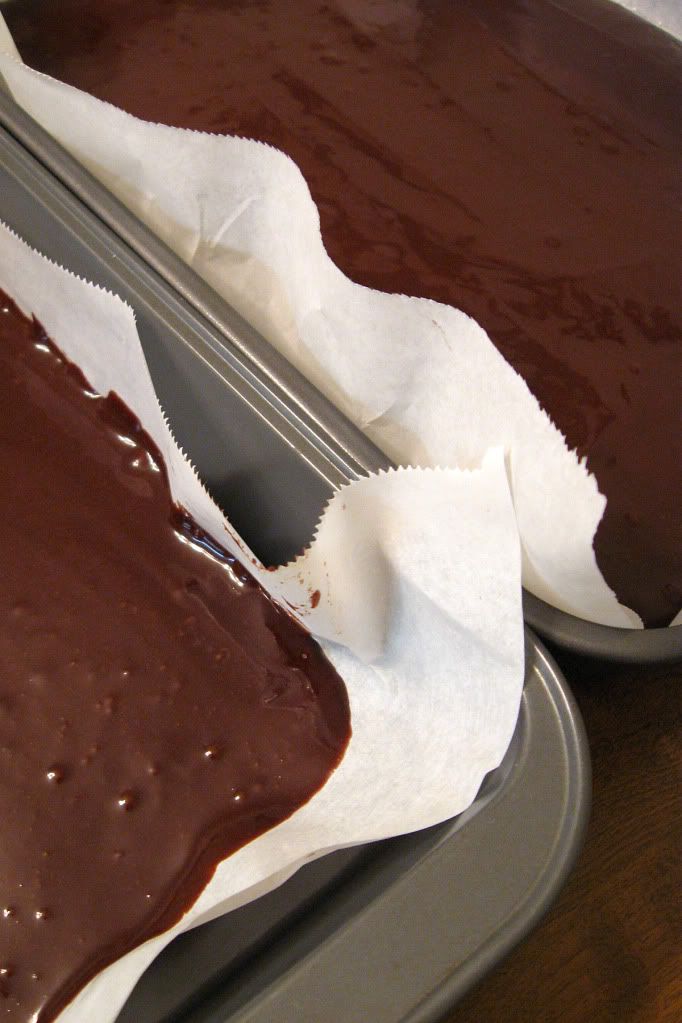 Pop 'em in the oven for 15 minutes. They may still need a little more time (especially if you're making a normal pan of brownies, in which case double the time.) If they look done, cut in the centre and take a peek: they should look almost set when you cut in, but not quite. Trust me, you'll know when they're done.
Remove pans from the oven, and let them cool completely before you try to take the brownies out. If you take them out before they're cool they'll bend. Don't do it.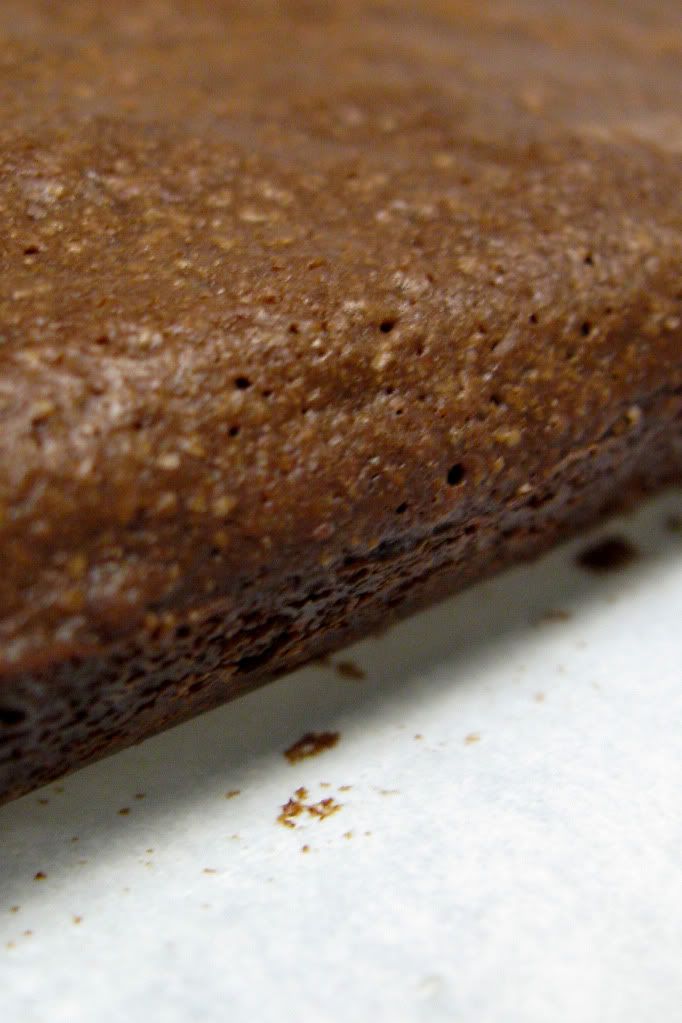 Perfect.
So now that you know how to make incredible brownies, let's see how to turn them into cute little burger cupcakes!
How To: Burger Cupcakes
Prepare a batch of your favourite vanilla cupcakes to go with the brownie recipe above. Once completely cool, cut all the cupcakes in half.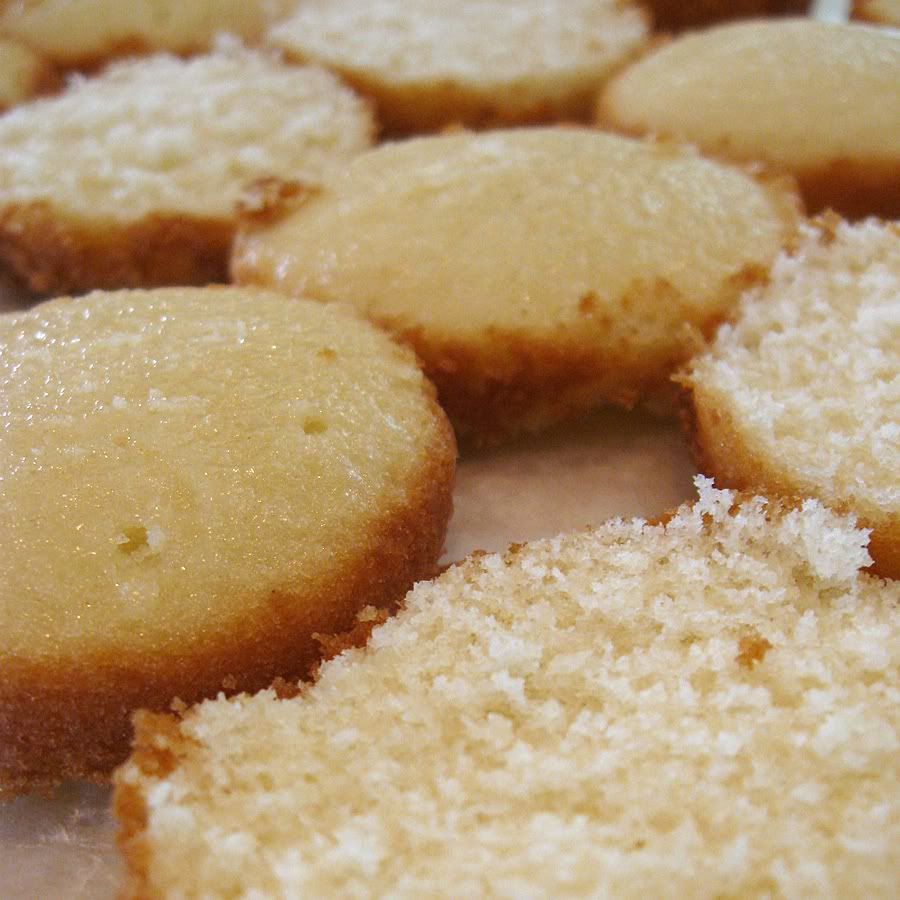 Take a round cookie cutter and cut out burger patties from the sheets of brownies.
Put aside, and feel free to indulge in the brownie scraps. This is the best part of the burger cupcake process. You probably need a glass of milk right about now, so take a quick break and grab one.
Now that you're back, prepare a bowl of yellow icing (either for mustard or cheese… maybe make an orange for cheese if you want to be really fancy) and green icing (for lettuce).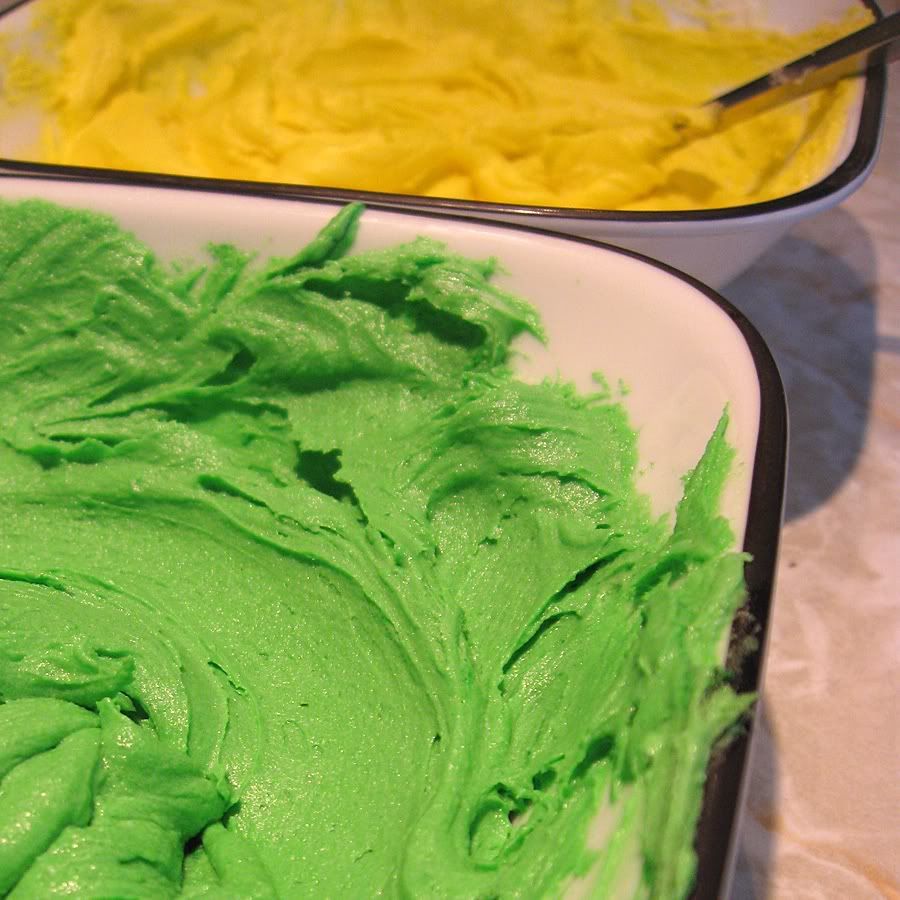 I suggest using gel dyes, as they blend much better than the regular food colouring you get at the store. However, I will confess that I don't make my own red icing because it always turns pink instead. The last time I checked, ketchup was red (though it was briefly purple back in the day) so I feel like it's ok to buy a pre-mixed red icing just for these cupcakes. If anybody has some red icing tips, I would gladly accept them.
Pipe a little "mustard" on the bottom "bun"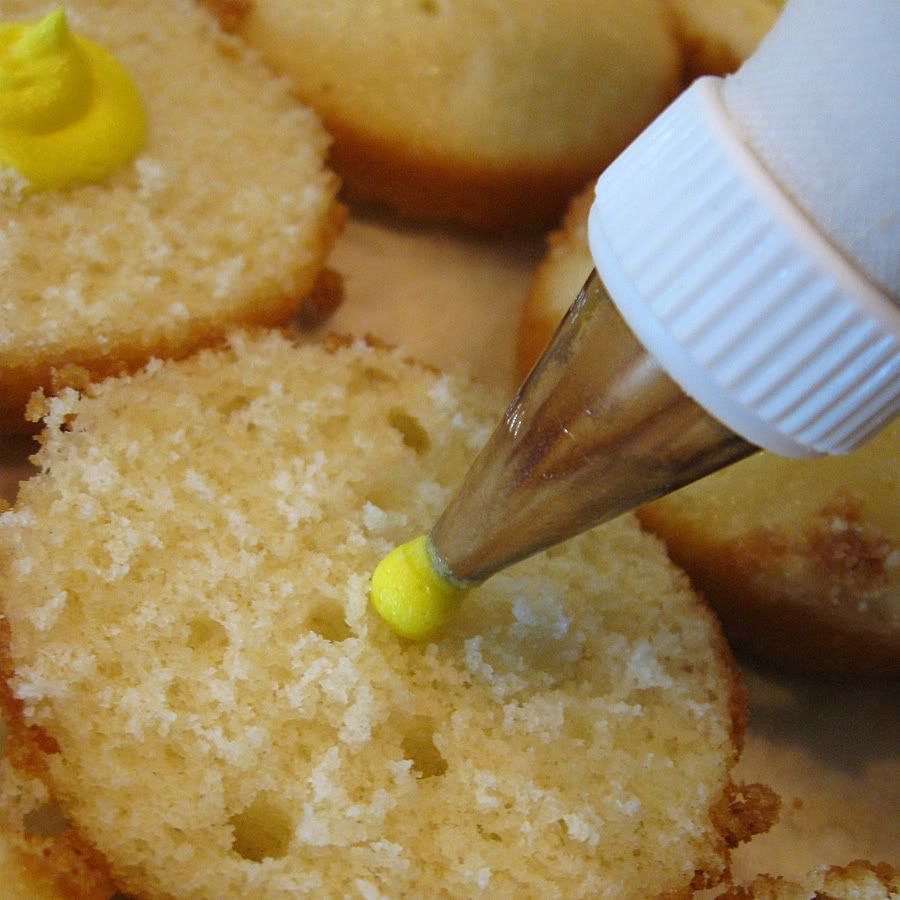 to secure the "pattie."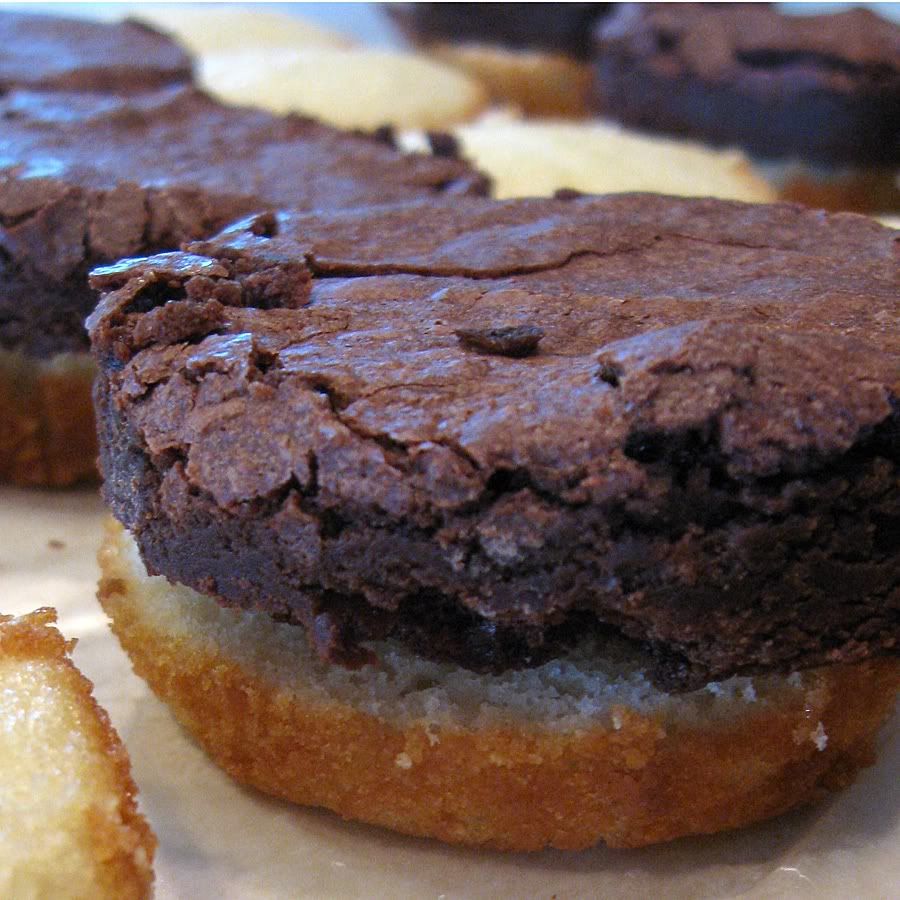 Use as many "quotation marks" as "possible."
Using a round/rose 12 tip, pipe a yellow square on top of each pattie.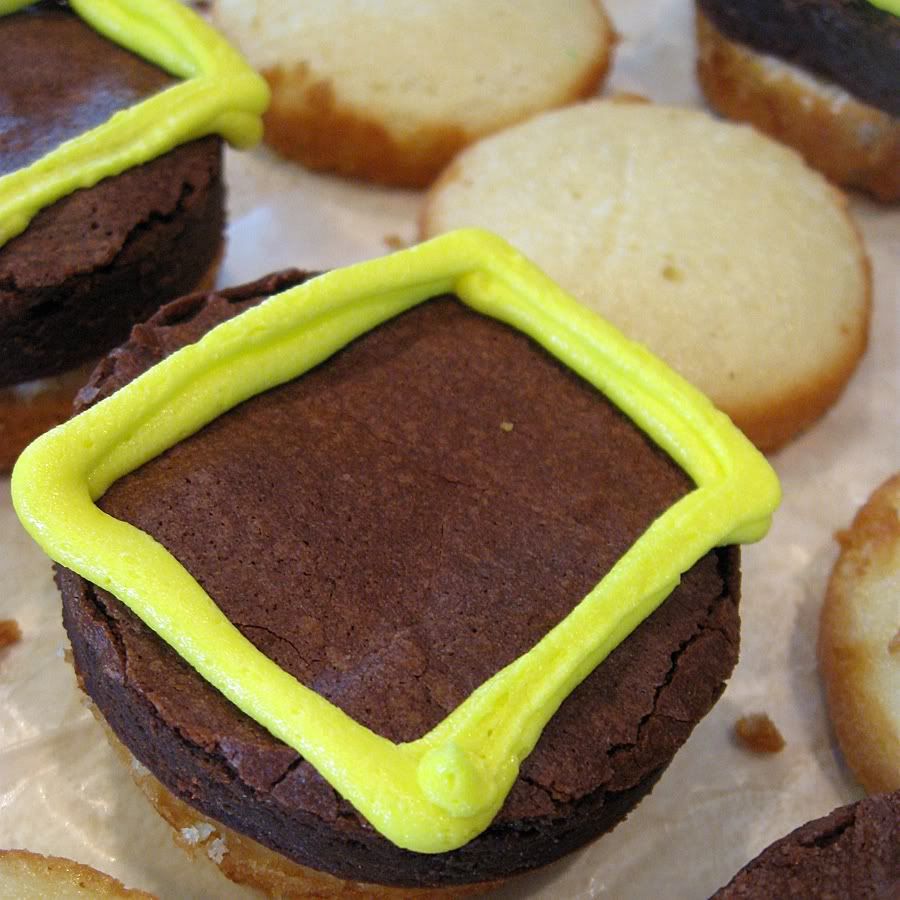 Then using a star tip (probably a 20, 21 or 22), pipe some squiggles of green icing over the sides of the yellow icing.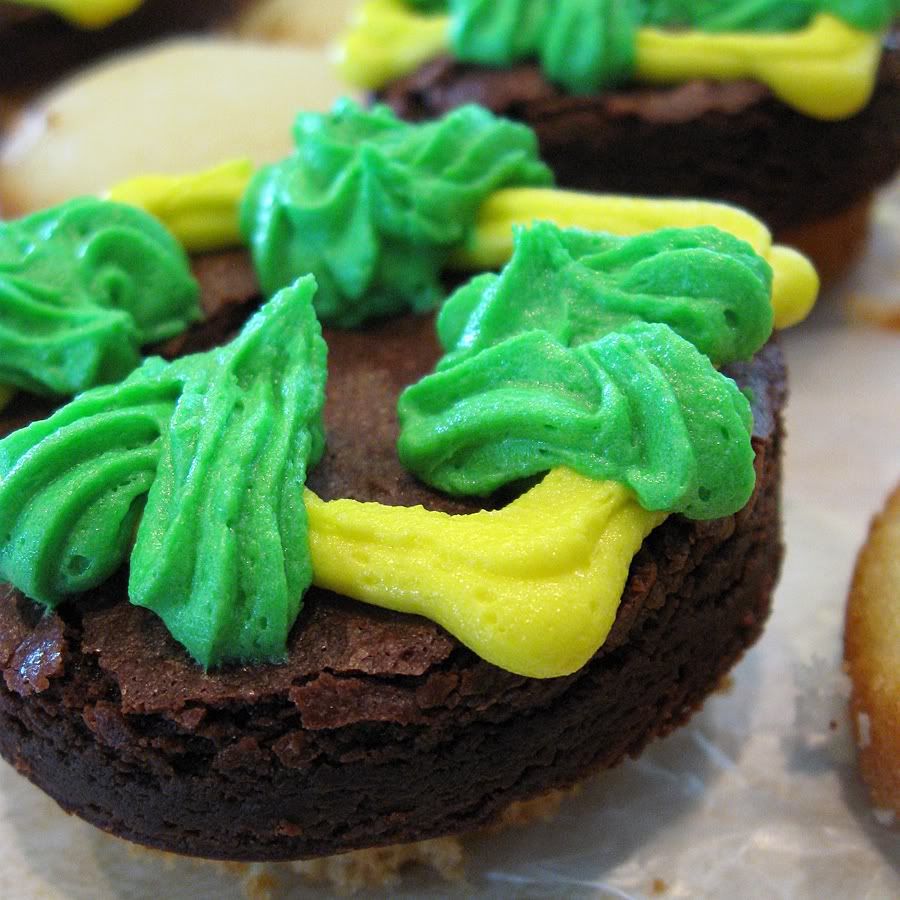 Take your red icing and pipe in some blobs (that's the technical word, y'know) where you see fit.
Now it's time to turn the cupcake tops into burger tops. The secret:

sesame seeds.
Prepare some "simple syrup" – one part sugar dissolved in one part water – and brush it over the cupcake tops.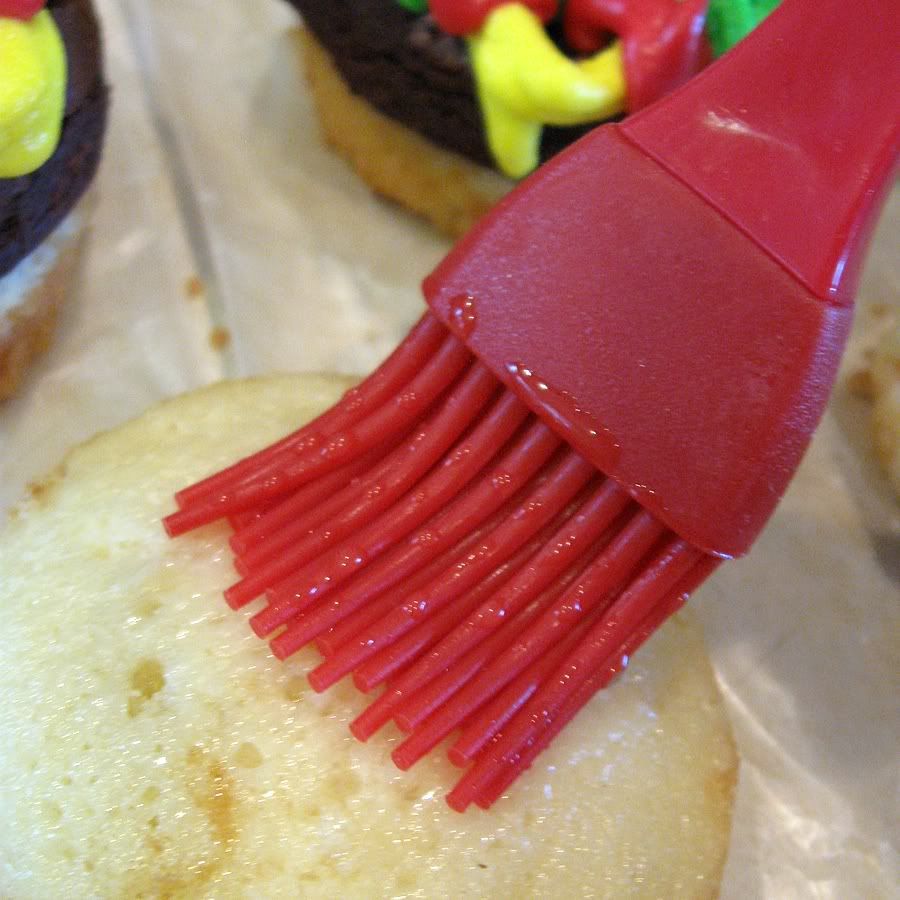 Immediately sprinkle sesame seeds on top of each cupcake.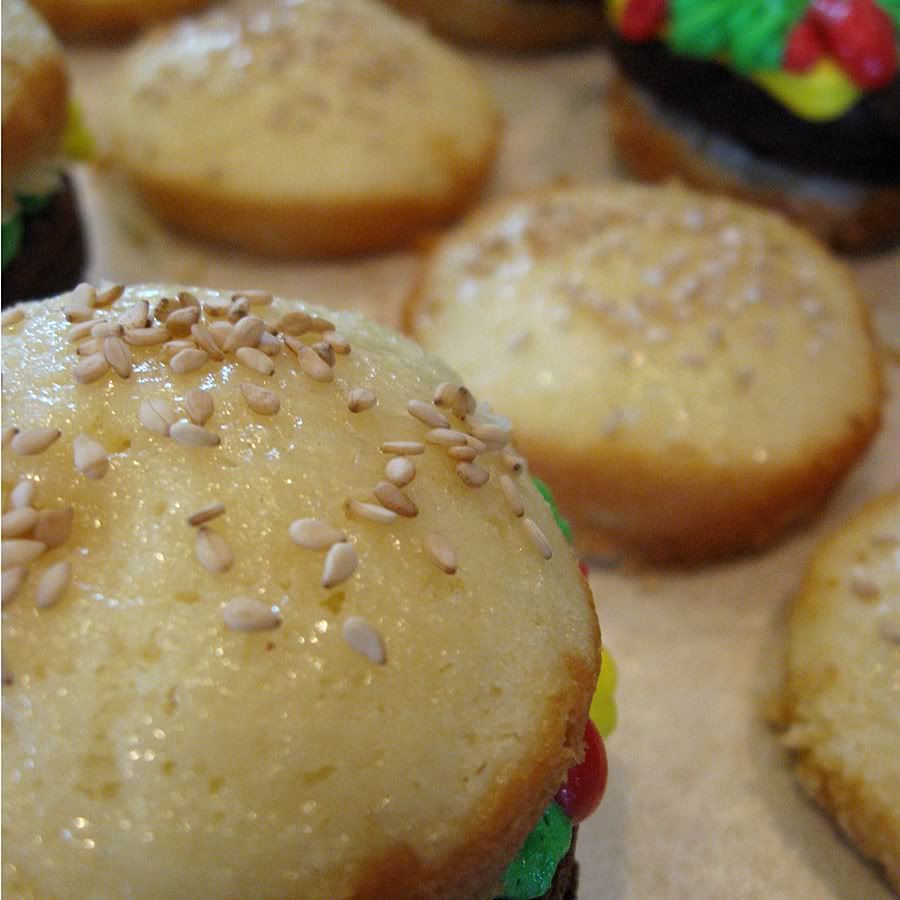 Take the burger tops and pop one on top of each pattie. Your masterpiece is complete.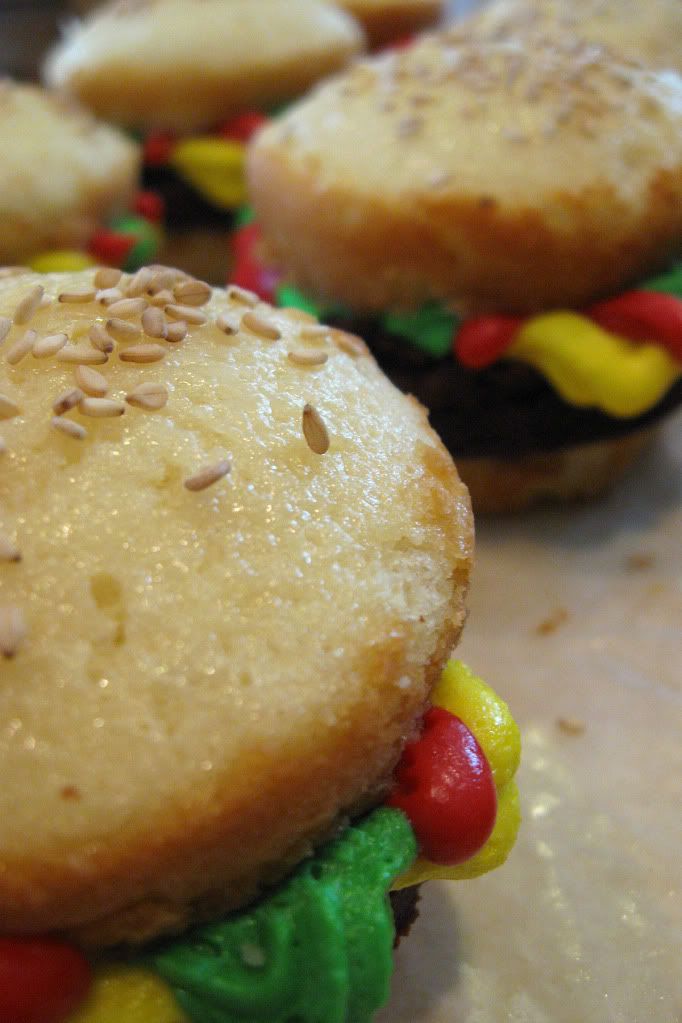 Well done. That wasn't so hard, now was it?