It can't be avoided. Sometimes it just needs to happen. Sometimes you just need to have chocolate, and when you need to have it, nothing else will do. Nothing.
Unfortunately, sometimes can turn into all-the-times, and then you might start to feel a little guilty. Luckily for you, I've discovered a solution. Keep indulging in your chocolate, but don't feel guilty for a second, because from now on you have access to a plethora of healthy chocolate recipes. (Yes… you read that correctly, they're healthy) Behold: Chocolate Covered Katie!
When I came across this blog I was amazed. Everything looks so tasty, but it's all healthy. Her recipes are also all vegan. What the whaaaaat? Such a great resource!
After scrolling through several of Katie's recipes, I decided to try her favourite: chocolate bar pie. It sounded good, and brought together this seemingly odd combination of local ingredients: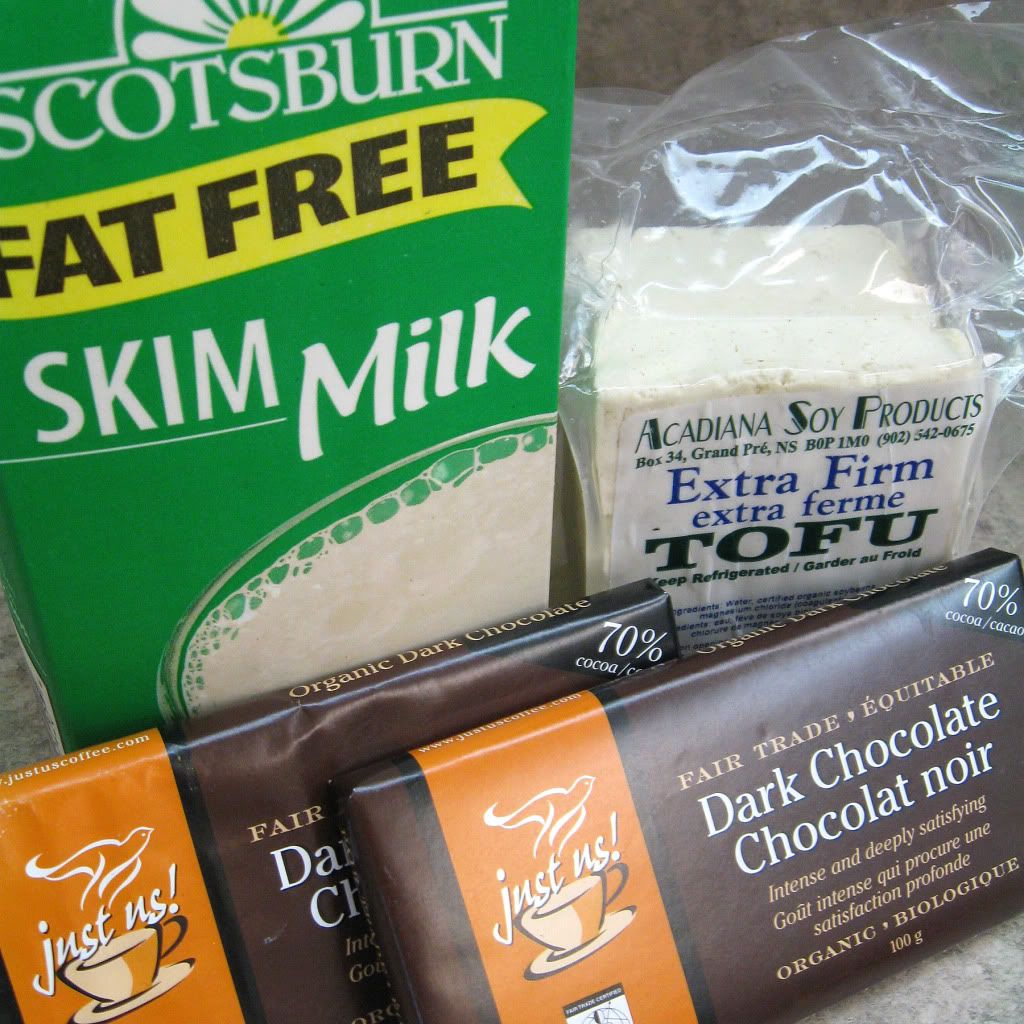 As you can tell by the carton of milk pictured above, my version of this chocolate bar pie was definitely not vegan, and definitely not as healthy as Katie's. I opted for a buttery cookie crust, used a whole whack of milk in mine, and spread fresh chocolate whipped cream on top. To be fair though, my version was still way healthier than your typical chocolate pie, and is officially my favourite way to use tofu now. Try it out, and it just might become yours as well.
Katie's Chocolate Bar Pie
Yields one healthy chocolate pie.
Please refer to Katie's original recipe for ingredients and instructions.
My adjustments and ingredient suggestions:
1.My local ingredient choices were Just Us! Dark chocolate, Acadiana Soy Products' extra firm tofu, and Scotsburn milk.
I melted down two bars,
and then continued to add cocoa powder until I felt it was chocolatey enough. Next time I think I'll use 2 ½ like Katie suggests – that way the pie will be even chocolatier, and I'll have an excuse to eat ½ a chocolate bar.
I actually ended up using a lot more milk than the recipe called for. The recipe calls for 2 tbs, but I used closer to ¼ C. I don't own a food processor (I know, I know. How do I manage to prepare anything at home without one? Trust me, it's interesting) so I tried just using my mixer.
When that didn't work, I thought adding more milk would help. It didn't. So
eventually this happened.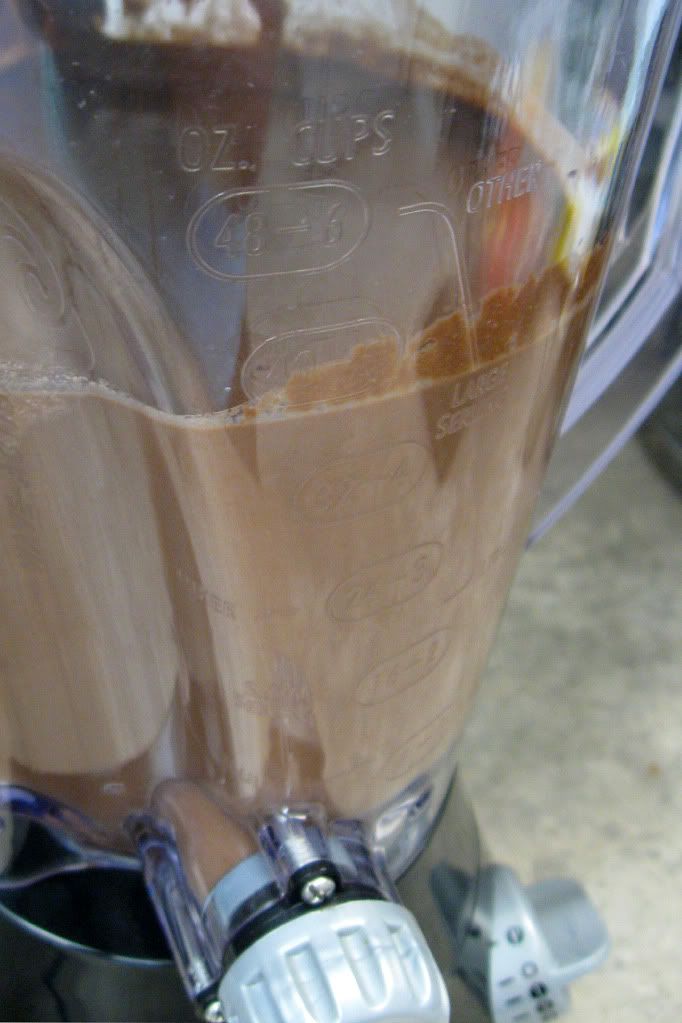 But it's ok, because then this happened.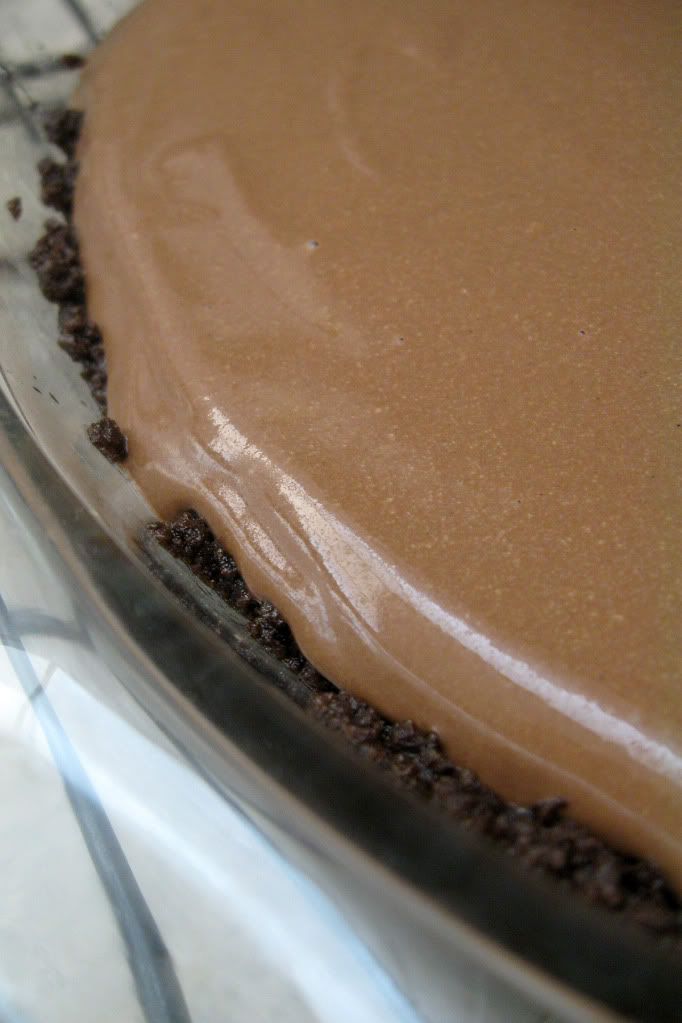 Victory.
2.I wanted mine nice and sweet, so I used 3 tbs of 100% pure maple syrup. For pure maple syrup recommendations see Saturday's post.
3.As noted above, I used a cookie crust for my pie. It's really easy to make:
Chocolate cookie pie crust
Yields one regular sized pie crust
1 package Late July Cookies (Any chocolate cookie/cream center cookie will do)
2-3 tbs melted butter
Preheat oven to 350 degrees.
Pour contents of a box of Late July Cookies into a ziplock bag, press out the air, and then crush the cookies with a rolling a pin.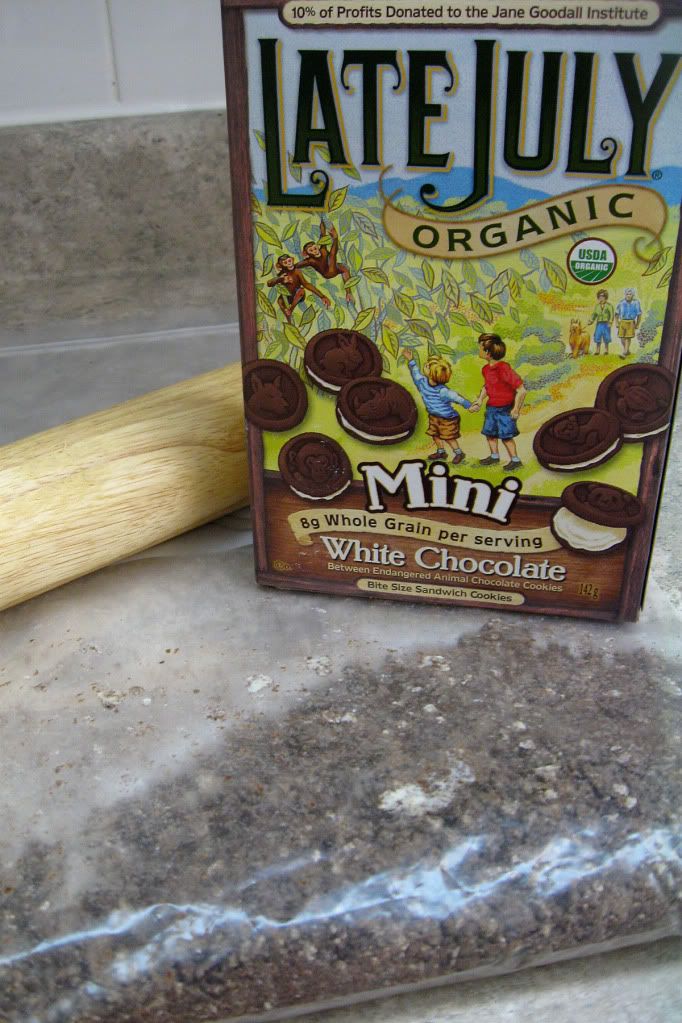 I chose to firmly press on the rolling pin as I rolled it over the bag to crush them, but if you wanted to use the rolling pin to smash them hammer-style I'm sure you could do that too. Just be careful.
Pour crushed cookies into mixer and mix in melted butter until the crumbs start to stick together.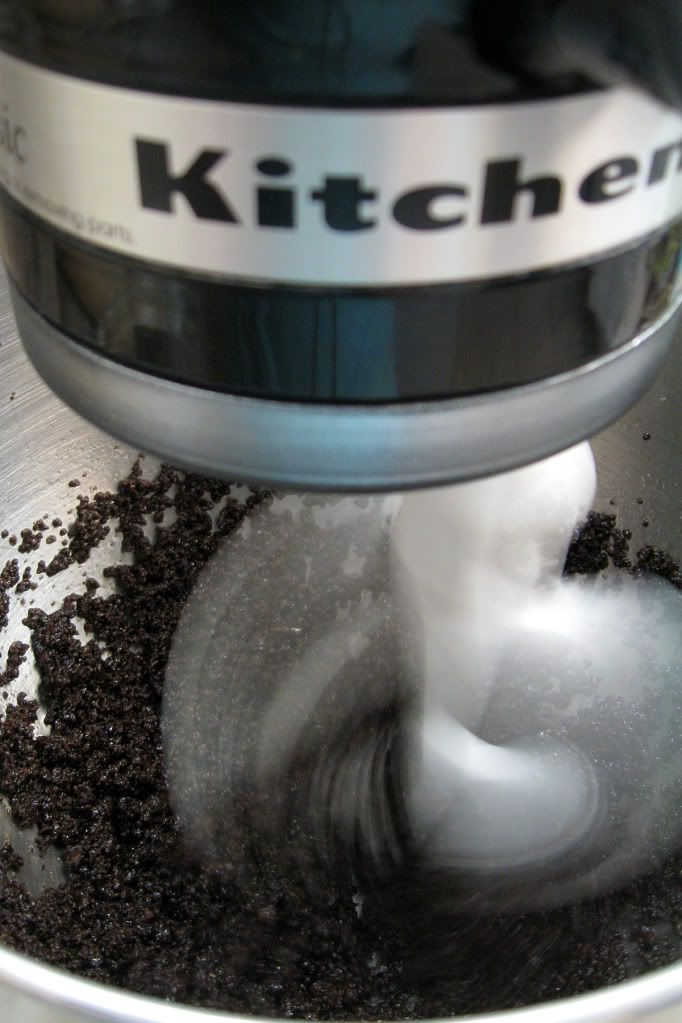 Scrape buttered crumbs into pie pan and press down firmly with your hands until the bottom of the pie plate is completely covered, and some of the sides are as well.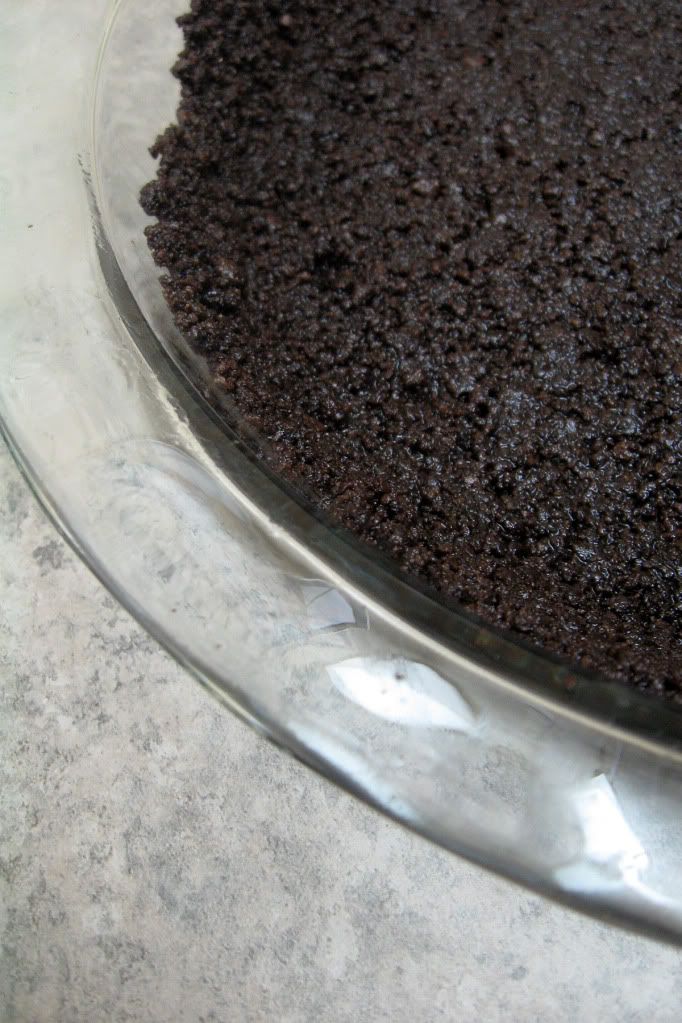 Bake in the oven for 7 minutes. Let it cool while you prepare the filling.
4.I topped my pie with fresh, homemade chocolate whipped cream. So very tasty, and so very difficult not to eat the whole bowl.
Chocolate whipped cream
Yields enough whipped cream to cover this whole pie, or to heal most emotional wounds when eaten by the spoonful.
1 C whipping cream (Baxters, Scotsburn and Farmers are all great local choices)
1-2 tbs cocoa powder (use your discretion to achieve your desired level of chocolate)
½ tsp vanilla extract
Chill metal bowl and whisk attachment in freezer for 10-15 minutes.
Pour whipping cream into the chilled bowl.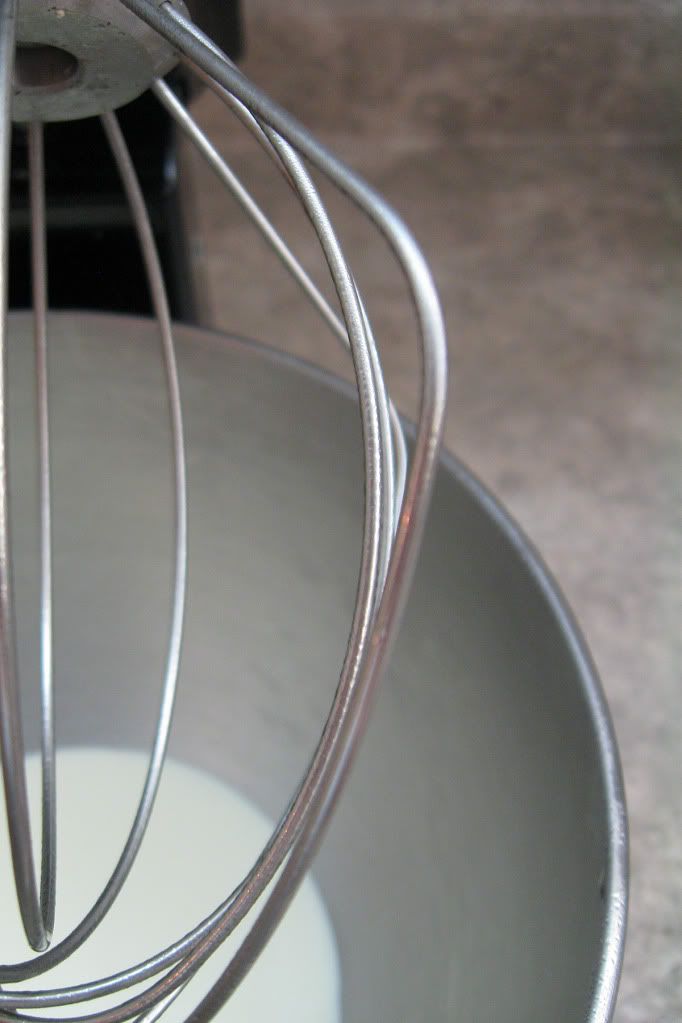 Start to whisk at medium speed.
Mix cocoa powder and sugar together in a separate bowl.
Ok, I have some explaining to do. This bowl is super creepy out of context, but it's actually a part of a super cute ice cream set. Still creepy.
Slowly sprinkle in cocoa powder.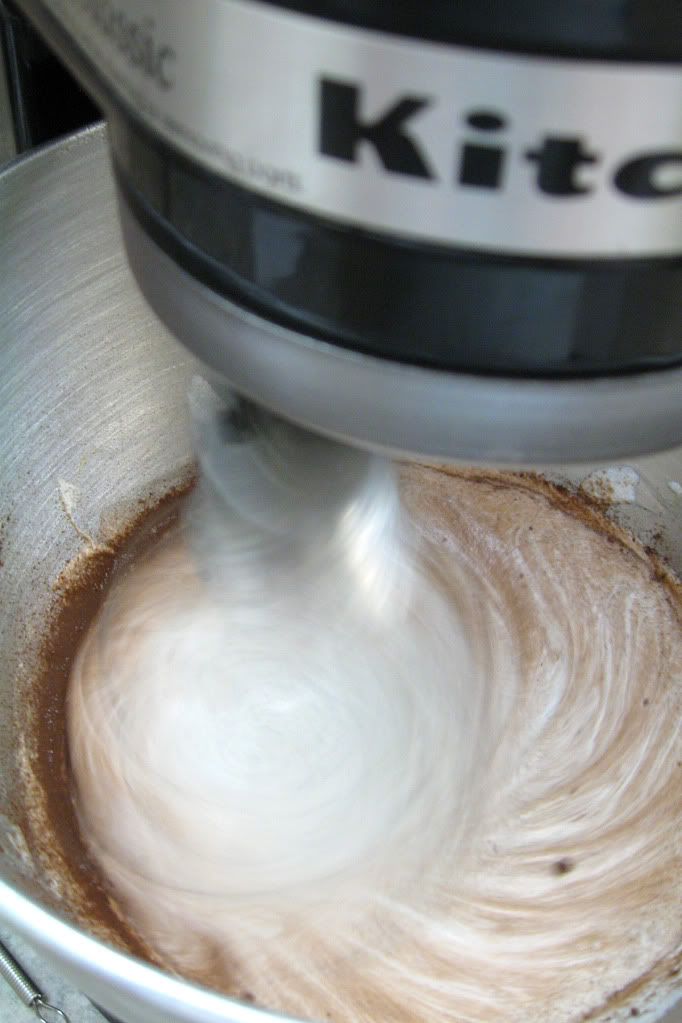 Once it starts to form stiff peaks, stop whisking. If you don't, you risk turning your whipped cream into a gross, curdled mess. Learn from my mistakes.
5.We've had a non-stop supply of local strawberries this summer, so I cut up a few and decorated the pie with them.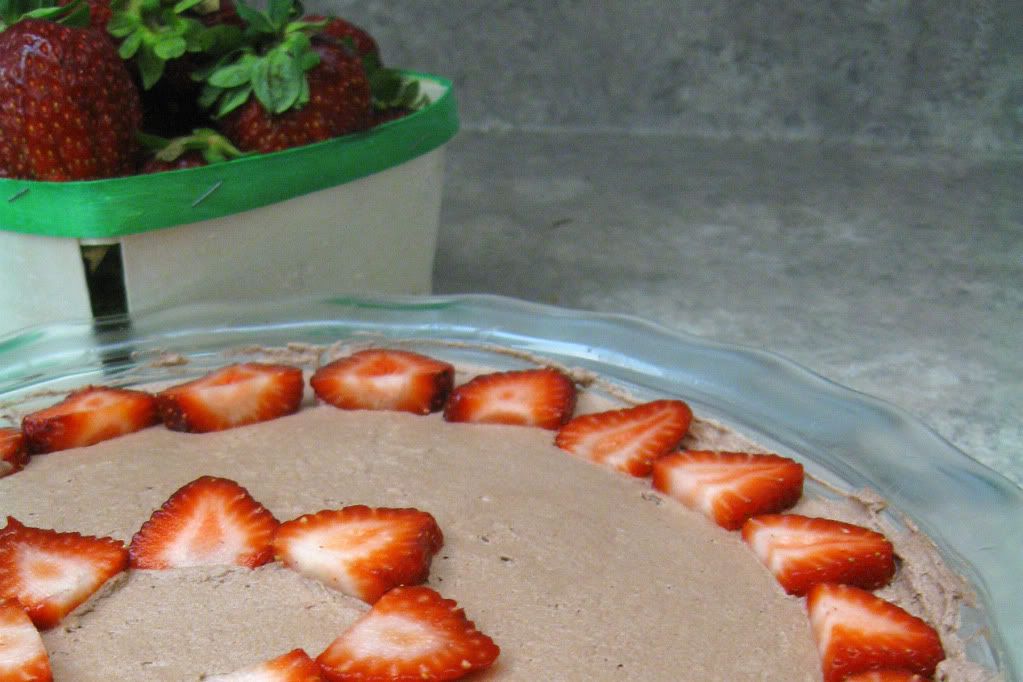 Definitely a good choice. Chocolate and strawberries are a match made in delicious heaven.
Hope you enjoyed this three part recipe!