If you have ever met my mother, then you know that she is a lovely woman. You probably also know that she loves cats. What you might not know, is that she loves custard.
Last week, my parents became the proud owners of a lovely, secluded cottage, on a beautiful, quiet lake. If you have ever met my father, then you know that he loves privacy. You probably also know that he loves quiet. If you have ever met me, then you know he doesn't get much of that while I'm around.
This weekend was my first trip out to the cottage with my parents, so I wanted to bake something that they would enjoy. Because of my mother's love affair with custard, I figured this would be the perfect time to bake custard cups with her.
Since I was in Antigonish, I made a trip in to the Antigonish Farmers' Market on Saturday morning. The market was busy as usual, so we stopped and chatted with people we hadn't seen in a while, perused the booths to see what was in season, picked up some flowers from Heatherdale Farm (who did all the flowers for our wedding), and then bought a nice big quart of wild blueberries from Glenhill Berry Farm. I still had some peaches left over from Noggins Corner Farm from last week which I thought would go perfectly with the blueberries,
and had plenty of local eggs on hand so I was all set.
One of my favourite things about baking in Antigonish is that I can use ingredients that were produced by people that I actually know. It's nice to meet your farmer, it's even nicer to already know them. I like knowing that the milk my brother-in-law's farm produces is in the carton I bought at the store, that the eggs my mother is cracking came from Mark's uncle's farm, and as I stuff another hand full of blueberries in my mouth, that they were grown and sold by someone I went to school with. It doesn't get much better than that.
Oh wait, did I mention I got to bake these at a cottage? …now I'm just getting spoiled.
Blueberry peach custard cups
Yields approx. 6 medium custard cups
2 ½ C milk
1 tsp vanilla
4 eggs
½ tsp salt
3 tbls brown sugar
1 ½ C peaches (peeled and sliced)
1 C wild bluberries
Nutmeg
Preheat oven to 350 degrees.
Peel and slice peaches.
Divide peaches between the cups.
Pour milk into blender.
Crack eggs into measuring cup.
Or, make your mom crack the eggs for you while you take fifty pictures.
Slowly pour eggs into blender, making sure any renegade pieces of eggshell don't get in the blender.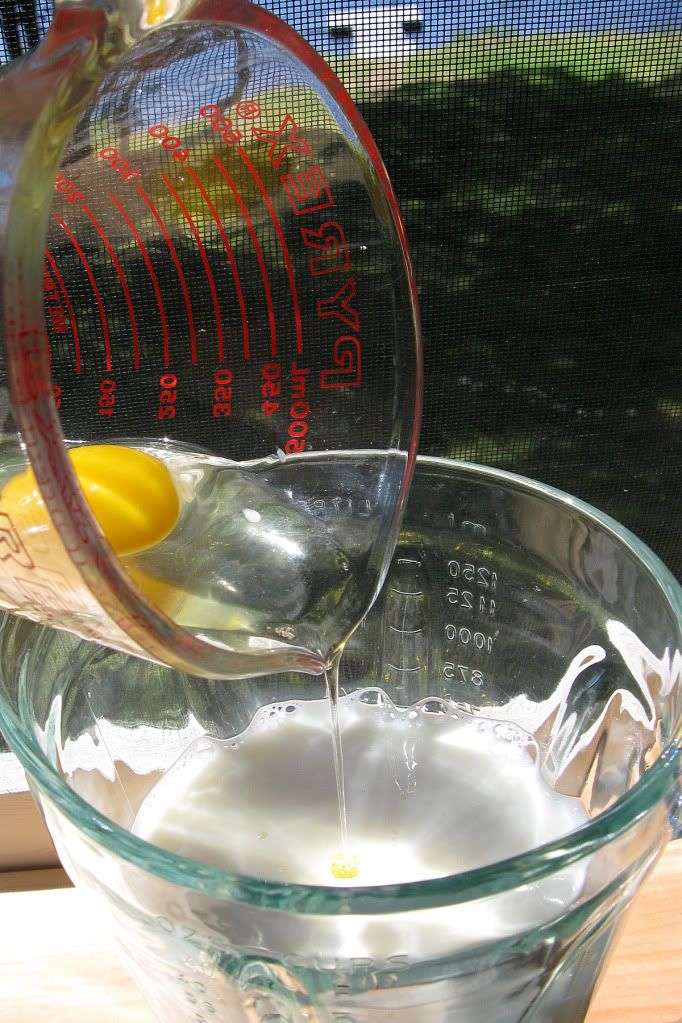 See the water? Why am I inside? I should be out there…
Add vanilla, salt and brown sugar.
Blend for about 3 minutes, or until it's frothy. Pour mixture into cups. Scoop blueberries into each cup and sprinkle nutmeg over the top.
Fill a baking pan ½ full with hot water, and then place the cups in it.
I know, that seems really weird, but just do it. Trust me.
Bake for 45 minutes. When they're done, you should be able to stick a sharp knife in the middle of the custard and it will come out clean.
Transfer to a wire rack to cool.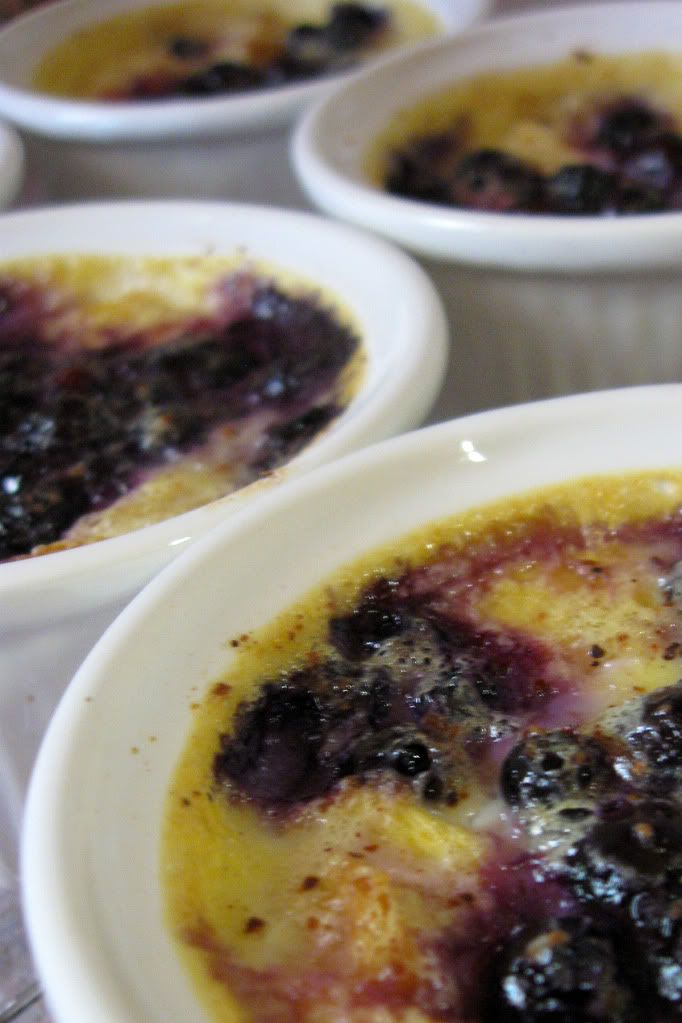 Enjoy warm, or chilled. Your choice.